No Comments
Daily News Roundup: Spring Is Coming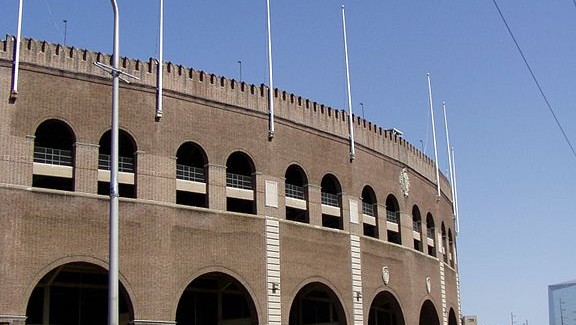 We're not heading into Franklin Field for the Penn Relays just yet, but it's coming.
Usually I lead into this late afternoon roundup of news items with a thought or two about track and field or road racing. Today I got nothing.
That's partially because I spent so much time outside running today. It was my first outdoor run in shorts since November. After the Midwest winter we've had this year, 43 degrees felt amazing. The ice is still two feet thick on Lake Erie and we're supposed to get yet another snowstorm tomorrow, but spring is definitely on its way. And that means relays are on their way: Texas, Florida, Kansas, Drake, Penn.
Links
In the latest installment of the Athletech series, RunnerSpace editor-in-chief Chris Nickinson tells us about all his wonderful toys.
News
Runner's World's Morning Report has all of yesterday's news: Alan Webb's pro triathlon debut, Mo Farah's plans for Scotland, and more.
Ken Goe's daily Oregon track & field rundown rates the Oregon Ducks as slight favorites to win a fifth straight women's NCAA indoor championship.
NPR looks at Eric Ashe, a Boston Marathoner hoping to qualify for the Olympic Trials. Rarely does such a major news source look this deeply into elite running but they never look this deeply into the not quite elite. Worth your time.
More from NPR
The monthly editorial from Track and Field News editor Garry Hill: there needs to be a separate federation for domestic professional track.
More from TFN
Stop me if you've heard this before: star high school girl athlete tears up knee during junior year, has major reconstructive surgery, Oregon Ducks take a chance on her, she becomes a key cog in their championship machine. That was English Gardner in a nutshell, but freshman sprinter/jumper Jasmine Todd has the same story.
More from the Eugene Register-Guard
Competitor.com does a Q&A with Chris Solinsky, the former US record holder in the 10k who is now prepping for his marathon debut this fall.
More from Competitor
Mark Remy alerts us to some running product recalls we may have missed.
More from Runner's World
While we've already established that The Color Run is mostly a ripoff, this Runner's World look into a dispute with a photographer makes the race series' management look amateur as well.
More from Runner's World
Video of the day
Flotrack's Run Junkie looks at this weekend's NCAA Championships.