10 Comments
"Doesn't matter who wins 'cause they're all losers." Gimmick racing at an all time high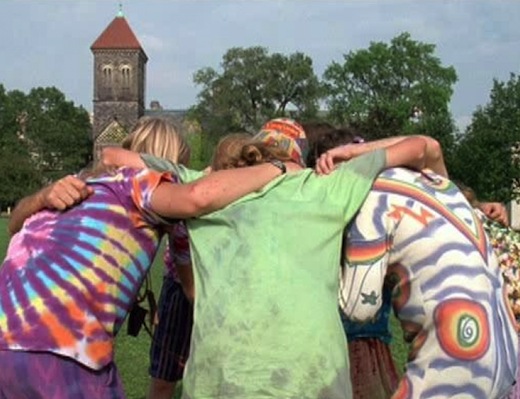 Pat Price | On 30, May 2013
photo courtesy 20th Century Fox
That quote of course is in reference to Rand McPherson's (David Spade) take on Ultimate Frisbee aka the "Hippie Olympics" from the 1994 cult classic, PCU. Sure, Ultimate is a little heady, but I'd say disc golf is more along the lines of something you'd find Jerrytown and the boys doing on a Saturday afternoon before a George Clinton concert.
What does this have to do with running? Not a lot. But there is an epidemic going on right now. Gimmick races. You know them. You may have even participated in one of two. Hell, my first race back to competition four years ago was the Krispy Kreme Challenge, so who am I to judge? Until recently, the corniest thing out there was the Rock 'n' Roll Half Marathon series, with their local bands stumbling through "Sweet Home Alabama," and their VIP Porta Potties. Those times have changed.
Let's break it down: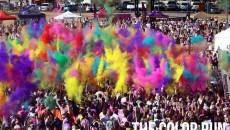 1. Color Runs
What are they? The new kid on the block. There are tons of them out there right now. The Color Run, Run or Dye ("The Most Colorful 5k Run™ – says the website), and Color Me Rad ("The run that's been ruining all other 5k's") are just a few of the races trying to take your money for shooting paint on you while you run. The list goes on. There will be one of these where you live, if there hasn't already, in the next few months. Money to be made!
What's the draw? Participants wear white and paint guns shoot vibrant colors on you while you run a 5k. What could be more exciting? They all want you to watch their well-produced YouTube clips (aka sales pitches) to get pumped (to spend ~$50) for the race of a lifetime. OMG Color!
Verdict? Sorry, this bores me. I know the point is to run and then post some pics on Instagram or Snapchat or whatever, but I don't see the obsession. But these things are selling out all over the country, so I'm obviously in the minority. Viva Color Runs. De Colores!
2. Electric Runs
What are they? Night time race with glow sticks, neon and DJ's at the finish line. Expect more of these to start popping up. Electric Run is the main "entrepreneur" of these events right now.
What's the draw? Earlier this year, I got an email that stated "with hot music, breathtaking light displays and an energized crowd of thousands, it will feel less like a run and more like a moving party." So there's that. Costs around $60 a pop.
Verdict? I know the execution of this is going to be taylor made for the running tourist, but night time races are good by me. Try one. But probably just one. And don't be upset when things get weird and annoying post-race.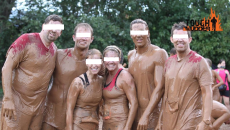 3. Mud/Obstacle Runs
What are they? The old maid of gimmick racing. Tough Mudder ("Probably the toughest event on the planet"), Warrior Dash ("The World's Largest Obstacle Race Series") and Spartan Race are the big ones. But beware of fly by night operations, like this one in Cary, NC, that ripped people off with a short course, crappy obstacles and charged $65 a head. And then stiffed the Special Olympics. A-holes!
What's the draw? It's something different. I get it. You want a challenge? Try scoring 100 on the Marine Corps Physical Fitness Test. It's just three steps. 18:00 for three miles, 100 crunches in a minute and 20 pull-ups. Is it even possible to do 20 pull-ups? No charge! But if you want to get muddy, you better save up! Race day registration at the Charlotte Tough Mudder is $180. You heard me right. Well, you get one free beer. But your friends have to pay to watch you race. This is a business, folks. $2 million annual revenue to $22 million in one year for the Tough Mudder conglomerate.
4. Zombie Runs
What are they? Post apocalyptic sets are created. Zombie Run is the main culprit. You can be a runner, or a Zombie.
What's the draw? Answers the age old question, "How fast can you run while being chased by a zombie?" The website say "a unique 5k mud run & obstacle course, sprinkled with hungry zombies." Get ready for $79 race day registration in Chicago.
Verdict? A mud run dressed up with some more live action. I don't know. I liked Zombieland, but it's gonna take more for me to spend nearly $80, plus their gentle reminder to "bring your ID and cash for additional beverages and snacks."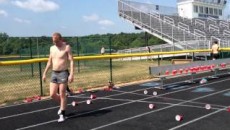 Thrill seeker? Here are some alternatives
1. Organize and run a Beer Mile (or Chocolate Milk, Milk, Egg Nog, etc)
It's not exactly legal, but it's free. If you have some friends go with you to help out, you can keep your exposure to a minimum and everyone goes home happy, especially those innocent bystanders who get to watch the awesomeness that is the Beer Mile.
2. Naked Mile / Undies Run
Hey, sex sells. But these are free. Find one and run at your own risk! Better yet? Start a new one.
3. A Trail Race
Getting off the pavement is fun and there are tons of great ones out there. No electric shocks necessary (maybe some log jumping)!
4. An actual road race
That pint glass you got for finishing 3rd in your age group at the "Ides of March 5k" will come in much handier than that picture of you covered in mud, that you splashed on yourself after the race. Trust me!
And that's another week of The Mixed Zone. Stay tuned for more fun in running each week. But no, I will not be part of your mud run team. But if this is what it takes to get people off the couch, I'm all for it!