No Comments
The Weekend's Best Matchups - 2013 Pre Classic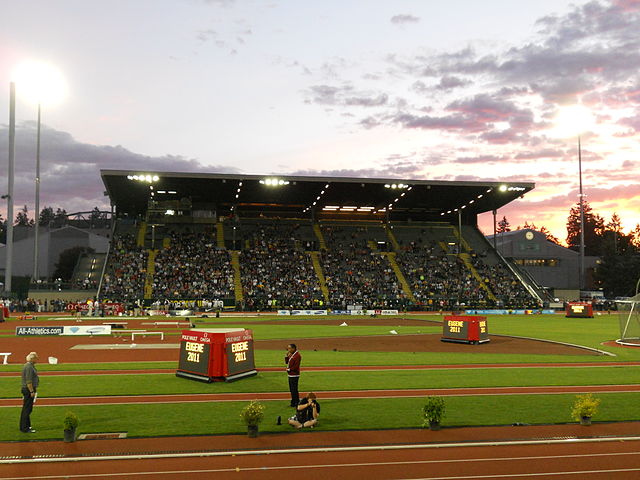 Jesse Squire | On 31, May 2013
The eyes of the track and field world will be on Hayward Field for this weekend's Nike Prefontaine Classic. Every single one of the 26 events not only has a high-quality field but an interesting one to boot. There are other meets this weekend, but the Pre Classic overshadows them all.
Cutting my weekend preview down to just ten matchups to watch really wouldn't do justice to the meet. So I broke it down into two parts, Friday and Saturday.
Friday's top five
A few years back, the Nike Prefontaine Classic began holding a distance race or two on the night before the main part of the meet. Now there are four races and four field events and it makes a pretty darned good meet all by itself.
There will be a live webcast of the meet available beginning at 7:00pm Pacific time (10:00pm Eastern time). You won't want to miss these matchups.
1. Mo Farah vs the Bekele Brothers
10,000 meters, Nike Prefontaine Classic
Hayward Field, Eugene OR
Friday, 7:50pm local time (10:50pm ET)
Right now, Mo Farah is the world's dominant distance runner. He ascended to the throne in 2011, when he won gold (5k) and silver (10k) at the World Championships, and consolidated his power at the 2012 Olympics, where he swept the track distances. The crown was previously worn by Kenenisa Bekele, who won every World and Olympic gold from 2003 to 2009 and broke multiple world records, but who has been slowed by injury and recovery since then. His little brother Tariku is no slouch, with PRs of 7:38, 12:52 and 27:03.
Is Farah ready to defend his status? Can either Bekele take it away from him? Or will there be some new contender, like half-marathon ace Geoffrey Kipsang? The pace is supposed to be taken out at 13:18 for the first 5k, which is ahead of European record time. This is likely to be the year's only 10,000 meter race at a Diamond League meet and it is not to be missed.
Athletics Weekly: Farah set for 'first big test' at Pre Classic
EDIT: Mo Farah has switched to the 5,000 meters. You'll get eleven matchups for Saturday.
2. The 'Stache vs The World
International Mile, Nike Prefontaine Classic
Hayward Field, Eugene OR
Friday, 7:26pm local time (10:26pm ET)
Will Leer is a throwback to the 70s. The fantastic mustache, the SoCal lifestyle, the willingness to race anywhere and anytime–all are art forms seemingly lost for a generation or more. He's been racing very well on the domestic circuit this year, but this is a definite step up in competition. The "International Mile" is a sort of a B-heat, but it still has Diamond League participants and guys who have already run 3:33 for 1500 meters. Amongst his foes is Daniel Kipchirchir Komen, a two-time World Indoor silver medalist who holds the Hayward Field record at 3:48.28; Andrew Wheating, the massively talented but oft-injured Oregon alum; and Henrik Ingebrigtsen, the Norwegian who surprised with a fifth-place finish at the Olympics. We are definitely going to find out what Leer is made of.
Let's Run: 2013 Pre Classic Distance Night preview
3. Betty Heidler vs Tatyana Lysenko
Hammer throw, Nike Prefontaine Classic
Hayward Field, Eugene OR
Friday, 6:00pm local time (9:00pm ET)
Heidler has been the world's best hammer thrower over the last few years, or at least the most consistent, but hasn't won a World or Olympic gold since 2007. Lysenko beat her at last year's Olympics as well as the 2011 Worlds. This will be their first head-to-head meeting of the year, and each has already won a major competition, as Heidler won the Frankisch-Crumbach hammer throw festival and Lysenko won the year's first Hammer Challenge competition in Beijing.
Since this is the only hammer throw competition at a Diamond League meet this year, the field is deep. Other major competitors include Anita Włodarczyk, Poland's Olympic silver medalist, and China's Zhang Wenxiu, 4th in London last year.
Frankfurter Rundschau: Harting, Heidler, Obergföll: Werfer-Elite in Eugene
4. Li Jinzhe vs reality
Long jump, Nike Prefontaine Classic
Hayward Field, Eugene OR
Friday, 7:19pm local time (10:19pm ET)
Breakout long jump star Li leads the world with the 8.34 meter (27′ 4½") jump he used to win the Diamond League opener in Shanghai. Here, he's up against just about everyone who's anyone: all three Olympic medalists from last year (Greg Rutherford, Mitchell Watt, Will Claye) plus the previous two Olympic champions (Dwight Phillips, Irving Saladino). All in all, eight of last year's top ten (in the TFN world rankings) are here. If Li can win here, he's for real.
New Straits Times: China's long jump hope Jinzhe wins again
5. Christina Obergföll vs Mariya Abakumova
Javelin, Nike Prefontaine Classic
Hayward Field, Eugene OR
Friday, 7:23pm local time (10:23pm ET)
With Barbora Špotáková out for the year on maternity leave, these are the world's top two javelin throwers. Obergföll won Olympic silver last year and Abakumova won the Worlds in 2011. This is a rematch of last week's Diamond League-opening competition in New York, where Obergföll came out on top.
Saturday's top ten
The action gets rolling at 12:22pm local time (3:22pm ET) with the women's triple jump. TV coverage will be on NBC Sports Network from 12:30 to 1:30pm local time (3:30 to 4:30pm ET) and switches over to NBC from 1:30 to 3:00pm local time (4:30 to 6:00pm ET). A webcast will also be available at NBC Sports LIVEEXTRA.
What matchups should you watch for?
1A. Mo Farah vs Galen Rupp
5000 meters, Nike Prefontaine Classic
Hayward Field, Eugene OR
Saturday, 2:20pm local time (5:20pm ET)
So, I got this preview all written up on Thursday afternoon and then Mo Farah goes and switches from the 10k to the 5k. My loss is your gain, because this is going to be a helluva race. Farah is the king of the distance world right now, and training mate Rupp is not far behind. In fact, Rupp had a stellar indoor season with a 3:50 mile and a 7:30 3k to his credit, so Rupp may pose a bigger threat than expected.
Besides those two, there are four guys with sub-12:50 PRs: Isiah Koech, Yenew Alamirew, Thomas Longosiwa, and John Kipkoech. There's Ibrahim Jeilan, the 2011 World 10k champ. And it would be folly to ignore Bernard Lagat. A supporting cast of top North Americans (Dathan Ritzenhein, Cam Levins, Chris Derrick) adds to the interest. This is now the best race of the day, period.
1. Kirani James vs LaShawn Merritt
400 meters, Nike Prefontaine Classic
Hayward Field, Eugene OR
Saturday, 1:49pm local time (4:49pm ET)
James is the fast-rising star, the 2012 Olympic champion and the only man to go under 44 seconds since Merritt and Jeremy Wariner did it in 2008. Merritt is the only real threat to James, and looks to be improving after a leg injury which knocked him out of the Olympics, and of course his famously boneheaded forced layoff in 2010. Merritt ran a nice 20.40 for 200 meters last weekend in Beijing, which might have helped him sharpen up for this contest.
IAAF: James and Merritt set for another 400m battle in Eugene
2. Mary Cain vs Cainsanity
800 meters, Nike Prefontaine Classic
Hayward Field, Eugene OR
Saturday, 1:55pm local time (4:55pm ET)
Mary Cain is entered in the 800 meters, not her best distance, against some of the world's best runners. Her PR is some two seconds slower than the next-slowest athlete in the race. And yet she will be the center of attention in the race and maybe the whole meet. Yes, it's because she is a 17-year-old high school junior regularly beating professionals. Yes, it's because she has a bubbly winning personality. But it's a whole lot more than that.
Every time she enters a major competition, we think she's eventually due for a bad race. Yet after every one of those races, we say "did she just do that?" She's already one of the fastest U-18 1500 runners of all time (maybe the fastest, if you're skeptical about certain ages and times). Maybe she'll bomb here and get thrashed by all the pros, but I doubt it.
The thing about Cain that makes her the greatest thing that's happened to US distance running since, I don't know, maybe Bill Rodgers is that she has not only has tremendous talent and racing acumen, but she takes real joy in what she's doing. She's not overly hard on herself like so many other age group aces. She lives in the moment and makes the best of it.
Eugene Register-Guard: Prep phenom enters Pre 800
3. Taoufik Makhloufi vs our suspicions
Bowerman Mile, Nike Prefontaine Classic
Hayward Field, Eugene OR
Saturday, 2:49pm local time (5:49pm ET)
Makhloufi won the Olympic 1500 meters last year in a manner that aroused suspicion. First, he was disqualified from the 1500 the day before the final after failing to make an "honest effort" in the first round of the 800 meters (where he failed to advance), but was then reinstated after producing a doctor's note that said he was injured. But he did not run the 1500 final like an injured man. Rather, he ran it with an amazing finishing power that was reminiscent of Rashid Ramzi, the 2008 Olympic winner who later had to relinquish his gold medal after a doping retest revealed he was using a blood booster.
The suspicions about Makhloufi were hardly hushed–they were mentioned by online hacks and professional sportswriters and sportscasters alike. After all, the rest of his season wasn't particularly notable. Then there was his withdrawal from a pair of post-Olympic Diamond League meets–he cited a knee injury, but his Olympic victory made that claim appear less than fully credible.
This will be Makhloufi's first race against his mile/1500m competitors since that Olympic final. Maybe the U.S. announcers won't mention these suspicions (Tom Hammond is rarely accused of doing his homework before announcing a meet), but other announcers and sportswriters most definitely will.
As far as the other athletes in this race go, Asbel Kiprop is two-for-two in Diamond League meets so far this year and comes in as a heavy favorite.
El Moudjahid: Entretien, Taoufik Makhloufi (Champion olympique) : "Je ressens un profond sentiment de fierté d'être algérien"
4. Collegians vs Pros
High jump and 400m hurdles, Nike Prefontaine Classic
Hayward Field, Eugene OR
Saturday, 12:58 and 1:03pm local time (3:58 and 4:03pm ET)
One of the problems with the current structure of both the college and pro schedules is that the two different types of athletes don't meet nearly as much as they did in previous generation. The timing of this year's Prefontaine Classic allows for a bit of crossover, though.
The men's high jump brings together all of the five medalists from last year's Olympics (yes, five, there was a three-way tie for bronze) and that means college rivals Derek Drouin and Erik Kynard are here. Neither expended much energy at last week's NCAA prelims and probably need a tune-up heading into next week's NCAA Championships. They'll go up against the Olympic champion, Ivan Ukhov, plus the guys who are off to a hot start in 2013: Mutasz Essa Barshim, Aleksey Dmitrik, and Sergey Mudrov. This might be the deepest high jump field outside of the Worlds or the Diamond League final.
Arizona's Georganne Moline failed to make the NCAA final in the 400 hurdles last year (she fell in the semis) but ended up in the Olympic final, where she finished fifth. She'll run against all four who finished ahead of her, led by Russian gold medalist Natalya Antyukh. The favorite might be Zuzana Hejnová, the Czech bronze medalist, who is the world leader and has already won a couple of tough races.
USTFCCCA: Final The Bowerman Men's Watch List
5. Walter Dix vs injuries
200 meters, Nike Prefontaine Classic
Hayward Field, Eugene OR
Saturday, 2:13pm local time (5:13pm ET)
The oft-injured Dix is the main attraction in this race. He's been up and down over the years, but when he's up he's very good, just one cut below the Bolt/Blake/Gay troika. He pulled a muscle in the Olympic Trials semifinals last year and called it a season, and has just two low-key 100m races under his belt so far this year. If he's healthy and ready to roll, this could be very interesting.
IAAF: Dix and Carter lead sprint fields
6. Robert Harting vs his winning streak
Discus, Nike Prefontaine Classic
Hayward Field, Eugene OR
Saturday, 1:38pm local time (4:38pm ET)
Robert Harting hasn't lost a discus competition since August of 2010, the longest ever by a world-class discus thrower in terms of time. In terms of wins, his streak is at thirty-three meets and counting, four meets short of the all-time record for discus throwers held by Virgilijus Alekna. If there's any chance of his streak coming to an end, a meet like this is where it could happen–early in the season when he's still rounding into form, and against a tough and deep field.
Throwholics: Robert Harting: "This was nothing."
7. Renaud Lavillenie vs Björn Otto
Pole Vault, Nike Prefontaine Classic
Hayward Field, Eugene OR
Saturday, 12:29pm local time (3:29pm ET)
Lavillenie finally got to the top of pole vaulting with an Olympic gold medal last year, and in 2013 he's started up right where he left off. He got over the metrically-important 6 meter barrier and won the European indoor championship for the third straight time. Otto is the only vaulter in the same zip code as Lavillenie in terms of heights cleared, and the German beat Lavillenie at the Drake Relays. The competition is deep, too–all of the top seven in my power rankings are entered.
Sud Ouest: Le perchiste Renaud Lavillenie inscrit dans "Le Petit Robert"
8. Ezekiel Kemboi vs Paul Koech
Steeplechase, Nike Prefontaine Classic
Hayward Field, Eugene OR
Saturday, 1:11pm local time (4:11pm ET)
Koech dominates the circuit of one-day invitationals but can't get on the Kenyan team for international championships because he's a horrible runner in Nairobi's altitude, where the Kenyan selection races are held. Kemboi is a championship ace, winning gold or silver at virtually every Olympics, Worlds and Commonwealth since 2002. It's a great clash of styles…but what we're really hoping to see comes after the race.
Kemboi moves like Jagger.
The Standard Digital News:
9. David Rudisha vs Mohammed Aman
800 meters, Nike Prefontaine Classic
Hayward Field, Eugene OR
Saturday, 2:40pm local time (5:40pm ET)
Watching David Rudisha run is like watching Secretariat. You're watching possibly the greatest of all time, one who can do things that are otherworldly. But Secretariat lost a few races, and Rudisha isn't undefeated either. None but Aman have beaten him in the last three years, and even then just twice (in seven tries). Is it possible that Aman does it a third time? Sure. Is it likely? Not hardly. Top Americans Duane Solomon and Nick Symmonds are also entered.
EthioSports: David Rudisha ready for Eugene Race
EDIT: This one is off too. Rudisha withdrew citing a knee injury.
10. Vítězslav Veselý vs Tero Pitkämäki
Javelin, Internationales Leichtathletik-Meeting Anhalt
Paul-Greifzu-Stadion, Dessau GER
Friday, 8:00pm local time (2:00pm ET)
This is the best matchup of the weekend not taking place at the Prefontaine Classic. Veselý was #1 in last year's Track and Field News world rankings while Pitkämäki was #3, and they've already traded a pair of wins on the Diamond League tour.
Meet website