No Comments
Daily News Roundup: Dual Meet Idea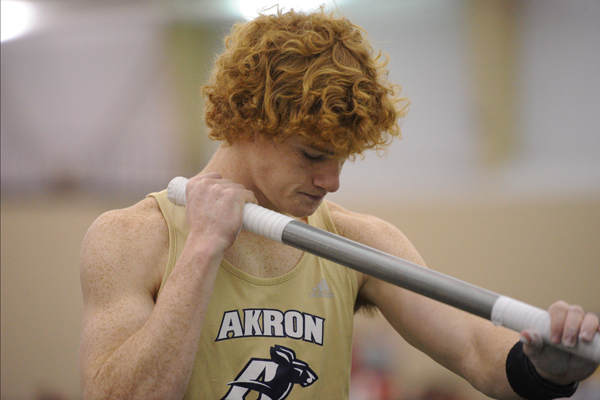 Over the weekend I had a conversation with Akron head coach Dennis Mitchell (not the retired sprinter of the same name). He and I agree that simplicity and brevity are qualities most college track meets need to have but don't, which keeps the general college sports fan away from college track meets. And we both agree that simplicity and brevity are the defining qualities of the collegiate dual meet.
Four years ago the TFRRS website was created, a massive database of the results of basically every college track meet in the nation. At that time, Mitchell proposed that a simple computer algorithm be created to compare all D-I teams against each other using dual meet scoring. Basically, it would create a win-loss record for every team against every other team. Of course, it was voted down. According to Mitchell, too many coaches were worried that they would look bad.
Coach Mitchell wanted to discuss another idea he had, one that would take advantage of the immediacy of the internet. He proposes that we take a weekend during the collegiate season and set it aside as "dual meet weekend", and everyone would compete in a dual (or triangular or quadrangular). Everyone would do it on the same schedule, and the results from that meet would be used like the database program he proposed four years ago. Not only would teams be competing against their actual opponent, but against hundreds of virtual opponents around the country–and the results could be updated in a live manner.
There are problems with the proposal. Mitchell says it would be easier to pull off during the indoor season, but the south and west probably don't have enough indoor facilities to make it workable. Doing it outdoors has its problems; there isn't one specific weekend that is available across the whole country, and weather creates such great variances in performance as to make comparing marks less than meaningful.
But on a conference or regional basis? Yes, this could work and be a lot of fun. There are enough team-oriented programs and indoor facilities in the Big Ten or Ivy League or MAC to make this more than a pipe-dream. I'd have great fun watching my Bowling Green Falcons take on a rival while simultaneously going against the whole conference.
Links
In this morning's Four By One, Jason and Kevin take four minutes to discuss Lavillenie versus Diababa, Lavillenie's post-world record injury, and the biggest lock and most competitive race at this weekend's USATF Indoor Championships.
News
Runner's World's Morning Report has all of yesterday's news: Will Leer might try another USATF double, track athletes at the winter Olympics, and more.
Lauryn Williams has earned an Olympic bobsled silver to go with her 2004 Olympic 100 meter silver, making her only the fifth ever to win medals in both the summer and winter games (and the first who won a track medal). All three medal-winning sleds included athletes with track backgrounds; Heather Moyse (from Canada's champion sled) was not only a sprinter but has been on Canadian teams for two Rugby World Cups and cycled in the Pan-American Games.
More from Runner's World
Brooks has stepped up to challenge Nike's hold on the Pacific Northwest elite running scene via its new Brooks Beasts track club.
More from The Oregonian
Gary Cohen interviews Geoff Smith, the two-time Boston Marathon champ most famous for getting caught from behind in Central Park by Rod Dixon in the '83 New York City Marathon.
More from Gary Cohen Running
Wondering which top college track athletes are eligible for this summer's World Junior Championships and what they've done? Look no further.
More from the USTFCCCA
World Indoor Championships team roster announcements:
Great Britain (notable absence: sprinter James Dasaolu)
Bahamas
Trinidad
Results
The Russian Championships finished up today. Yesterday's highlight: Kseniya Ryzhova ran the year's fastest 400 meters.
IAAF recap | Complete results
What to watch
A Millrose Games replay will be on Universal Sports tonight from 8:00pm to 9:30pm.
Video of the day
A video from Ken Goe's Oregonian article (above) on the Brooks Beasts.