One Comment
College Weekend Recap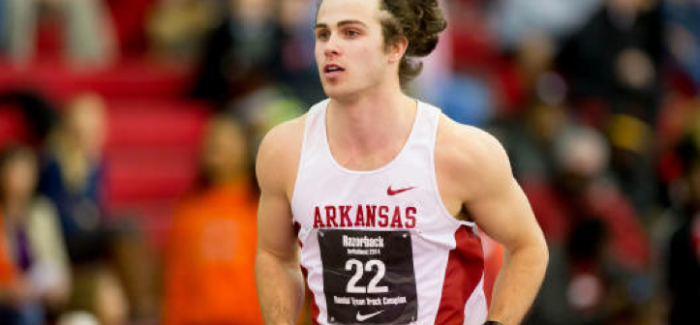 (Photo: Razorbacks.com)
Last week's college action was mostly about the individuals, while two weeks ago it was mostly about the teams. This week it's a bit of both.
Razorback Team Invitational
Results
"#1 Arkansas wins Razorback Invitational, remains undefeated" read the tweet from @RazorbackTF. Track and field is the simplest sport, but records and rankings and qualifying marks in dozens of different events can make it overly complex. The above makes it simple again.
"It's a big meet, and it's fun," said Arkansas coach Chris Bucknam. "We showed our range on the track, scoring in several events to defeat some of the top-ranked teams in the country." "Bucky" was understated; the Razorback's men scored in every event save the 60 and 5000, and beat the nation's #2, #5, #6, and #10 squads (Florida, Texas A&M, Florida State, and Oklahoma State respectively), among others in the nine-team field. The win may or may not cement the Hogs' status as NCAA favorites–national championship meet are a slightly different kind of challenge–but they are now heavy favorites for the SEC title.
The women's meet was a bit of an upset. #7-ranked Arkansas edged #3 Texas A&M for the title. #4 Florida was well back in third and #2 Texas was seventh, neither going full force here.
The biggest race from an individual perspective was in the men's 400, where Texas A&M's Deon Lendore beat Florida's Arman Hall and the two are now the fastest collegians of the year. The two came back to do battle in the 4×400 relay, this time with Florida winning, Arkansas second, and Texas A&M third. All three relays were the fastest of the year, and Florida's 3:04.45 winner is just outside the all-time collegiate top ten. The women's 4×400 was likewise just as fast, with Texas A&M and Florida racing to the year's two best times.
Florida's Marquis Dendy and Arkansas' Raymond Higgs tied for the collegiate long jump lead, with Dendy winning on the tiebreaker. It was the season opener for Dendy, who put up the USA's best single jump in all of 2013 at the NCAA indoor championship, but a dislocated arm and torn labrum ended his outdoor season early. September surgery apparently went well and he's only barely behind where he was at this same time a year ago. Arkansas decathlete Kevin Lazas also had a great indoor season followed by a disappointing outdoor season last year, and he won the heptathlon with the year's best score.

New Mexico Collegiate Invitational
Results
Another nine-team all-collegiate scored meet was held at Albuquerque's Convention Center, site of this year's NCAA Indoor Championships. Team titles followed the rankings, with #9 Nebraska taking the men's competition by 35½ points over LSU, and the #8 Bayou Bengals winning the women's competition by 10 points over the Huskers.
"We weren't really focused so much on the performances we saw here today," said LSU head coach Dennis Shaver, pointing to rough weather that limited training time, "but rather how well our athletes competed against some great teams and athletes. They did a phenomenal job of that today".
The outstanding individual competition at this meet was the women's long jump, where UCLA's Kylie Price and TCU's Lorraine Ugen went to #1 and #2 on the yearly college list, with 6.45 meters (21′ 2″) for Price and 6.42m (21′ ¾") for Ugen. No doubt the thin New Mexico air had something to do with their distances. Running events get altitude adjustments for NCAA qualifying (for example, while Notre Dame's Jeremy Rae ran the mile in 4:02.62, he gets credit for 3:57.33) but there are none for field events.
In other scored meet action, Minnesota's men and Kansas State's women topped ten-team fields at Iowa State's Bill Bergen Invitational; Wichita State swept their own Varsity Apartments Invitational; Navy swept Army in one of the nation's oldest and most intense duals; Wyoming swept Montana State in a dual; and Eastern Michigan swept Western Michigan, Central Michigan and Buffalo in their "Compass Cup". Michigan and Michigan State were scheduled for a dual but called it off due to bad weather; efforts are being made to reschedule the meet.
Non-scored Invites
Washington's oversized track is a magnet for distance running, and the UW Invitational is the biggest of all the indoor meets at the Huskies' Dempsey facility. National collegiate leaders were run in the 3000 meters by Arizona's Lawi Lalang and UCLA's Kelsey Smith (the latter a few steps behind the nation's second-best high schooler). And how deep is Oregon's men's middle-distance crew? The Ducks won in the year's second-best time, narrowly defeating their B team–who ran the year's fourth best time!
Results | Flotrack coverage
The Penn State National Invitational is all about the middle distances, and the Nittany Lions came a step short of breaking the collegiate indoor record in the men's distance medley, going to #2 on the all-time list with 9:26.59. Stanford's women recorded a national leader in the same event, well ahead of a second-place Dartmouth team anchored by superstar Abbey D'Agostino.
Results | Flotrack coverage
The Indiana Relays brought a new star into the national spotlight: Indiana State high hurdler Greggmar Swift. Fourth at last year's NCAA indoor championships, he overtook the national collegiate lead with a PR of 7.64 seconds.
Results
Dual Meet Rankings
National dual meet rankings will be released tomorrow at the Track and Field News website. Regional rankings are below.
MEN
Great Lakes Region
1. Purdue
2. Akron
3. Michigan State
4. Eastern Michigan
5. Kent State
6. Wisconsin
7. Notre Dame
8. Indiana
9. Indiana State
10. Grand Valley St.
Mid-Atlantic/Northeast Region
1. Navy
2. Harvard
3. Princeton
4. Buffalo
5. Monmouth
6. Dartmouth
7. Army
8. Columbia
9. Rider
10. Lehigh
Midwest/Mountain/West Region
1. Nebraska
2. Kansas State
3. Texas Tech
4. Iowa
5. Air Force
6. Wichita State
7. SE Missouri
8. Eastern Illinois
9. Southern Illinois
10. Colorado St.
South/Southeast/South Central Region
1. Arkansas
2. Texas A&M
3. LSU
4. Texas
5. Mid. Tenn. State
6. Louisville
7. Texas-Arlington
8. Tennessee St.
9. Western Kentucky
10. Winthrop
WOMEN
Great Lakes Region
1. Notre Dame
2. Purdue
3. Indiana
4. Kent State
5. Akron
6. Indiana State
7. Michigan State
8. Eastern Michigan
9. Wisconsin
10. Western Michigan
Mid-Atlantic/Northeast Region
1. Harvard
2. Columbia
3. Monmouth
4. Princeton
5. Dartmouth
6. Yale
7. Buffalo
8. Lehigh
9. Rider
10. St. Joseph's
Midwest/Mountain/West Region
1. Nebraska
2. Iowa
3. Texas Tech
4. Kansas State
5. North Dakota St.
6. Missouri
7. Southern Illinois
8. Northern Iowa
9. Wyoming
10. Wichita State
South/Southeast/South Central Region
1. Texas A&M
2. Arkansas
3. LSU
4. Texas
5. Louisville
6. Mid. Tenn. State
7. Tennessee St.
8. Texas-Arlington
9. Austin Peay
10. Western Kentucky
Awards
The weekend's three stars…
The men's first star: Lawi Lalang, Arizona
Lalang won the 3000 meters at the UW Invitational in 7:44.20, the fourth-best indoor time in collegiate history. Only Alistair Cragg, Ryan Hill, and Lalang himself have ever run faster.
The men's second star: Chuk Enekwechi, Purdue
Enekwechi won the elite weight throw at the Findlay Open on Friday night with a distance of 23.62 meters (77′ 6″). He beat three-time USA champion A.G. Kruger, and the distance moves him to #8 on the all-time collegiate list (#3 among Americans).
The men's third star: Deon Lendore, Texas A&M
Lendore won a 400 meter showdown with Florida's Arman Hall at the Razorback Invitatonal.
The women's first star: Ciarra Brewer, Florida
Brewer won the triple jump at the Razorback Invitational with a national-leading distance of 13.55 meters (44′ 5.5″), and beat the NCAA's #2 and #3 jumpers while doing it.
The women's second star: Emily Grove, South Dakota
The two-time pole vault All-American won the Bill Bergan Invitational with a national-leading mark of 4.35 meters (14′ 3.25″), a new PR.
The third women's star: Justine Fedtronic, Stanford
Fedtronic ran two big races over the weekend at the Penn State National Invitational. She anchored her distance medley to a national leader on Friday, and then won the 800 meters on Saturday in 2:03.25, good for #2 on the national list.