No Comments
The Monday Morning Run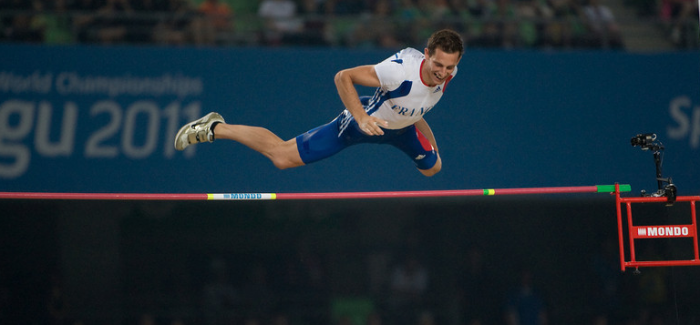 Photo Via TrackTownPhoto
With just over a 30 days until the World Indoor Championships in Sopot, Poland the indoor season has somehow already reached the halfway point. Though a month has passed, the bona fide professional action in the United States is just about to get started.  The next three weekends will feature televised meets from Boston, New York and Albuquerque.  Last week, most of the action was abroad and even though Galen Rupp didn't compete, there were still records set and fast times run.
The Medalists……
The top three performances from the week
Gold:  Genzebe Dibaba
The first world record of 2014 came in the women's indoor 1,500 where Dibaba, sister of the great Tirunesh, ran 3:55.17 to break the old record by over three seconds. The time was the 14th best mark of all-time, indoors or out, and the fastest time for 1,500 since 1997.  Additionally, it equates to the fastest indoor mile performance.  More remarkable is that it appears Dibaba still had more to give over the final lap.  She didn't have any help with the pace for the final 800 meters and by the finish she was almost 13 seconds clear of the next fastest runner.  After the race, she set the record for fastest victory lap of all-time.  You can fast forward 3:55 if you just want to see the victory lap part.
Add Dibaba's mark to the pile of historically fast indoor performances this year (so far Galen Rupp's 13:01 and 8:07 are the other items in the pile). The sample size is fairly small, but it is still worth wondering if there is anything in particular that we can attribute these marks to.   Perhaps athletes are approaching the indoor season more aggressively than in years past? Maybe they are gaining some benefit from the faster track surfaces?  Or, could it be that the non-championship year liberates them to take risks where they ordinarily would play it safe?
Like Rupp, the question after this stunning time will be can Dibaba hold her form?  Not through the summer, but just until next month's World Indoor Championships.
Silver:  Renaud Lavilliene
He was on world record watch after his monster 6.04-meter vault last week.  On Friday, he broke his national record again when cleared 6.08 meters in Poland.  The mark puts him behind only Sergey Bubka on the all-time list.  After his success at 6.08, Lavilliene took three attempts at 6.16 meters, .01 centimeters higher than Bubka's world record.
His next competition will be on February 15th.
Bronze:  Jeff Porter
As eventful as the distance and field events have been this indoor season, the sprints have been remarkably quiet.  In dire times though, we can always count on the hurdlers to produce a good match-up or two.  The big three in American high-hurdling (or is four?  Too many to count) haven't been that active thus far.  Jeff Porter has, and is stringing together a nice set of races in Europe. In Dusseldorf, he edged Dayron Robles to win the 60-meter hurdles in a world leading 7.52 seconds.
As the Phenom Turns…….
We were just getting used to Mary Cain as the bright hope of American middle distance running. Over the past 12 months, Cain herself has looked increasingly comfortable with that role as well. How quickly things change in this era of distance running in the United States.
On Saturday in Seattle, 16-year-old Alexa Efraimson broke Mary Cain's high school 3,000 record, running 9:00.16 at the Dempsey Indoor.  Cain has still run a faster equivalent two mile, but Efraimson is a year younger and will have the benefit of some very ambitious marks to chase the rest of her career.   The two will race in the mile at the Millrose Games in two weeks. Need more evidence of how fast the top level of high school running is right now?
According to @DyeStat lists, Alexa Ephraimson is, by herself, one of the nations top 50 girls 4×800 relays right now.
— Jesse Squire (@tracksuperfan) February 2, 2014
Surging…..
Los Angeles
After much delay, Los Angeles was awarded the 2016 US Olympic Marathon Trials.  The men's and women's races will be held on February 13, 2016, the day before the Los Angeles Marathon. A compromise was reached when organizers moved the date of the race up from March to accommodate athletes who wanted ample recovery time before the track and field trials in the summer.  Other details:
-The race will be run on a loop course in downtown Los Angeles.  Anyone who has ever been to Los Angeles is probably wondering where you will park for said course in downtown Los Angeles.
-The men's and women's races will have different start times.  In 2012, they used a loop course as well and staggered the starts to ensure there would be no overlap of finishes.
-There will be a live broadcast of the race.  Whether that means it will be on television, online, or on someone futuristic device that you buy with Bitcoins is yet to be determined.
Names on Jerseys
–Nick Symmonds opened up his season on Saturday at the JDL Fast Track in North Carolina. Symmonds's ran 1:48.64 to win the 800. More notable than the time or place was his jersey, which featured his name in black script on the back. A novel idea, I'm not sure how many times the back of a jersey is shown on camera, but maybe it isn't intended for the television audience….
New singlet from @brooksrunning! They want to make sure my competition knows who's running away from them 😉 pic.twitter.com/SjfDyUYNzc

— Nick Symmonds (@NickSymmonds) February 1, 2014
Russian Jumpers
–Ivan Ukhov always seems more comfortable when competing indoors.  His outdoor credentials are solid, including an Olympic gold in 2012. But he has also produced erratic results, competed while drunk and lost his jersey during competition.  If you want entertainment, Summer Ivan is your guy.  If you want consistency, go with Winter Ivan.  This season he looks to be following that pattern. He has already jumped 2.41 and owns the top four marks of 2014. On Sunday, he cleared 2.36-meters at the Russian Winter Meet.
-Ukhov's horizontal jumping countryman also had a win and a great mark this weekend. Aleksander Menkov leapt 8.30 meters in the long jump for a world lead in Moscow.  Can we get the long jump to be fun again?
Cuba
Dayron Robles is healthy and racing again.  For the time being it also looks like he is at peace with his national federation. Cuban track has also been buoyed by the success of sprinter Yunier Perez this winter.  In Karlsruhe, he recovered from a slow start and won the men's 60 in a world-leading 6.47.
The world championship for the men's 60 meters is up for grabs this year. The top American on the yearly list is Joseph Morris who posted a 6.53 at altitude in Albuquerque. No Jamaican is in the top 25.  Michael Frater of Jamaican is scheduled to compete at Millrose and American Mike Rodgers typically performs well indoors.  Throw in Perez, James Dasaolu and Kim Collins and those could be the top contenders.  Pretty lean.  Injuries, suspensions and no shows are definitely taking their toll.
Slowing…..
Pamela Jelimo
The up and down career of the 2008 Olympic gold medalist was at a particular low point on Sunday.  Jelimo finished seventh in 2:11 in Moscow.  She has rebounded from bad performances and bad seasons before, so I wouldn't completely count her out.  Although, running 17 seconds off your personal best in an 800 can't be very good for the psyche. The difficult part about trying to make predictions about inconsistent performers is that you never know when they are just having a bad patch and when they are done for good.  This was the dilemma with Alan Webb over the past four years.
Bernard Lagat
By "slowing" I mean the natural progression that we would expect from a 39-year-old who has been competing at a high level for over fifteen years.  Lagat has been beatable and "outkickable" the last few major championships. This year, he might have a fight on his hands to claim one of the two berths in the 3,000 for the Indoor World Championships.
On Saturday, he finished fourth in the 3,000 in Karlsruhe. Not a terribly shocking or disappointing result for Lagat when you consider it was only his second race of the year and the three in front of him (Caleb Ndiku, Augustine Choge and Yenew Alamirew) are all medal threats.
At this point, it is hard to imagine anything happening in the next three weeks that will make Lagat anything less than a big underdog to Galen Rupp when the two race in Albuquerque at the US Indoor Championships.
World Record Watch
-Dibaba got one, Lavillenie is honing in and Mohammed Aman is knocking on the door.  The only question is, will someone beat him to it?  Aman ran 1:15.31 for 600 meters in Moscow.  He is less than two tenths off the indoor world record record held by…….. held by………held by……..Nico Motchebon of Germany!  Come on, you knew that.
–Galen Rupp didn't race this weekend, but his coach Alberto Salazar did make public that his pupil will be aiming for the world indoor record in the mile the next time he takes the track. Rupp will race on February 15th at the friendly confines of Boston University where he has already set two American records this year.   Rupp ran 3:50.92 on the same track last January.  The world record is 3:48.45 by Hicham El Guerrouj.  The American record belongs to Bernard Lagat, 3:49.89.
Reading List
-Remember last year when the topic du jour was the slowing of America?  We longed for the 70s and 80s where every man in the local track club ran under 2:40 in the marathon all while holding down two full-time jobs.  Then the internet, or video games, or fried foods, or President Obama/The Tea Party(depending on your political sensibilities) came along and began to chip away at our inalienable right to life, liberty and fast times.
Well, it turns out that isn't exactly true.  In fact, the opposite is happening.  Our own Jesse Squire  explained in a piece last week.
–Simon Hart of The Telegraph writes about Mo Farah's marathon preparations in Kenya.
The Week Ahead
-The New Balance Indoor Grand Prix in Boston is next Saturday.  As of this writing, the majority of the sprint and field event fields have not be announced. Here are the best match-ups that have been released so far:
–Women's Two Mile: Jenny Simpson, Sally Kipyego, Sentayehu Ejigu, Gotytom Gebreslase and Kalkidan Gezahegne.
Jenny Simpson's first race since the Cinque Mulini.  Will running through five different mills help her on an indoor track?
–Men's 3,000: Isiah Koech, Hagos Gebrhiwet, Dejen Gebremeskel
No Americans are expected to contend for the win, but fans of American distance running should keep tabs on this race.  These three could be some of Rupp's toughest competition for a gold medal in Sopot.  A few years ago, Gebremeskel won this race with one shoe. I'm guessing the broadcasters will mention that a few times during the race.
-Women's 1,0000:  Mary Cain, Ajee Wilson 
Surely there will be a junior record, or two, in here someone.
-4 x800: Brooks Beasts: New York/New Jersey Track Club and a US All-Star team featuring Duane Solomon
A relay outside a major championship, good.  A relay where the team members actually know each other's names, better. American record is as good as gone.
-Shot put: Ryan Whiting, Christian Cantwell and Thomas Majewski 
Depending on who makes the highly competitive American team, this could be a preview for the World Championships.