6 Comments
Daily News Roundup: Another thought on college dual meets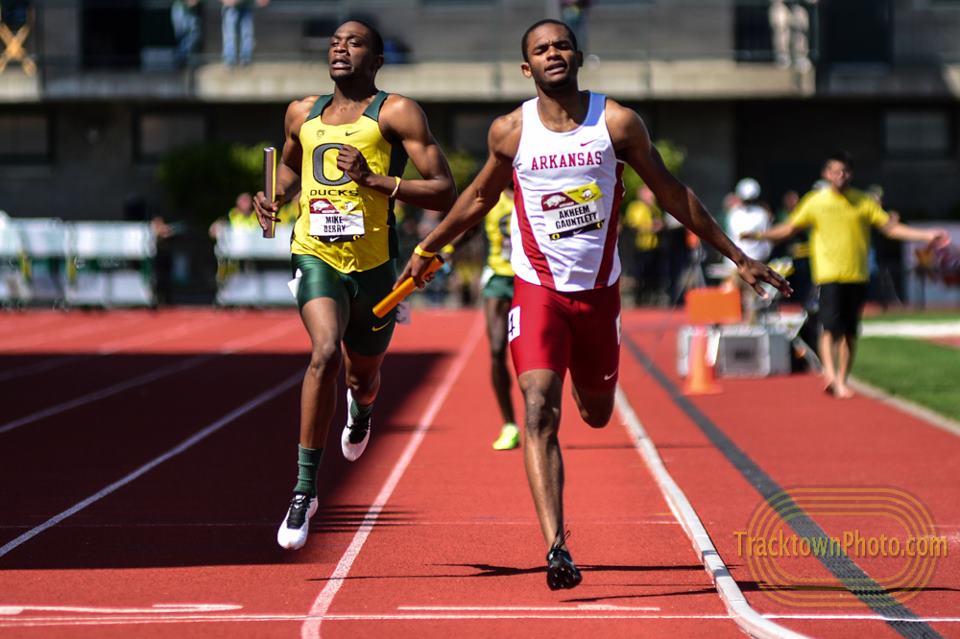 Last April's Oregon vs Arkansas dual was an awesome meet. (Photo by TrackTownPhoto.)
Not everyone is a fan of collegiate dual meets, but I am. Duals were commonplace up through the 1970s and then began a long, slow decline in the 80s, and I don't think its any coincidence that the same could be said about the popularity of college track in general. They can be held in a concise time frame, there is a common thread throughout each event, and winning matters at least as much as the stopwatch. College track needs more of all of these things.
There are lots of theories as to why the dual meet basically disappeared. One is the scholarship limitations put into place in the late 70s and further reduced in the early 90s–Vin Lananna pointed to that one a lot–but that's a straw man argument to me. A team having more than a dozen or so scholarships was a rarity back in the 60s, and most teams still have plenty of athletes on their rosters these days.
Is it possible that one issue is a change in how we consume sports media? I don't mean that sports media changed college track–sports media has generally ignored it, even in its heyday–but that sports media changed college sports, and in turn it changed college track.
Fifty years ago, nearly all media was local. Local newspapers, local radio, and even the new medium of television was mostly local. Sports teams were generally judged on how they fared against local and regional rivals. Woody Hayes' annual goals were 1) beat Michigan, 2) win the Big Ten, and 3) win the Rose Bowl. National rankings weren't even on the radar. In college track, beating local and regional rivals were the main goals for most teams. That happened in dual meets.
But media became more and more national in scope, with the turning point coming in the cable TV explosion of the 1980s. It seems to me that how teams ranked nationally became a bigger and bigger part of how teams were evaluated, because sports media became more national and less local. Getting your sports news from SportsCenter instead of your local newspaper changes how you look at things. Gearing a team towards national-level competition was how everyone began to think, not just track coaches. (Just look at how college football's postseason has evolved over the years.) But only in track did that mean a fundamental change in how the sport was contested.
News
Runner's World's Morning Report has all of yesterday's news: Rupp's new mile plan, Farah learns marathon training isn't easy, Alysia Montano is pregnant, and more.
Ken Goe's daily Oregon track & field rundown has the morning's news, including info Oregon Project's use of TUEs.
College team rankings were released today. Arkansas (men) and Oregon (women) lead the USTFCCCA's national championship simulation, and Arkansas (men) and Texas A&M (women) lead the Track and Field News dual meet rankings.
From yesterday: are you planning to watch the Winter Olympics but really wish it was track? Martin Bingisser has you covered. He has a complete compilation of former (men's) track stars competing in Olympic bobsled.
More from HMMR Media
Former Mammoth Track Club coach Terence Mahon is now leading a training group for the Boston Athletic Association (organizers of the Boston Marathon) and the club's athletes are expected to be announced very soon. The BAA was once a competitive club but that was a very long time ago. For such a great running town, Boston hasn't had top-level runners training locally since the Greater Boston Track Club included guys like Bill Rodgers and Alberto Salazar.
More from RunBlogRun
My hastily written weekend college track recap (posted yesterday) failed to pick an NAIA athlete of the week. It was clearly British Columbia's Luc Bruchet, with his 3:57.71 mile at the UW Invitational–the fastest college mile of the year, regardless of division. Now the Canadian will be off to Boston to run against the world's best.
More from Harry Jerome