No Comments
Coburn leads surging women's steeplers into Nationals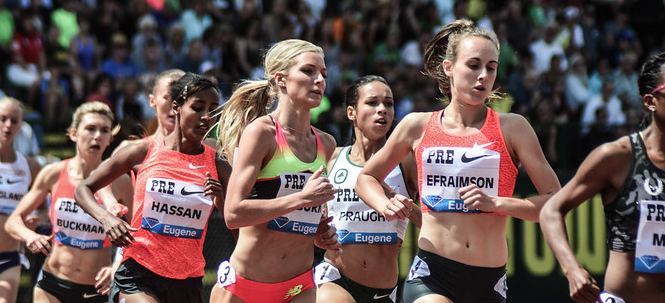 Daily Relay | On 22, Jun 2015
Fifteen hundred miles away from home and wearing a bridesmaid's dress isn't where or how one would expect to find America's best female steeplechaser the weekend before U.S. Nationals. But at the Biltmore Estate in Asheville, North Carolina, is precisely where Emma Coburn was, rather than relaxing at her base in Boulder, Colorado.
The oldest of the Coburn siblings, Willy, 28, married Katherine Oliver on Saturday, and Emma, 24, the third of four Coburn kids, flew in on Thursday for the festivities and back to Boulder on Sunday.
"The timing is a little less than ideal, but weddings are important, so we can make it work," said Coburn while exploring the 8,000-acre estate Friday. "My coaches and I have known about this for a year. I've skipped a lot of the Diamond League races in Europe to save my travel, so I wouldn't be too exhausted adding this in."
Emma Coburn will spend just one full day in Boulder before arriving in Eugene, Oregon, on Tuesday for the USATF Outdoor Championships, which also serve as the qualifier for the August's World Championships in Beijing. She'll arrive without having competed in a steeplechase this calendar year.
"The Diamond League schedule was really difficult this year," she said. "New York, Rome and Birmingham were all within 10 days of each other. And they were the only Diamond Leagues [with the women's steeplechase] other than Doha. If the schedule had been a little bit different, I probably would have done a Diamond League, but the schedule just didn't work for visiting my brother's wedding and traveling overseas in the month of June."
Coburn, whose only Diamond League race was a 4:05.10 11th-place finish in the 1500m at the Prefontaine Classic, is planning to use Thursday's preliminary round to bust whatever rust her light racing schedule may have left her with.
"Luckily, I have the prelims, so I think that will help be a nice little tune-up," she said. "But last year, my first steeple was Shanghai and I ran 9:19 and I hadn't run anything. I hadn't raced a steeple chase for nearly a year then, so I'm not necessarily worried."
Indeed, Coburn served notice to elite women's steeplechasers with her runaway performance in Shanghai last May, a race in which some top competitors claimed they thought she was a rabbit. Coburn has also been the forerunner of a surge in quality for American women in her discipline.
Already this year, nine Americans have broken 9:40 (something only six did in the last championship season, 2013) and four have broken 9:32 (something only Coburn and Stephanie Garcia did before USAs last year).
American women in the world's top 30 by year:
Year     Top 30
2008      3
2009      3
2010      2
2011      3
2012      2
2013      4
2014      4
2015*    8
* through June 20
Garcia ran 9:27.92, the fastest time by an American this season, to finish fourth at the Birmingham Diamond League event two weeks ago, and Ashley Higginson ran 9:31.32 to finish second at the New York DL event a week later. On that same day at the NCAA Championships in Eugene, three women ran under 9:34, including Florida State's Colleen Quigley (9:29.32) and UMKC's Courtney Frerichs (9:31.36).
"I've never run this fast this quickly," said Higginson after her New York race. The former Princeton runner just completed law school at Rutgers and trains with Frank Gagliano's New York/New Jersey Track Club.
"[This race] just tells me not to be afraid to be in the pack," she said when asked what the 9:31.32 performance in hot conditions means for her chances at nationals. "It's gonna go real fast, and I respect six, seven ladies in the field quite a bit. It's gonna be one of the best races to watch at nationals. … I'm excited to mix it up. Hopefully it's hot, huh?"
For those wondering, the weather forecast for Eugene indicates an expected high of 91 on Thursday for prelims and a steamy 98 on Saturday, the day of the steeplechase final.
All of the above-mentioned women have declared for this week's championships, as have Nicole Bush, who has a 9:24 personal best (indoors) and won USAs in 2013, and Bridget Franek, who has made three teams and finished sixth in 9:36.88 in New York.
"We're all really close," said Franek after her June 13 race. "Everyone's running really fast. I think it's going to be anyone's race that day, and I have just as good a chance as anyone."
Coburn had the six fastest times by an American last year (including a 9:11.42 American record that was never ratified), which makes her the clear favorite despite her lack of races.
"My workouts indicate that I'm the fittest I've ever been," she said. "it's just a matter of getting comfortable being tired in a race, the anaerobic feeling, the mid-race race fatigue, that feeling that's harder to replicate in practice that is the only question mark still."
Coburn is inspired by the performances and range of her competitors.
"They're just pushing themselves that much further and faster and harder, developing their skills in other event areas," she said. "I see Stephanie Garcia and Ashley Higginson run sub-15:20 in a 5K — it makes me want to go out and run a 5K and try to run it fast."
Coburn noted that she and Higginson each have the World "A" standard for two events (1500m and steeple) and that Garcia, the former UVa standout, has it for three (1500m, 5000m and steeple), showing that the top American women's steeplers are world-class distance runners. Garcia and Higginson are two of just 11 American women to break 15:20 in the 5000m this year, and Coburn and Garcia rank ninth and 11th in the 1500m among Americans this season.
Coburn knows that it's not just the pros who are threats to break into the top three and make it to Beijing. She herself made the Worlds team in 2011 and the Olympic team in 2012 coming off collegiate seasons at Colorado. The hardest part for Quigley, Frerichs, Michigan State's Leah O'Connor and others may not be making the team but finding a way to get to the World Championships fresh.
"It's hard sometimes for collegians to maintain the strength through the summer, just because they've done full cross-country, full indoor, full outdoor seasons," she said. "My very first season doing it, by the time I got to the World Championships final, I was exhausted."
Nonetheless, the pros' fitness in August will be little consolation if a collegian or two pips them for spots on the team this week, as Higginson knows.
"I think about three or four of them have a shot," said Higginson, a World Championship qualifier in 2013. "They're really excited about their first national meet, and with that comes some stress but also some magic can come out of that. They are mature young women — they're not going to give us any respect, and they're going to be right there. I'm getting old."
Rather than getting old, Higginson, at 26, is likely in the heart of her prime as many of her competitors enter theirs to create perhaps the deepest American women's steeplechase field ever. Two years ago, on a hot day in Des Moines, Iowa, Bush won the national title without breaking 9:40 and Coburn won the year before in Eugene without breaking 9:30.
"I think it's gonna take sub-9:20 to win, and I think it's gonna take 9:25 to make the team, so I better be in sub-9:20 shape," she said.
The weather may get in the way of fast times, but the sentiment is right. Led by Coburn, who should be a serious medal threat in August, the American women steeplers have grown in quality and depth to the point that it may take a sub-9:25 effort to make the team.
"We're competitive, and It's good that we can push each other," said Coburn. "As a unit, it's contagious when someone starts running well — the momentum can start going and everyone starts trying to match it."