No Comments
Athletech: Kirby Lee, Photographer (Image of Sport)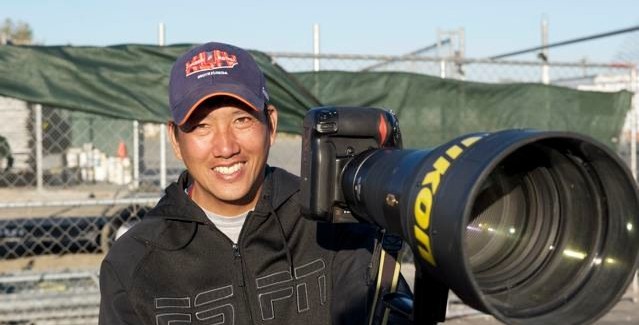 Welcome to Athletech, where we discover the gear and technology the running and track & field community uses to get stuff done. If there is someone who you'd like us to feature, tweet their name to us @DailyRelay with the tag #Athletech.

1) Who are you and what do you do?
I am a (US) west coast-based photographer with Image of Sport specializing in track and field.
2) What hardware do you use?
I use Nikon cameras and lenses most predominately Nikon D4 camera bodies and lenses ranging from 10mm to 600mm. The lenses that I use depend on the event. For heats, I'll use a bigger lens such as a 400mm–600mm for a final, I might use a 200-400mm to give more flexibility to go wider in the event of a close finish.
I typically use at least three cameras at a track meet. For bigger meets, it may be four or five. There are usually two to three cameras on my body and others used in remote locations such as a finish line that are radio triggered. The radio transmitters that I used are the PocketWizard MultiMax and PocketWizard III Plus. Both are 32-channel units. The MultiMaxes have more range and features but the PocketWizard III Pluses are lighter and more compact. I can fit almost all the gear that I need to for a track meet into a ThinkTank Airport Security roller case which fits (just barely) into airplane overhead luggage compartments. The monopods that I use are Gitzo carbon fiber and Bogen.
I use an iPhone but I don't really use it much more than for communication
3) What software do you use?
I am a PC user and use two computers. I prefer Dell computers for their durability and dependability. I used a 13-inch Latitude for on location and traveling. I have a 15-inch Inspiron for home usage. Both computers have been configured with increased RAM for faster processing speed of large digital photo files.
Each computer is configured with Photoshop CS and Photo Mechanic software for the photo and IPTC processing. As well as cloud storage, I also use Drobo devices to store my images on multiple hard drives for backup.
The stages of processing at an event including picking out the highlights of the meet, cropping and color correction of image putting an IPTC caption with the who, what, when information and then transmission of the picture to clients via ftp.
4) What would be your dream setup?
In terms of my dream setup, I feel that I have am shooting with the best possible equipment that I can. The only variable that I can't control is the race of itself. It's a matter of being in the right place at the right time.