No Comments
America's Track & Field Stadiums: Maine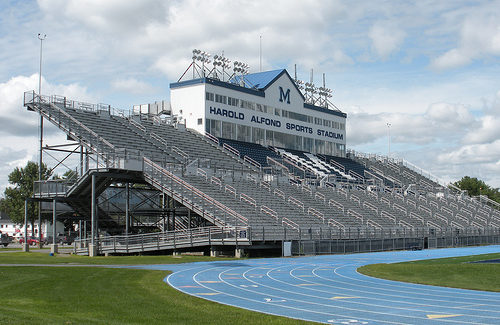 Jesse Squire | On 16, Apr 2016
There are actually two Alfond Stadiums in Maine, this one at the University of Maine's Orono campus and the other at Colby College.
Welcome back to our 50-part series on America's track and field stadiums and facilities. In anticipation of the Boston Marathon, this week we go to New England, and today we look at Maine.
Largest: Alfond Stadium
Almond Stadium in Orono is the largest stadium in Maine, period, and the only one with a five-digit seating capacity (10,000). While the current stadium dates from 1998, the site has been in continual use since the 1940s. The track gets a good amount of use in the summer in the form of Junior Olympic, Masters, and USATF association-level meets. It also features prominently in the Maine Black Bears' home cross country course.
Track-specific: Farley Field House
Being a sparsely populated state with just a single NCAA Division I athletic program, there aren't many track-specific facilities in Maine. The largest is Bowdoin's indoor track, the Farley Field House, which seats 1,000.
Most Picturesque: Whittier Field
The centerpiece of Bowdoin's Whittier Field is the Hubbard Grandstand, built in 1902. From the Bowdoin Library website:
[Architect Henry Vaughan] turned to something more pastoral, related to large summer cottages and to Stevens's Shingle Style, although the grandstand is made of stone and brick. The similarity derives from the generous overhang of the deep, hipped roof, originally green slate, and from the informality of the fieldstone base (now mostly obscured by additional bleachers).
Whittier Field was the site of the now-defunct Maine Distance Festival, which ran from 1994 to 2003. The track at Whittier Field is named for a Bowdoin alum who is probably the greatest American distance runner of all time: Joan Samuelson.