One Comment
America's Track & Field Stadiums: Arizona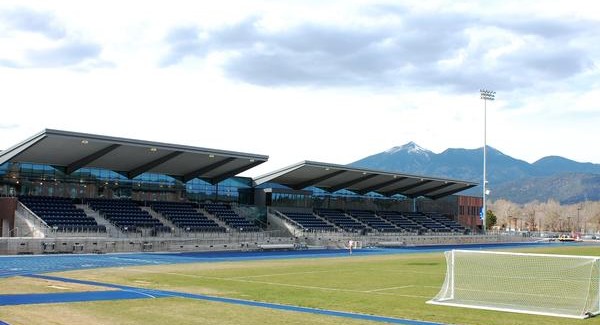 Jesse Squire | On 07, Apr 2016
Northern Arizona's Lumberjack Stadium offers views of Humphrey's Peak.
In honor of today's Sun Angel Classic, our 50-part series on America's track and field stadiums and facilities comes to Arizona.
Largest: Walkup Skydome
With a seating capacity of 10,000, Northern Arizona University's Walkup Skydome is the largest in the state. It is not named for how you get into it but for J. Lawrence Walkup, a former president of the university. Its elevation of 6880 feet above sea level (2110m) puts it among the highest elevation tracks in the NCAA.
Track-specific: Sun Angel Stadium, Drachman Stadium
These two track-only facilities are tied for the largest in the state. Arizona State says Sun Angel Stadium has permanent seating for "more than 5,000" and temporary seating can push its capacity to 9,000. Arizona says their Drachman Stadium can seat "over 5,000". The largest attendance figure I've seen at Sun Angel Stadium is 5,871 for the 1981 Sun Angel Classic, while Arizona claims their biggest turnout is "a standing-room only crowd estimated at more than 6,000 people" for the 1998 Tucson Elite Classic.
Most picturesque: Monument Valley High School
Monument Valley High School is in the extreme northern part of the state and in the Navajo Nation. The school itself has very interesting architecture, but it's the view off into the distance that wins here.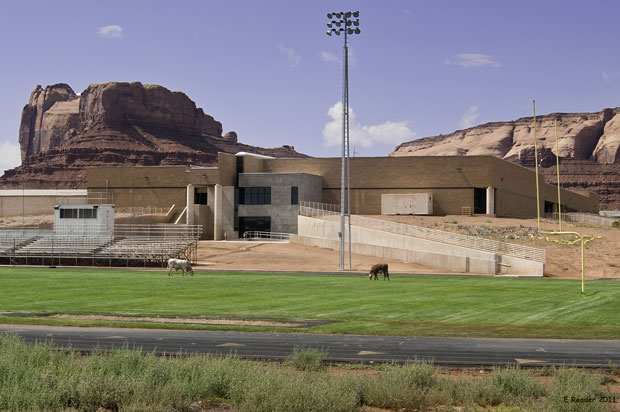 Unusual: Round Valley Ensphere
The nation's only domed high school stadium is in Round Valley in the extreme east end of Arizona, and track and field is among its many uses.