No Comments
5 Questions with Ian Milder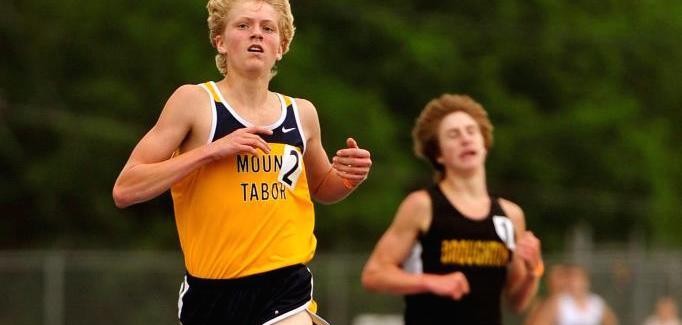 On

April 3, 2014

http://patprice.com
Welcome back to 5 Questions, where we pick the brains of people from all areas of the running scene. Today, we were lucky enough to catch up with Ian Milder, who just ran the fastest 3200 meters (8:53.99) in the country this past weekend at Raleigh Relays. Follow Ian on Twitter @ianmilder
Milder runs 8:53.99 with 60-second last lap (Isaac Wood & myself on the call for Flotrack)
5 Questions with Ian Milder
1. Daily Relay: Congrats on your 8:53.99 last Friday at Raleigh Relays. You ran 4:32, followed by 4:21, closing around 60. Did the race to your plan and what are your overall thoughts on your performance?
Ian Milder: I'm thrilled with my performance. The race went a little diffident than planned. The goal was to go out around 4:27, and then try to close hard. But the way it went worked out great!
2. Daily Relay: You mentioned in your interview after the race that one of your goals is Matt Debole's school record of 8:50.16. Are you planning to go after that at Arcadia? What are some other big meets you'll be running this outdoor season?
Ian Milder: Yes sir. I plan on going to Arcadia. I also plan on going to Penn Relays. Those are the big ones, then just focus on team stuff (conference, regionals, and states).
3. Daily Relay: You've had a pretty steep improvement curve since running in the 17's a few years ago in cross country. What has led to you becoming a national class runner in such a short time? What are some of your favorite places to train in Winston?
Ian Milder: The secret to my training is just being at Mt.Tabor. I have the best distance coach in the state as my coach. I have an amazing group of alumni that still push me to be better. I have current teammates that push me. And just the tradition here is to be the best. My favorite place to train is probably Salem Lake. You can really get quality long runs in there.
4. Daily Relay: North Carolina has improved by leaps and bounds on a national level in the past 10-15 years. What kind of legacy do you hope to leave after this season. What are some of the guys you've enjoyed competing with most along the way?
Ian Milder: The legacy I want to leave is just that Mt.Tabor produces runners. We have 5 straight top 5 Cross Country state finishes as a team. Mt. Tabor constantly produces great runners and teams. North Carolina is just full of studs. Will Roberson is my boy and he always gives me a run. He's so tough. Wyatt Maxey has crazy speed. Philip Hall is just a monster. The list goes on and on in NC.
5. Daily Relay: You'll be attending NC State next year with Maxey, Patrick Sheehan, Zack Langston and Roberson joining you. What led you to the Pack? Have you guys begun to discuss your time in Raleigh?
Ian Milder: What led me to the Pack would be the tradition of excellence. They produce year after year. The team is composed of great guys, and the class I'm going in with are a bunch of friends, so it'll be a blast.
If you enjoy 5 Questions, check out the archive of previous interviews over at Writing About Running