No Comments
Five Things We Learned in Monaco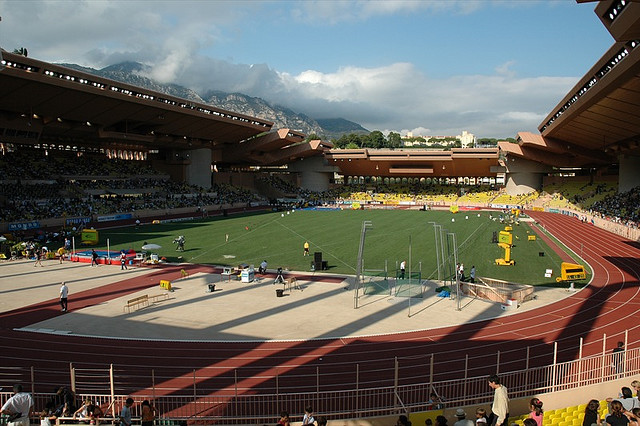 Jesse Squire | On 19, Jul 2013
Five quick thoughts on today's Diamond League meet in Monaco…
Jenny Simpson is back.
Back in 2009, when she was known as Jenny Barringer, she ran the still-standing 1500 meter collegiate record of 3:59.90 at the Prefontaine Classic. At the time she was more of a steeplechaser and it was a shock to everyone, herself included. Aside from her surprise win at the 2011 Worlds, she's been in slow decline since then. But in 2013, she went back to her college coach, Mark Wetmore, and the results have been very good and getting better.
Today Simpson ran from the front and won with authority, running 4:00.48. It's her fastest time since that 3:59 four years ago, but she won this race (she was second by 0.01 in 2009), her first-ever Diamond League win. She handed Kenyan trials champion Hellen Obiri her second loss of the season, and looks ready for the fight to defend her world title.
Stunningly, the U.S. took places three through five, all with very good times, and none of them are on the US Worlds team in this event. Brenda Martinez (4:00.94 PR) is running the 800, Shannon Rowbury (4:01.28) is in the 5000, and Gabriele Anderson (4:01.48 PR) didn't make the team in anything. Strange but true: the USA might be the favorite for gold in the women's 4×1500 at the inaugural World Relays next May.
Asbel Kiprop is in shape.
You knew Kiprop was flying today even without looking at the clock because at the bell he was ahead of the rabbit. He went on to win today's 1500 meters in a stunning 3:27.72. It's the fastest anyone has run in nine years and puts him #4 on the all-time list (behind Hicham El Guerrouj, Bernard Lagat, and Noureddine Morceli). This, however, does not mean he's a shoo-in to win gold at the Worlds. He's remarkably inconsistent–Silas Kiplagat beat him at last week's Kenyan trials meet.
Even more remarkable was the man closing on Kiprop for the last 200 meters. 5k/10k specialist Mo Farah ran 3:28.81, breaking Steve Cram's UK record set way back in 1985. I don't know how to swear in Oromo or Kalenjin, but I'm going to guess that a few Ethiopian and Kenyan long distance runners watching that race may have spewed out a few choice words. If anyone is going to beat Farah at the Worlds (and that's a very big if), their only chance is a hard pace from the gun.
Back in the pack, Matthew Centrowitz ran 3:33.58 for eighth, which is simultaneously a good sign, a bad sign, and no sign at all. It's good because it shows he was not injured when he stepped off the track in his last race, but it's bad because he should probably be running faster than that right now. But Centro's strength is in "tactical" races, where smart positioning and quick acceleration is more important than the ability to run a fast time, so this kind of race doesn't tell you a whole lot about how he'll do at the Worlds.
The USA could win gold in a men's distance race.
Duane Solomon won the 800 meters today in a controlled 1:43.72, turning back several top runners in the process. Ethiopia's Mohammed Aman was not here, but he and Solomon are probably co-favorites for gold at this point. Team USA has won gold in men's distance races at the Olympics/Worlds just three times in the last 40 years: Mark Plaatjes in 1993 (marathon) and Bernard Lagat in 2007 (1500 and 5000).
Isaac Wood might want to reassess.
Wood writes the Wood Running Report, mostly dealing with analysis of college cross country, and he's very good and very thorough. He just published his pre-season simulation of this November's NCAA men's championship race. He picks Texas Tech's Kennedy Kithuka to repeat as national champion, which seemed completely logical until just a few hours after posting. Lawi Lalang went out and ran 13:00.95, a collegiate record for the "extended season" (after NCAA Championships) by more than five seconds. Lalang probably has more in him, as he went with the group that produced a 12:51.34 world leader by Edwin Soi before falling off the pace late in the race.
Even so, Kithuka is going to be hard to beat. His dominating victory last year was one of the great runs in the history of the NCAAs. One thing is for sure: you want to be in Terre Haute on November 23 because this could be one of the best battles ever in college running.
Blessing Okagbare is a legitimate Worlds medal threat in three events.
The Nigerian UTEP alum has made an impact on the Diamond League in the sprints, with a 200 meter win in Birmingham and three runner-up 100 meter finishes in Shanghai, Eugene and Paris. Today she had a big result in the long jump as well, winning with a wind-aided 7.04 meters (23′ 1¼") and backing it up with 7.00 (22′ 11¾") in zero wind. Wind-aided or not, only four women have gone over 7 meters this year, and Okagbare has done it three times.
No man or woman, has medaled in both sprints and the long jump at a Worlds or Olympics since the nefarious Marion Jones in 2000 (and was subsequently disqualified). The only others who have done it are Heike Dreschler ('88 Olympics), Carl Lewis ('84 and '88 Olympics), and Jesse Owens ('36 Olympics). That's a very select group.
But wait, there's more! One BONUS thing we learned today!
Sandra Perkovic is beatable.
She wasn't actually beaten, but we saw that she is beatable. Cuba's Yarelis Barrios held the lead through the first four rounds, and Perkovic's 65.30 meter (214′ 3″) effort was her second-worst outing of the year. But she still won, and that's what really counts.
How dominant has Perkovic been? Aside from first-round fouls at the European Team Championships and the Lausanne Diamond League meet, today was the first time all year that she'd not been in first place. Going undefeated is one thing, but leading wire-to-wire for seven meets in a row is something else.