No Comments
The Weekend's Best Matchups: Bekele, Duals, Florida Relays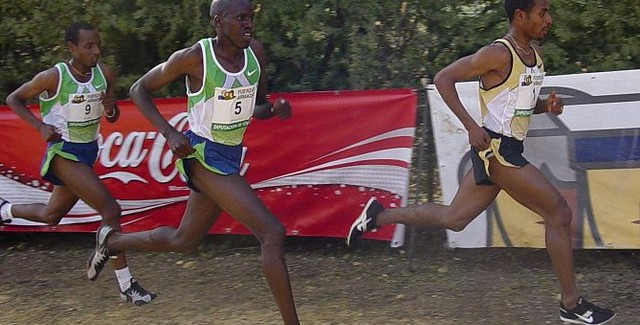 Will Kenenisa Bekele be as good at the marathon as he was on the track and in cross country?
I've identified six great matchups coming your way this weekend. Let's take a look at what's coming at you.
1. Kenenisa Bekele vs the marathon
Paris Marathon
Sunday, 8:45am local time (2:45am ET)
Live webcast available at WatchAthletics.com from 2:30am ET
Race website
Bekele is making one of the most anticipated marathon debuts since countryman Haile Gebrselassie made his first serious effort at the distance way back in 2002. Will it be success or failure? Success will be obvious if he wins or sets some kind of record, but that's historically unlikely in the marathon–and recent history suggests that it might not be a good thing in the long term.
"Statman" Jon Mulkeen has compiled a nice list of the fastest debut marathons of all time plus other notables. Ten men have run their first marathon in under 2:06 (nine of you discount Moses Mosop's "wind-aided" mark at Boston '11) and twenty-one did it in under 2:06:30. But absent from that top 20 list are:
*Haile Gebrselassie (the greatest distance runner of all time)
*Samuel Wanjiru (the recently deceased Olympic record holder)
*Khalid Khannouchi (several-time world record breaker)
*Wilson Kipsang (the current world record holder)
*Stephen Kiprotich (reigning Olympic and World champion)
Based on the above, "success" for a marathon debut apparently means only being ready to come back again and improve. Expecting a truly fast result from Bekele, a man who has spent a lifetime competing in completely different kinds of events, is not reasonable. If I were to set an over/under betting line for Bekele in Sunday's race, I think I'd go with about 2:07:00.
2. Oregon vs Arizona
Pepsi Dual Meet
Hayward Field, Eugene, OR
Saturday, 11:25am local time (2:25pm ET)
Live TV coverage on the Pac-12 Networks from 4:00pm ET
Live webcast at Pac-12.com from 4:00pm ET
Meet home page
Track and field is generally a sport that looks forward. I mean, in most of our competitions it's not important who wins that day so much as who is setting themselves up to win a later competition: a national championship, a World Championship, the Olympics. One of the reasons I like dual meets is because winning or losing a dual is about right now. Neither of these teams will have another chance to "win" anything for a month or more. These are good teams–according to the Track and Field News dual meet rankings, on the men's side it's #7 Oregon vs #13 Arizona, on the women's it's #1 Oregon vs #11 Arizona–and the meet will be carried live on the Pac-12 Networks. Which team wins will matter.
Another reason I like duals is because I maintain the national dual meet rankings for Track and Field News. The dual meet championship is a mythical one, like college football was before the BCS, but it's a championship won during the regular season and on campus sites (unlike the real NCAA title, which is won long in the future and far away). And since this is the only dual meet of the year for Oregon, it's all-or-nothing right here for the title.
There are other notable dual-type meets this weekend. Michigan and Cal go to Virginia, a meet that could also have national title implications. There are traditional rivalries: Lehigh at Lafayette, Oakland at Detroit, UConn at Albany (aka "The Dogfight"), Milwaukee at Marquette, Maine and Holy Cross at New Hampshire, North Dakota and South Dakota State at South Dakota. There's a triangular that looks like alphabet soup, MIT and RPI at WPI (aka the "Engineer's Cup"). And there is the most intense dual track meet on the planet, Navy at Army.
3. Lawi Lalang vs Mac Fleet
Men's 1500 meters, Arizona vs Oregon
Hayward Field, Eugene, OR
Saturday, 1:09pm local time (4:09pm ET)
Fleet is the defending NCAA 1500 meter champion and has an incredible home winning record. He's lost only once at Hayward Field, in 2010 at the Oregon Twilight mile. He finished third behind Matt Centrowitz and Russell Brown in that race while running on what was later found to be a broken foot. Other than that, he's 8 for 8 in heats and finals dating back to 2009. All he does is win.
Lalang is the collegiate mile record holder and his 1500 PR is faster than any current collegian, even though he specializes in longer distances. He has a 2-0 career record against Fleet, topping the Duck at this year's NCAA indoor championships (2nd to Fleet's 3rd) and last year's Pac-12 Championships (1st to Fleet's 3rd).
From Ken Goe's daily Oregon track & field rundown:
"I'm excited," Fleet said. "I don't know exactly how it's going to work out. [Lalang] tends to have one racing style. We'll see if he works on anything else. If he takes off, well, surely I'm definitely going to try to win the race."
FYI: the fastest 1500 ever run in a college dual meet is 3:37.72 by Oregon's Joaquim Cruz, at Cal in 1984. It takes 3:40.7 just to crack the top ten in dual meet history.
4. Trayvon Bromell vs Aaron Brown
Men's 100 meters, Pepsi Florida Relays
James G. Pressly Stadium, Gainesville FL
Friday, 2:40pm local time
Live webcast at Flotrack (subscription required)
Meet home page
Bromell, the 18-year-old Baylor freshman, made headlines last week with his 10.01 win at the Texas Relays. It ties the 100 meter world junior record and had people wondering if he's the next big thing in the sprints. Only time will tell, but right now he looks like the best sprinter in college track.
Among his chief rivals for the NCAA title will be USC's Aaron Brown. He finished 13th at the World Championships last summer for his native Canada, advancing to the semis. Last year he started slowly before rounding into form in May and June, but he's likely to be a bit sharper in April this year as USC is now taking indoor track somewhat seriously and he has several quality races under his belt.
5. Sprinters versus relevance
Men's 100 meters and 400 meters, Pepsi Florida Relays
Six years ago, Jeff Demps was where Bromell is now. He set the world junior record in the summer after high school and was supposed to be the next sprint star. He split time at Florida between football and track and it held him back in both sports. Football kept him from developing fully as a sprinter, and track kept him from gaining the bulk and elusiveness necessary for football. His PR is still that 10.01 he ran when 18 years old. He's tried both football and track at the professional level and hasn't had much success at either. He's here and running, we'll see if it matters.
Four years before that, Jeremy Wariner really was the next quarter-mile star. He blitzed through the college season as a Baylor sophomore, sweeping the 400 and 4×400 titles at both the NCAA indoor and outdoor championships. That summer he made the same 400/4×400 sweep at the Olympics, the beginning of three years of dominance. He was falling off his peak by the 2008 Olympics and never got back on top. Last year he won the US indoor title, but finished dead last at the outdoor championships. Not last in the final, but dead last, period. He's here and running, we'll see if it matters.
6. Florida vs Pittsburgh
Men's 100 meters, Pepsi Florida Relays
James G. Pressly Stadium, Gainesville FL
Saturday, 4:30pm local time
Florida has great sprint relay teams, both men and women, and should win most of Saturday's relay races at their own Pepsi Florida Relays without much competition. The one team that could make it interesting is Pittsburgh, specifically in the men's 4×200 relay. It looks like they're going all-in with their best 200 and 400 runners, including All-Americans Carvin Nkanata and Brycen Spratling, the latter of which ran a tremendous anchor in the 4×400 at last week's Raleigh Relays. Anther team that could factor into things is USC, with sprinters Aaron Brown (see #4 above) and Beejay Lee.