One Comment
10 Things I'm interested in following in 2016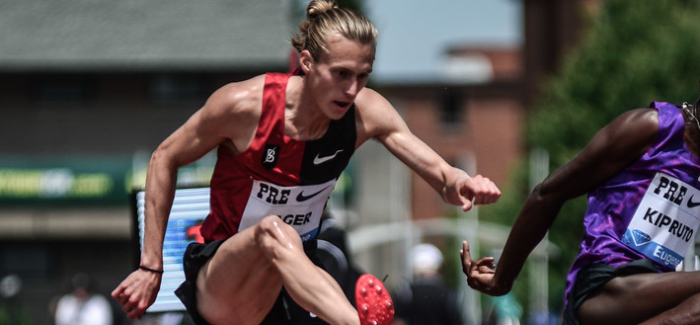 Kevin Sully | On 11, Jan 2016
After a year of doping and corruption stories that piled up so high that they became hard to keep straight, it's the Olympics to the rescue in 2016! Or at the very least, it's the Olympics to the diversion! Here are ten things I'm interested in following during 2016, both on and off the track. They are listed in no particular order.
1) Can Allyson Felix win four gold medals in Rio?
The USATF petitioned the IAAF to change the schedule at the Olympics so the 200/400m double is feasible for Allyson Felix. I'm not saying that switching the schedule would wash away the IAAF's scandals, bribes and cover-ups of the past year, but hey, wouldn't the best distraction from all that be to have the best possible meet in Rio?
You're right, that wouldn't really change anything. Ok, how about this—you've screwed up virtually everything else in the past couple years, here's a chance to do something good? It's irrefutable that everyone wins with more Felix.
The double would be the crowning accomplishment in what looks to be Felix's peak Olympics. She'll still be around in 2020, but considering that she's been running at an elite level since she was a teenager, I think there will be a decline between 2016 and 2020. Right now, she's still only a few years away from her 200m lifetime best and she ran that 47.7 relay split last year. We are seeing the convergence of speed, strength and experience that comes from someone entering their 12th year of running as a pro. Even though we may not see 21.69 speed from her, it's plausible that her fourth Olympics will be her best Olympics.
And if the schedule allows for her to run both the 200m and 400m, and if she then does in fact win them both, then she will be two relays away from winning four golds in one Olympics. Only six others have done that in track and field, the most recent being Carl Lewis. If she gets four medals of any kind it would increase her overall Olympic total to ten, equalling Lewis for second most by a track and field athlete (and behind probably 30 different swimmers and gymnasts). But all of this requires a bunch of ifs–starting with the schedule change and including some luck with the batons in the relay.
2) Which world records will go down this year?
A cheat sheet for you. This is broken into categories based on feasibility.
Requires a time machine
Men's 100m
Men's 200m
Men's 800m
Men's 5000m
Men's 10,000m
Men's 400m hurdles
Men's 4 x 400m
Men's long jump
Men's shot put
Men's discus
Men's hammer throw
Men's javelin
Women's 100m
Women's 200m
Women's 400m
Women's 10,000m
Women's long jump
Women's shot put
Women's discus
Women's marathon
Women's heptathlon
Not likely
Men's 4 x 100m
Women's 400m hurdles
Women's high jump
Only if someone gets really hot
Men's 400m
Men's 110m hurdles
Men's 3000m steeplechase
Women's 110m hurdles
Women's 4 x 400m
Women's triple jump
Women's pole vault
Women's javelin
Possible
Men's 1500m
Men's triple jump
Men's high jump
Men's pole vault
Men's decathlon
Men's marathon
Women's 4 x 100m
Women's hammer throw
Depends if Dibaba runs it
Women's 800m
Women's 1500m
Women's 5000m
Women's 3000m steeplechase
3) How will Justin Gatlin respond to his 2015 defeats?
Last year appeared to be Gatlin's last, best and only chance to beat Usain Bolt. He seemed fueled by the hatred toward him as he reeled off 9.7s throughout the summer. By the time the World Championships kicked off, he looked as unbeatable as one could look facing off against a man who was actually unbeatable. We all know the rest. Gatlin unraveled in Beijing and lost by .01 to Bolt in the 100 before being blown out in the 200m. The results of the meet played out as if the rest of the season didn't exist.
Where does Gatlin go from here? It's clear that Bolt's edge is just as much psychological as it is physical when it comes to the championships. Gatlin is older, but Bolt isn't actually aging gracefully either. If you told me at the beginning of last year that Bolt would only win the World Championships 100m by .01, I think everyone would agree he's headed for his most challenging Olympics. But last year was such an escape that it looks like he weathered Gatlin's best shot.
I'm not sure that is accurate though, only because I haven't been able to predict anything between these two. When Gatlin returned from a suspension I didn't think he had much of a chance of breaking 10 seconds let alone get fast enough to have people curse at his mom during medal ceremonies. And when Bolt struggled all season and raced sparingly and slowly, I didn't think he'd get within five meters of Gatlin at the World Championships. All of that turned out to be wrong. So we enter 2016 with Bolt still in a familiar position as the favorite and some questions of whether Gatlin will be his top challenger.
4) Which of the new professionals will make an impact at the Olympics?
There is a long list of high profile stars that will be attempting to make their first Olympics in 2016. Their ages range from Candace Hill, who will be 17 next track season, to Andre De Grasse, who turned 21 this November. In between, there is Trayvon Bromell (20), Mary Cain (19), Alexa Efraimson (18) and Kaylin Whitney (17). All are college or high school age. None compete for their amateur team any more, in part because of years like this when training in a professional setting allows them to devote their full attention to making, and succeeding in, the Olympics.
That Olympic goal differs in feasibility amongst the group. De Grasse already has a major championship medal and is a veritable lock to make the Canadian team. Bromell also has a medal, but will have a more challenging time getting to the start line in Rio because of the US depth in the men's sprints. Neither man's decision to skip their remaining eligibility will be validated by success this year. It's already been proven that they can run the times required to make teams and get paid. In that sense, there is nothing larger at stake here other than 2016 will be the first chance in an Olympics to see two men who could be the centerpieces of an eventual post-Bolt sprint world.
The women's quartet of Hill, Whitney, Efraimson and Cain is less established and includes sprints and distances. There are some parallels between the two event groups. Cain and Whitney are both phenomenal talents who decided to take an uncommon path of running professionally while in high school. Once in a generation we thought, only to have someone just as fast, or even faster, a year younger than them right on their heels.
I'm particularly interested in Cain, who has gone through an entire career's worth of ups and downs since the last Olympic year. In 2012, she made the Olympic Trials and exceeded expectations, laying down what was in retrospect an indicator of how good she could be. In 2013, she broke high school and junior records until it became clear that despite her age, success was inevitable right away. She won a US indoor title in the winter. Outdoors, she became the youngest American athlete ever to compete at a World Championships. She made the final and finished 10th in the 1500m.
The next year she won the World Junior Championships 3000m–the first American woman to win a medal in any event 1500m or longer in the World Junior Championships. Then, her uncanny ability to never have a bad race came to an end. In the 2015 indoor season, she struggled and in May she went home to New York to take some time away from Portland. The outdoor season wasn't any better. She never got close to her best of 4:04 in the 1500 and was finishing near the back of the pack in races. At the US Championships she finished eighth and didn't qualify for the World Championships. In the fall, she decided to return to New York for good. She's still coached by Alberto Salazar and is enrolled in college in New York.
So in the last Olympic cycle she's gone from unknown to phenom to rewriter of records. From sure thing, to being susceptible to same pitfalls of early success that she expertly avoided for the first three years of her career. In discussions about Cain, everything seems to fall in the extremes. But because she's already been at both ends, I don't think this year will confirm her fate one way or another. 2016 is a big year only because it is this year.
5) How long will Russia's suspension last?
Right now it's listed as indefinite. The IAAF probably has to make sure that it stretches at least through the indoor World Championships otherwise it will amount to basically an off-season suspension. Imagine FIFA banning Brazil for the three months after a World Cup.
Complicating everything is that the organization tasked with instituting the ban, the IAAF, is implicated in abetting Russia in covering up tests. I'd say that the credibility of track and field is at stake with how this suspension is handled, but that requires there is some remaining credibility in these matters. I don't think that exists. At least not amongst the general public who only come across news about track and field when it concerns cheating.
Excluding Russia from World Indoors isn't the the same as sidelining them for the Olympics (the world cares about the Olympics, track and field fans care about the World Indoors), but it is a meet that matters at least on some level. If they are left out of World Indoors and reinstated before the Olympics, there will be plenty of questions about how they could have gone from state sponsored mega doping, to compliant in a matter of months.
Until it is sorted out, Sergey Shubenkov, Yelena Isinbayeva, Anna Chicherova and the other Russian stars are in the wind. Fortunately for them, they were never under the same level of scrutiny as the Russian distance runners, throwers and race walkers before this whole thing started. Will the pressure they administer to compete be enough to move Russia to make changes quickly? And if the country is reinstated, will anyone believe this whole process wasn't expedited to make Russia all square just in time for the Olympics?
6) What will come of the Rupp/Salazar investigation?
Speaking of Russia, that really washed away any and all other doping stories in 2015 didn't it? The Galen Rupp/Alberto Salazar story certainly looks much smaller in scale, so it's easy to forget that USADA is reportedly investigating whether Alberto Salazar broke any rules. USADA is supposed to finish their investigation in January, but it's unclear what the results will be. The author of the initial story, David Epstein, said that many of the issues raised about Salazar aren't punishable because they fall outside the statute of limitations.
In a matter of months, the conversation in running circles went from whether Rupp or his coach would face doping sanctions, to speculating if he'd run in the Olympic Trials marathon. Quite the turnaround. Of course, any findings would have reverberations throughout track and field and not just with Rupp. Salazar coaches, or has coached in the past, so many elite runners from a variety of countries.
7) Will American steeplers keep ascending?
Strangest results from the 2015 World Championships……Kenya winning the 400m hurdles…. the US getting shut out in the 100m hurdles…….Dafne Schipper moving to third all-time on the women's 200m list……Compared to those, the American steeplers becoming legitimate contenders for medals probably doesn't fall as high. But I'm American, an American who grew up watching track in the 1990s and early 2000s when the thought of someone from the US being in the same camera shot as the leaders at the finish line was a leap. So seeing both Emma Coburn and Evan Jager vault themselves into the medal discussion last year was an adjustment.
Right up until the World Championships, it looked like both could finish in the top three–and there was a no so ridiculous chance that one could win gold. Coburn was consistently in the front of Diamond League races and Jager was running so well that his stumble in Paris still resulted in an American record. Ordinarily, that would have been a soul crushing loss, but it instead spoke to what Jager was capable of.
When it came time for the World Championships, the US did better than normal, but realize what looked to be possible entering the meet. All six entrants in the men's and women's field made the final (good). But no one made it into the medals (not so good). Coburn finished fifth, just over two seconds from a bronze. Jager took sixth in the men's race and was actually the second American across the line. His training partner Daniel Huling placed fifth. Clearly, the US is closing the gap in this event. They are now equipped to put three runners into an Olympic final and with Coburn and Jager they can compete at the front for the medals. They weren't quite there in 2015, but both are young and there isn't any reason to believe they can't inch themselves closer to the podium for the Olympics.
8) Who will be the Jamaican successors to Usain Bolt and Shelly-Ann Fraser-Pryce?
Jamaica broadened their reach last championships, showing great depth in the high hurdles and women's 400m. As per usual, they won three of the four short sprints and both 4 x 100m relays. The only thing missing, particularly with the men, is a sign of what is to come when the current stars retire. Yohan Blake hasn't been himself in years because of injury. Warren Weir was nowhere last year after looking like he was a definite candidate to ease the post-Bolt transition. Other than Bolt, it's a bit stagnant at the top.
It's Jamaica so I'm sure there is somebody right underneath the surface. We just don't know who that person is yet. It hasn't been easy to get on a national team, with Bolt, Asafa Powell and others locking up spots for the past 8-10 years. I think this year is when there will be some indication of who is next. Blake is still young enough to be that person, but he hasn't run a relevant race since the end of 2012. If it's not him then who else will emerge from their endless pool of talent?
The successor is bit more obvious for the women. Twenty-three-year-old Elaine Thompson came out of nowhere in 2015 to win silver in the women's 200m. She also ran 10.84 in the 100 so when, or if, Fraser-Pryce decides she wants to stop winning gold medals, Thompson is already in a good spot. Thompson's rise was so dramatic (11.17 to 10.84 in the 100m, 23.23 to 21.66 in the 200m), she is worth watching to see just how she follows up such an large breakthrough season.
9) Who shows up to World Indoors?
The appeal of Portland hosting the World Indoor Championships is the hope that the best athletes in the US will make it priority in an Olympic year. As appealing as Poland or Turkey are in early March, I'd guess more Americans will make an effort to run in a meet that is at most a few time zones away. It's also home to two elite clubs, Nike Oregon Project and the Bowerman Track Club, and is two hours away from the Oregon Track Club in Eugene. Those three groups alone comprise a decent chunk of world class athletes.
When Portland won the right to host, I envisioned the volume of an indoor meet mixed with the spirit of an Oregon track crowd. Add in that it's a meet between nations (most competitions at Hayward Field don't feature USA jerseys) and there is potential to transform the Oregon Convention Center into Hayward with a roof.
While the venue is cozy enough to get loud, and the fans are knowledgeable to stay engaged regardless of what event is on the track, the way this meet goes to 11 is predicated on who shows up. Specifically, the athletes with strong Oregon ties. Ashton Eaton, Galen Rupp, Matthew Centrowitz, etc. Eaton is already committed to compete. He, along with Galen Rupp, are probably the most recognizable stars from the state. But proximity doesn't guarantee participation. Mo Farah has already said he won't be competing and he lives in Portland.
10) Will there be a shake up in the American high hurdles?
The high hurdlers struggled last year in the United States. To clarify, the high hurdlers struggled at the World Championships last year. Everywhere else but Beijing, they dominated. However, the World Championships were a mess. There were eight entrants in the 110m/100m hurdles and it only produced one medal between the men's and women's teams.
There are no byes to the Olympics which means the hardest team to make gets even harder with only three spots available per gender. As many medalists as the US has, there isn't one that I feel supremely confident will make the team. Four of the top 10 all-time women in the 100m hurdles are actively competing in the event (Brianna Rollins, Jasmine Stowers, Sharika Nelvis and Dawn Harper Nelson), yet I don't feel any of them are a sure thing for Rio. Behind them there are at least five others who have made championships or won major medals.
The men's field will benefit from the addition of Devon Allen. After catching just nine passes during football season, I'm assuming he will devote his full efforts to hurdling. Allen was the 2014 US champion before tearing his ACL in the 2015 Rose Bowl for Oregon. If he is near what he was before the injury, the US team is obviously much harder to make. Then there is Aries Merritt, who took bronze in Beijing days before he had his kidney replaced. What does he do for a second act?