No Comments
The Weekend's Best Matchups: The New Year Begins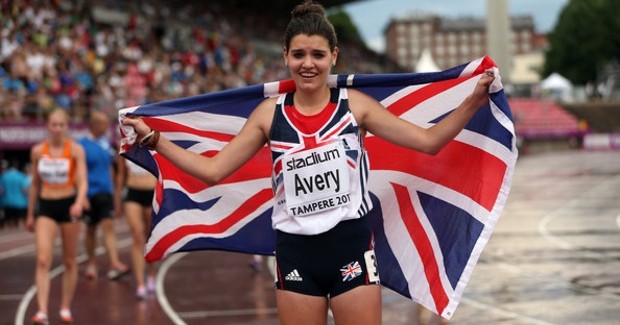 Jesse Squire | On 15, Jan 2016
College action dominates the upcoming weekend, and former Iona star Kate Avery headlines international action.
I'm back after a long forced absence, and so is the Weekend's Best Matchups!
It's still very early in the season and there's not a lot of the traditional types of matchups happening. There are a lot of college duals and triangulars, though, some of them based around traditional rivalries. There are also some good distance races on tap in cross country and on the roads.
Here are your top nine matchups, presented in chronological order.
Kansas vs Kansas State vs Wichita State
Anschutz Pavilion, Lawrence KS
Friday, 5:00pm local time (6:00pm ET)
Preview and meet information
This is the second year in a three-year series pitting the three Division I teams in the Sunflower State. Kansas State won both the men's and women's titles last year, but "mid-major" Wichita State came up just one point short of the win in the men's competition.
Fionnuala McCormack vs Kate Avery
Women's race, Antrim International Cross Country
Greenmount Campus, Cafre NIR
Saturday, 2:25pm local time (9:25am ET)
Meet home page
The IAAF preview is promoting this as a battle between Ireland's McCormack (nee Britton) and Britain's Avery, the former NCAA champion for Iona. Last week they took the top two spots at the Great Edinburgh Cross Country, with McCormack coming out ahead by four seconds. Two other names to watch are the last two champions of this race, Mimi Belete (Bahrain) and Birtukan Fente Alemu (Ethiopia).
Duke vs North Carolina vs NC State
Dick Taylor Carolina Cup
Eddie Smith Field House, Chapel Hill NC
Friday, 5:00pm
Host website
East Carolina is also in the meet, but the lion's share of attention goes to these three rivals.
Notre Dame vs Wisconsin
Camp Randall Memorial Sports Center, Madison WI
Saturday, 11:00am local time (noon ET)
Host website
I have no idea when the last time Notre Dame and Wisconsin met in a dual meet, but I do know that the first time was in 1891, when the Fighting Irish won an indoor meet over the Badgers by the score of 47 to 41.
Indiana vs Purdue
Lambert Fieldhouse, West Lafayette IN
Saturday, 1:00pm
Host website
Bitter dual meet rivalries are hard to come by these days in college track but this one does tend to be intense. The Hoosiers already have a dual under their belt against Tennessee (their men won and women lost), a revival of an indoor series held through the 70s and 80s.
Ronnie Baker vs John Teeters
Men's 60 meters, Texas A&M Team Invitational
Saturday, 3:25pm local time (4:25pm ET)
Host website | Live results
Live webcast at WatchESPN.com
Baker and Teeters were first and second in this event at last year's NCAA Indoor Championships. This is very early in the season and there's no guarantee that both will contest the final, but if they do it should be the race of the weekend.
Kim Conley vs Nicole Sifuentes
Women's 3000 meters, UW Preview
Dempsey Indoor, Seattle WA
Saturday, 4:10pm local time (7:10pm ET)
Host website
Live webcast via Flotrack (subscription required)
As the meet title implies, the UW Preview is a "low-key" (read: boring) affair, but a few pros are entered in the distance races. Conley was on the US team for the 2012 Olympics and 2013 Worlds in the 5000 meters, while Sifuentes has been on numerous Canadian international teams in the 1500. Here they meet in the middle.
Mare Dibaba vs Mary Wacera
Women's race, Aramco Houston Half Marathon
Sunday, 7:00am local time (8:00am ET)
Race website
On paper this sounds like an awesome race. Dibaba is the reigning IAAF World Half Marathon champion (and runner-up at last year's Boston Marathon) while Wacera was second at the 2014 World half.
Yasin Haji vs Timothy Toroitich
Men's race, Cross Internacional de Italica
Ruins of Itálica, Santiponce ESP
Sunday, 3:00pm local time (9:00am ET)
Meet website
Ethiopia's Haji, the 2015 world junior cross country champion, and Uganda's Toroitich, fifth in the senior cross worlds three years ago, are both angling for a win. Haji was runner-up at the Cross Campaccio Internazionale on January 6th, while Toroitich was seconds at the Cross Internacional Zornotza four days later.