No Comments
The Weekend's Best Matchups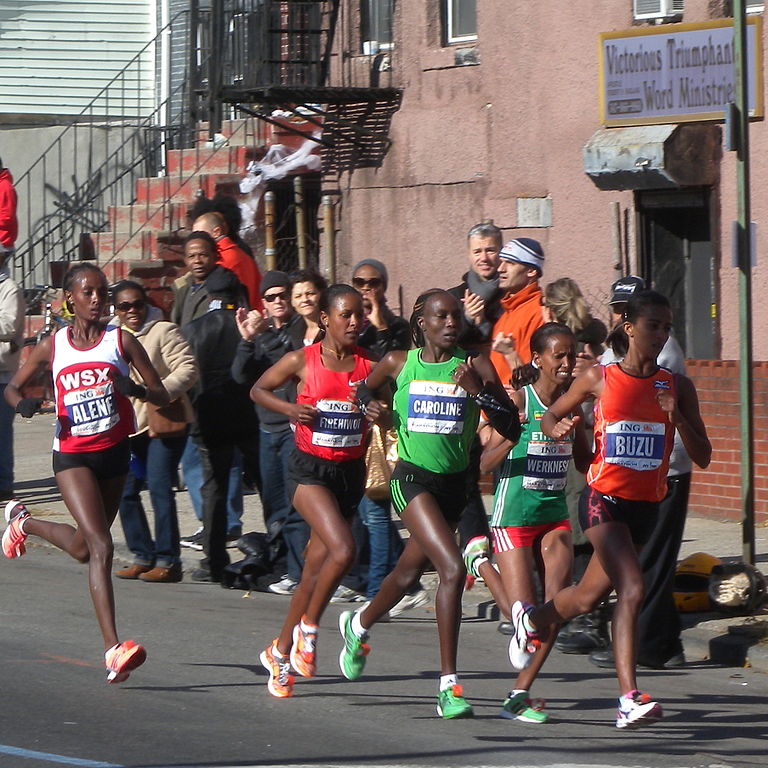 Jesse Squire | On 31, Oct 2013
The New York City Marathon is back on TV!
This is hands-down the best weekend of the fall for distance running fans. Collegiate conference championship meets begin on Friday and go through Sunday plus the biggest road racing event of the year make for a great three days. The latter of those, the New York City Marathon, is even better this year than most since it will get live TV coverage for the first time in two decades (and it's probably going to be very good coverage).
Let's take a look at the best head-to-head contests to watch.
1. Priscah Jeptoo vs Edna Kiplagat
New York City Marathon
Sunday, 9:10 AM
Watch: LIVE on ESPN2 from 9:00 AM, live on ESPN3 from 7:00 AM
These are, without a doubt, the world's two best women's marathoners right now. Jeptoo won April's London Marathon (where pros routinely face the deepest fields of the year) after taking Olympic silver in 2012. Kiplagat won her second straight World Championship gold in August after finishing second to Jeptoo in London.
There's a lot on the line: the unofficial title of world's best marathoner plus $100,000 for the winner. The $500,000 World Marathon Majors jackpot is in play too. If Jeptoo wins, she takes the cash; if Kiplagat is first or second (and Jeptoo doesn't win), then she takes it. But if neither of the above two scenarios takes place then neither takes it. With that in mind, and the fact that both are much better runners than anyone else in the field, I don't expect either runner to take huge risks.
2. Geoffrey Mutai's 2011 self vs 2012-13 self
New York City Marathon
Sunday, 9:40 AM
So which version of Geoffrey Mutai shows up on Sunday? It will decide who wins the race.
If it's the 2011 version, the race might already be over. That year he destroyed course records in Boston (by nearly 3 minutes) and New York (by over two minutes), took 5th at the World Cross Country Championships, ran a 27:19 road 10k and broke the course record at the Bogota Half Marathon. It was a tremendous display of running.
Since then it's been up and down. He dropped out of the 2012 Boston Marathon (heat issues) and the 2013 London Marathon (hamstring problems). He didn't even get to start last year's New York City race (along with 45,000 other disappointed runners).
I think the truth lies somewhere in the middle. It's hard to keep dominance going for any length of time, especially in the marathon. But Mutai won the Berlin Marathon last year and run several top-notch half marathons leading up to this race. Even if he's not at his former peak level, he's still darned good.
3. Tsegaye Kebede vs Stephen Kiprotich
World Marathon Majors jackpot
The New York City Marathon may very well come down to these two. Kebede is the reigning London Marathon champion and that demands immediate respect. All Kiprotich does is win, specifically gold medals: he's the reigning Olympic and World Championship gold medalist (titles that mean less in marathoning than in other events).
But the real competition between them is for the World Marathon Majors jackpot. If Kebede finishes first or second (and beats Kiprotich), he wins the half-million dollars. If Kiprotich wins (or finishes in the top three while Kebede is out of the top five), then he wins the money. No other runners in the race have a shot at it.
4. Meb Keflezighi vs age
New York City Marathon
Sunday, 9:40 AM
Somewhere there is a picture of Meb Keflezighi running ever-deteriorating marathons as the years go by, but the real-life athlete we see is defying the aging process. He took 2nd and 4th in Olympic marathons held eight years apart–a feat matched by no one, ever. This race was originally supposed to be his swan song, his farewell race at the same site of his first marathon some eleven years earlier. Now he's looking to keep going for several more years and take a shot at making one more Olympic team. He's not quite at 100% due to a calf injury, but we've seen him do amazing things in the past at less than 100%.
5. Jason Hartman vs sponsorship
New York City Marathon
Sunday, 9:40 AM
If Hartmann is not the best US runner who competes without a sponsor (and that's a very big if), he probably is the most accomplished. He's used to being out of the spotlight; he wasn't even the best runner on his high school team (Dathan Ritzenhein was). He's finished fourth in the last two Boston Marathons, making him the top US runner in the World Marathon Majors standings over such well-known (and well-paid) names as Men Keflezighi, Dathan Ritzenhein, and the enigmatic Ryan Hall. But he doesn't have a fast time to his name and his two Olympic Trials races netted just 10th and 32nd.
32-year-old Hartmann is the poster boy for the perpetually struggling runner and he's exactly the kind of guy we should be watching. If there's anything that professional track and field has to offer, it's inspiration. We cheer for the underdogs, the outsiders, the Rockys and Derice Bannocks. 35-year-old naturalized US citizen Fidele Jefferson broke his PR at Chicago last month by 7 minutes with 2:15:19 and it made a forty-something like me tell myself "no, I'm not done yet". If a complete unknown like Jefferson can have a day like that, then what other unknown will come out of the woodwork on Sunday?
6. Georgetown vs Providence
Women's race, Big East Championships
Wayne E. Dannehl National Cross Country Course, Kenosha WI
Saturday, 11:50 AM local time (12:50 PM ET)
Meet website | Flotrack preview | Runnerspace page
This is probably the most intriguing matchup of the entire collegiate cross country weekend. Providence, the #4-ranked women's team in the country, was ranked #1 for much of the early season before a third-place finish at Wisconsin's Adidas Invitational. The Friars are the best in the country through three runners and might even have the best top four, but they have the weakest fifth runner of any of the top teams. The Georgetown Hoyas, the defending ACC champions and ranked #3 in the NCAA, are a mirror image. They won the Pre-National Invitational on depth, with six runners in the top 50 of that race (but none in the top ten).
Seeing #3 and #4 go at each other for a conference title is always an interesting matchup. What makes this race even more interesting is the mathematics of the meet. This is a relatively small race (ten teams) and that makes a difference. When there are fewer runners in a meet, it hurts the teams with great leaders–no matter how fast your best runner goes, they can't score less than one point. So that's a minus for Providence. But a small race also helps a team with a weak fifth runner, since that runner can't be buried as deeply as in a bigger race. This is a plus for Providence. How will it all shake out?
7. Wisconsin vs Big Ten
Men's race, Big Ten Championships
Boilermaker Cross Country Course, West Lafayette IN
Sunday, 10:45 AM
Meet website | Flotrack coverage | Runnerspace page
Wisconsin's men have won the Big Ten Championships a stunning fourteen times in a row, but early in the year it looked like it might end. They had no big-name stars left on their roster after graduation and stayed out of the spotlight–and whether that was planned or not is anyone's guess. But the Badgers answered the doubters (and low poll ranking) at their own Adidas Invitational with a surprising fourth-place finish. Coach Mick Byrne took on the naysayers at his most recent media appearance, specifically those at the Let'sRun.com message board.
My personal opinion about Let's Run has always been that it's our sport's version of talk radio, a few kernels buried in lots of chaff. But I also think Byrne's statements to the media were not for the sake of the media or public but as a way to fire up his runners. Byrne can flat-out coach, as proven by the outstanding job his athletes have done so far this year, and he'll use any and all means necessary to get every last ounce of effort out of them.
8. BYU vs Portland
Men's race, West Coast Conference Championships
Pepperdine Alumni Park, Malibu CA
Saturday, 9:00 AM local time (noon ET)
Meet website | Live webcast at TheW.TV
This might be the biggest rivalry in college cross country right now. Portland used to rule the WCC–they won it 32 times in a row–and then BYU broke that streak in 2011, their very first year in the conference. Portland turned the tables last year on the Cougars by a single point. It again looks like it will be close and competitive as BYU is #5 in the latest poll and Portland is #6.
9. Columbia vs Princeton
Men's Race, Ivy League Heptagonal Championships
West Windsor Fields, Princeton NJ
Saturday, 11:00 AM
Meet website | Flotrack preview
Columbia is ranked #10 in the latest poll, based mostly on their upset win at the Notre Dame Invitational. #15 Princeton is the three-time defending league champions, and coach Jason Vigilante is trying to pull off the first four-year sweep since Vin Lananna's Dartmouth squads did it from 1989-92. Lurking in the background is #21 Harvard. Note that Flotrack's preview for the Ivy League meet was written by a guy with the Ayn Randian name of Jon Gault. You can't make this stuff up.
10. Colorado vs Oregon
Men's race, Pac-12 Championships
Coal Creek Golf Course, Louisville CO
Saturday, 10:40 AM local time (12:40pm ET)
Meet website | Flotrack preview
TV coverage: tape-delayed on Pac-12 Networks, beginning on Monday and repeating ad infinitum
On paper, this should be a fantastic matchup since Colorado is the #1 team in the nation and Oregon is #4. The 5,300-foot elevation of the course takes a little luster off it though; it's going to be a significant factor since the favorite team lives and trains at altitude and the competition does not.
There is, however, a significant X-factor here: Eric Jenkins. The transfer from Northeastern runs for Oregon…well, he will run for Oregon but hasn't yet suited up for a single race as a Duck. He's on the entry list so we have to assume he really will run. He ran some great track races last spring, including a 13:18 5k (which makes him the fastest under-21 American of all time). But he hasn't run a cross country race in almost two years and hasn't run a race of any kind since June. All training and no racing makes a dull runner (as opposed to "sharp"), at least the first time out. So he really does represent a completely unknown quantity.
11. Aisling Cuffe vs Shelby Houlihan
Women's race, Pac-12 Championships
Coal Creek Golf Course, Louisville CO
Saturday, 11:40 AM local time (1:40pm ET)
This looks like the most interesting cross country race of the weekend from an individual perspective. Stanford's Cuffe ran second at the Pre-National Invitational while Arizona State's Houlihan was fourth at the Wisconsin Adidas Invitational. I rate both among the top ten runners in the NCAA but it looks to me like a fairly even race.
12. Michigan State vs Michigan
Women's race, Big Ten Championships
Boilermaker Cross Country Course, West Lafayette IN
Sunday, 11:45 AM
These two teams have combined for nine of the last twelve Big Ten titles in women's cross country. Last year the Wolverines went into East Lansing and narrowly beat the Spartans to break their two-year winning streak. This year the teams are ranked #6 (Michigan State) and #14 (Michigan), but I think the Wolverines might be a little underrated and this could be very close.
13. Syracuse vs North Carolina
Men's race, ACC Championships
Beeson Park, Kernersville NC
Friday, 10:00 AM
Meet website
With Syracuse ranked at #14 and UNC at #18, this might not be a matchup of a particularly high level, but it's probably going to be a close one. But a close conference championship race where everyone is laying out everything they have is a wonderful thing to see.
14. Anthony Rotich vs Chris O'Hare
Men's race, Conference USA Championships
Eagle Point Cross Country Course, Denton TX
Saturday, 9:00 AM local time (11:00 AM ET)
Meet website
This matchup could be one-sided but it could work out as a really interesting one. UTEP's Rotich was fourth at last year's NCAA Championships and followed it up in June with a NCAA steeplechase victory. Tulsa's O'Hareis the collegiate record holder in the mile and made the finals at August's World Championships, and is an unusually good cross country runner for a middle-distance specialist. Rotich has the potential to win this by a big margin…but if it's close, I would have to guess that O'Hare would have a helluva kick.
15. Toledo vs Miami (OH)
Women's race, Mid-American Conference Championships
Forrest Creason Golf Course, Bowling Green OH
Saturday, Noon
Meet website
Neither of these teams received even a single point in the latest coaches' poll and are ranked just seventh and eighth, respectively, in the Great Lakes region. So why does this matchup deserve mention?
For one, I'm the PA announcer at this race. An opportunity to hear my melodious voice should be reason enough. But there's also a decent amount at stake in this race.
The Toledo Rockets have a three-year win streak going at the MAC Championships, and the last winner before that was, of course, Miami. The Rockets have been in this position before and have still qualified to the NCAAs, so a strong showing by either team could indicate that they have a shot at the big dance. (Note that the Great Lakes is deep enough that a great race at regionals could easily get a team in on a "push".) It's also the first real test for new Toledo head coach Linh Nguyen, who took over for a team that had been successful but also mired in scandal and bizarre behavior. A running buddy tells me that Nguyen has been getting his share of (anonymous, of course) criticism in various Rocket fanboards. My response was that no assessment is truly meaningful until the MAC meet. And now it's here.
16. Your local team vs all the others
State high school championships
Everywhere
Saturday
I don't write much about high school track and cross country. I love high school running even better than college running (and much more than the pros) but high school sports are like potato chips: best enjoyed locally. Nineteen different states are holding a state championship meet this weekend, so find your local kids and cheer them on.