One Comment
Ethiopians Dado, Deba eye repeat of 2011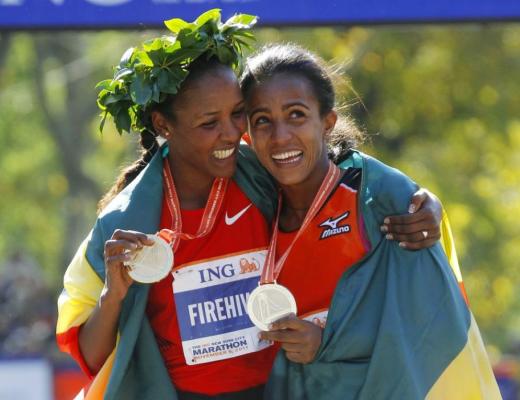 Daily Relay | On 31, Oct 2013
photo: IBTimes
Firehiwot Dado and Buzunesh Deba shared the finest day of their running careers when the two Ethiopians and long-time friends finished 1-2 in the 2011 New York City Marathon, each setting personal bests. Two years later, they remain in their primes, and yet they enter Sunday's marathon as large underdogs to a pair of Kenyans, Priscah Jeptoo and Edna Kiplagat to win in London.
Those two are the only women in the field with personal bests below 2:23, and they're both well under that mark. Kiplagat, 33, ran 2:19:50 in London in 2012, and Jeptoo, 29, ran 2:20:14 in the same race to finish 2-3 behind Mary Keitany. Jeptoo then ran a second slower this April but pipped Kiplagat by 17 seconds.
The setup, though, seems eerily similar to the 2011 race in which Dado, 29, and Deba, 26, ran brilliant races to track Keitany down after the Kenyan's early pace led her to crash and burn in the final kilometers.
Below are 5K splits for Keitany, Dado and Deba from 2011, along with the margin between Keitany and the two Ethiopians, who ran together until Dado's finishing kick:
2011 New York City Marathon Splits for Top Three Female Finishers
| Split | Keitany | Dado | Gap | Deba | Gap |
| --- | --- | --- | --- | --- | --- |
| 5K | 16:04 | 16:17 | 13s | 16:17 | 13s |
| 10K | 15:49 | 16:34 | 58s | 16:34 | 58s |
| 15K | 16:06 | 16:41 | 1m, 33s | 16:41 | 1m, 33s |
| 20K | 16:22 | 16:57 | 2m, 08s | 16:56 | 2m, 07s |
| 25K | 17:17 | 17:28 | 2m, 23s | 17:29 | 2m, 23s |
| 30K | 17:19 | 16:48 | 1m, 52s | 16:48 | 1m, 52s |
| 35K | 18:04 | 17:35 | 1m, 23s | 17:35 | 1m, 23s |
| 40K | 18:44 | 17:27 | 6s | 17:26 | 5s |
| Finish | 2:23:38 | 2:23:15 | +23s | 2:23:19 | +19s |
Dado and Deba, who trained together as young runners in Asella in the central region of Ethiopia, worked together in 2011 to reel in Keitany, losing sight of her, falling behind by more than two minutes, before locking on to her at around Mile 18, Deba remembered. Dado gave plenty of credit to her countrywoman.
"After a certain amount of distance, we started talking, and Buzunesh was getting me water, and she was trying to control Mary and she was encouraging us," said Dado through an interpreter Wednesday. "I'm looking forward to that kind of race this time, too."
Deba was blunter.
"Yeah, I controlled her," she said of Keitany. "In the beginning, she goes very fast. I know the New York course is very tough. It's not like Europe, and I know that the pace is going down, and I controlled her."
They were aided — something to which Deba alluded — by Keitany's wreckless pacing. Perhaps she thought she could break the course record, but Keitany's first half was at a pace that would have broken Margaret Oyako's 2003 mark of 2:22:31 by close to seven minutes. If Keitany had run a smarter race, she surely had the fitness to win comfortably. She had run 2:19:19 to win London in 2011 and would run 2:18:37 to win again there the following spring.
Jeptoo is not Keitany, and Kiplagat has won this race before, but still Dado sees reasons to hope for a repeat.
"Kiplagat is an amazing athlete, and I am her fan, but Buzunesh and I have been training tremendously, and we are hoping with the help of God that we will keep them in check," she said.
"Kiplagat, she ran, I think, 2010," added Deba, referring to the 33-year-old's title in her only attempt at the race. "She's a champion, but that time that pace was slow. She ran 2:28. And Jeptoo, she ran flat courses. New York is a very tough course. We'll see."
You get the sense that Dado, who's also won three Rome Marathons (2009-11), hopes Jeptoo is another potential Keitany — a runner with other-worldly speed who could go out too aggressively. New York City is not London or Berlin or Chicago — it has tough bridges, rolling hills and long hills.
And, indeed, Deba had total recall when it came to Kiplagat. Her winning time of 2:28:20 in 2010 was the slowest since 1997.
For those of you ready to run to your local bookie and place a bet on either Deba or Dado (or perhaps a 1-2 exacta), a few caveats:
1) I haven't been able to actually find odds on this race anywhere.
2) Jeptoo and Kiplagat are both ridiculously fast and the latter, in particular, is ridiculously consistent (Kiplagat has won the last two World Championships marathons among her four marathon titles, but that also means she's running her third marathon of the year).
3) Despite Deba's optimism, the two runners have not looked in peak form.
Dado missed nearly a year — from the middle of 2012 to 2013 — after she developed an infection on her right heel, and she was unimpressive in her half marathon tuneup, a 72:03 in Lisbon earlier in October. Jeptoo, by contrast, ran 65:45 in defeating track legends Tirunesh Dibaba and Meseret Defar at the Great North Run half marathon in England in mid-September.
Dado, though, has an explanation for her performance.
"I was always training for the marathon, and I had no intentions to run the half marathon," said Dado. "My manager insisted. So my training was not for half marathon but for full marathon."
Deba has battled a right calf strain that derailed her training in May and June, and she didn't break 32 minutes in either 10K she ran this summer. Consider that Jeptoo split 30:04 in one 10K stretch of her Great North Run victory. On the other hand, Deba's 32:35 at the Peachtree 10K was run in July in Georgia and her 32:11 was in a humid Maine in August. She's had three months to improve her fitness since that last 10K, but the gap in top-end speed is obvious.
Deba has seen her times improve dramatically, particularly now that she's not running five marathons a year (she finished 11 from 2009-11). Deba ran the New York City Marathon in 2009 (2:35:53, seventh), 2010 (2:29:55, ninth) and 2011 (2:23:19, second), cutting her time by more than 12 ½ minutes (or 32 seconds per mile) in the process. Her goal is to break 2:23 on Sunday, something only Okayo has ever done on this course. Perhaps, with several 135-mile weeks in her rearview and increased track work, she has another big leap or strong finish in her.
Deba hinted that she and Dado would talk about a strategy to take down Jeptoo and Kiplagat "maybe later." Deba's local knowledge could help — she's lived and trained in New York City since 2005 and, again, is running the event for the fourth time.
If the race goes to form, Kenyan women will continue their recent dominance in the major marathons. The top four women (and seven of the top eight) on the world marathon majors list are Kenyan, including Kiplagat (second) and Jeptoo (tied for third). Those two and the recent Chicago champion Rita Jeptoo are the only women still alive for the $500,000 bonus that goes to the World Marathon Majors Series Champion to be decided Sunday.
In the 14 World Marathon majors (plus the three major championship marathons) since the start of 2011, 11 have been won by Kenyans to five by Ethiopians, with Russian Liliya Shobukhova (2011 Chicago) winning the other.
Ethiopian women, though, have won two of the last three New York City Marathons. If it's to be three of four, the champion will probably come from the old friends from about 100 miles south of Addis Ababa, and both are confident in their ability to pull off an upset.
What are they planning to do at the finish Sunday?
"Celebrate," said Dado. "We are going to rejoice."