One Comment
The Weekend's Best Matchups: Pro season begins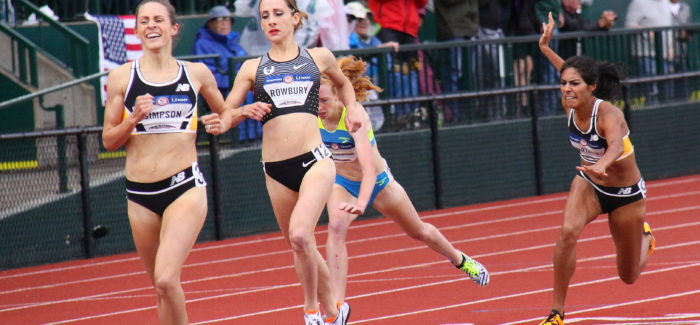 Jesse Squire | On 27, Jan 2017
These three Olympic runners–Simpson, Rowbury, and Martinez–will all play big parts in the New Balance Indoor Grand Prix.
The IAAF World Indoor Tour and the USATF Championship Series both begin on Saturday in Boston, Massachusetts. The meet will be carried live on NBCSN from 4:00pm to 6:00pm and it supplies most of the weekend's best matchups, but hardly the only ones.
My pick for the best matchup of the weekend is not the one getting the most hype, but I think it should.
Hellen Obiri vs Shannon Rowbury vs Sifan Hassan
Women's 3000 meters, New Balance Indoor Grand Prix
Reggie Lewis Track Center, Boston MA
Saturday, 4:58pm
Live TV coverage on NBCSN from 4:00pm
Meet website
These are three great runners going head to head. Obiri has a 3:57 PR at 1500 but lately has been more of a long-distance runner. She won Olympic silver at 5000 meters and has won three straight cross country races in December and January at distances ranging from 6k to 10k. Rowbury is good at a range of distances but is probably best at the 1500; she holds the American Record and took fourth in the Olympic final at that distance. Hassan has been the European champion at distances ranging from 1500 to cross country, and won the World Indoor 1500 last year.
The best of the rest, in chronological order…
Randall Cunningham vs Clayton Brown
Men's high jump, Razorback Team Invitational
Randal Tyson Track Center, Fayetteville AR
Friday, 6:00pm local time (7:00pm ET)
Meet home page
Live webcast at WatchESPN.com from 7:00pm ET
The New Balance Boston meet isn't the only track meet on TV this weekend. The Razorback Team Invitational will be carried live on the SEC Network from 2:00pm to 5:30pm (Eastern time). The best single matchup from the meet will be on Friday night, when the coverage is a webcast at WatchESPN. USC's Cunningham is the reigning outdoor NCAA high jump champion but freshman upstart Brown from Florida has already jumped within 1 centimeter of Cunningham's PR. The best races to watch on Saturday will probably be the sprints, especially the 60 meter finals (4:30pm ET).
Renaud Lavillenie vs Thiago Braz vs Shawn Barber
Men's competition, Perche Elite Tour de Rouen
Stade Sottevillais 76, Rouen FRA
Saturday, 8:30pm local time (2:30pm ET)
Meet website
The entry list for this stop on the French pole vault tour lists Lavillenie as "Champion Olympique 2012, Recordman du Monde", Braz as "Champion Olympique 2016", and Barber as "Champion du Monde 2015". You can't put together a better competition than that.
Noah Lyles vs Pros
Jesse Loubier Memorial Men's 300 meters, New Balance Indoor Grand Prix
Saturday, 4:10pm
I suppose Noah Lyles is already a pro but this will be his first race as such. A year ago he was running for T.C. Williams High School in Alexandria, Virginia, but elected to skip the college ranks after a fourth-place finish in the Olympic Trials 200 meters. He'll be running against 400 meter specialists and established pros Gil Roberts (2016 Olympian), Vernon Norwood (2016 US indoor champion) and Calvin Smith.
Jenn Suhr vs Katerina Stefanidi
Women's pole vault, New Balance Indoor Grand Prix
Saturday, 4:15pm
These are the last two Olympic champions in the women's pole vault, and Suhr is also the indoor world record holder. Suhr looked in fine form to repeat as Olympic champion until an odd South American virus sapped her strength in the final, where Stefanidi came out the winner. Suhr already has the world's leading mark (4.81m/15' 9¼") while this will be Stefanidi's season opener.
Sprinter vs Quarter-Miler
Women's 300 meters, New Balance Indoor Grand Prix
Saturday, 4:34pm
These odd distances like the 300 and 600 often make for some interesting races because everyone is outside of their comfort zone. The sprinter in this matchup is Candace Hill, a 17-year-old phenom who last summer recorded the fastest 100 meters by a U20 athlete since the Berlin Wall fell. The quarter-miler is Courtney Okolo, who rewrote the collegiate record books last year while at Texas.
Youth vs Experience
Men's 600 meters, New Balance Indoor Grand Prix
Saturday, 4:43pm
Through mid-June last year, Donavan Brazier was the best young American 800 meter runner of all time. He darn near broke the indoor collegiate record in January, then broke the outdoor collegiate record and US junior record at the NCAA Championships. Then he showed that he's still a youngster by failing to qualify out of the first round at the Olympic Trials. He's still just 19 years old. He faces off against 32-year-old veteran Duane Solomon, the fourth-fastest American of all time in this event.
Paul Chelimo vs Clayton Murphy
Men's 3000 meters, New Balance Indoor Grand Prix
Saturday, 5:19pm
This is the weekend's second-best matchup and I will entertain arguments that it's the best. Chelimo is the surprise Olympic medalist at 5000 meters (heck, it was a surprise to see him even on the Olympic team) and Murphy was the sort-of-surprise Olympic medalist at 800 meters. You'd think that Chelimo would have the upper hand at this distance, but Murphy is also a very good miler (NCAA champion) and may be able to hold his own here. I long ago stopped thinking there were things Murphy can't do, and watching him race is like watching Willie Shoemaker ride Ferdinand to victory at the 1986 Kentucky Derby.
If you want a long shot to put your $2 on, take the Oregon Track Club's Eric Jenkins, a very good long-distance guy who also has the kind of deadly kick that can be very handy indoors.
USA vs Record Book
Women's Distance Medley Relay, New Balance Indoor Grand Prix
Saturday, 5:35pm
Why do we call it a record book? When was the last time you actually saw a entire book of track records? Not all-time lists or rules or stats or whatever, just a book of nothing but records? Anyway, this is a record attempt by three New Balance pros (Emma Coburn, Brenda Martinez, Jenny Simpson) and a high schooler who is planning on retaining NCAA eligibility (Sydney McLaughlin). All four were Olympians last summer, and two of them (Coburn and Simpson) won medals. The world record is also the meet record, 10:42.57, by another New Balance-sponsored squad two years ago.
Agnes Tirop vs Florence Kiplagat
Women's 8km race, Discovery Kenya Cross Country
Eldoret Sports Club, Eldoret KEN
Sunday, time TBA
What's the best matchup in this meet? Is it Tirop vs Kiplagat, respectively the reigning World Cross Country and Olympic Marathon champions? Or is it Geoffrey Kamworor vs Bedan Karoki in the men's 10km race, the reigning gold and silver medalists at the World Cross Country AND World Half Marathon championships? Either way, it's the kind of firepower you get at a major Kenyan cross country event.