No Comments
The Weekend's Best Matchups: Innovation Down Under, Pro indoor tours, USA Cross Country, and more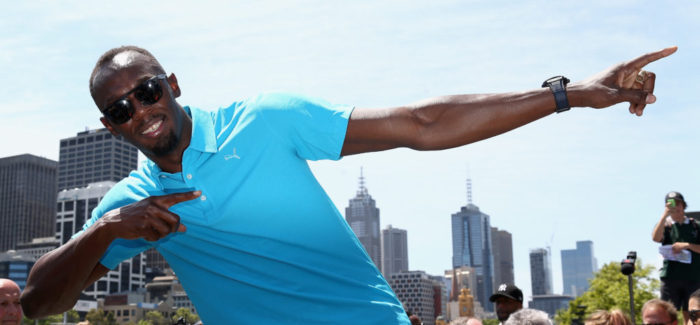 Jesse Squire | On 03, Feb 2017
Usain Bolt's participation in the new Nitro Athletics Series is getting attention. Will the innovative format keep that attention?
There is more track action this weekend than in any other yet this year. The USATF Championship Series goes to New York for the Armory Track Invitational, the IAAF's World Indoor Tour goes to Germany, plus there's the US Cross Country Championships and major road racing action too.
I think the most important competition of the weekend is simply a departure from the norm. My choice for the biggest matchup of the week is different, and different is the entire point.
Innovation vs Interest
Nitro Australia
Lakeside Stadium, Melbourne AUS
7:00pm local/3:00am Eastern
Meet website
The Nitro Athletics series of three meets kicks off on Saturday in Melbourne. It is a brand new way of putting together a track meet, and there's been more buzz around this in the months since it was announced than for basically any new event that I can recall. "Buzz" and "track meet" have been going together less and less with each passing year, and something has to change. This is an attempt at change.
What is Nitro Athletics? Well, it's sort of a traditional track meet. There are sprints and distance races and jumps and throws. But how it's set up is as a point-based team competition with a significant number of twists. It's complicated, or at least seems so at first glance – but then again, most popular sports are about impossible to explain in 30 seconds. I think it will be simple enough to understand once the meet gets going.
In comparing it to cricket's Twenty20 format, which was initially met with opposition but has breathed new life into a stagnant game, Inside The Games' Mike Rowbottom said this:
There has been opposition in some quarters too to the Nitro Athletics idea, but as [Athletics Australia CEO Phil] Jones points out, even opposition is sometimes preferable to a complete lack of interest, which is what conventional athletics in Australia appeared to be engendering in terms of TV commitment.
Is Nitro Athletics a gimmick? Absolutely. And I don't think there's a single thing wrong with that. February is the time for experimentation like this, and if it succeeds then let's have some more. There was a time when the US indoor track circuit was seen as kind of gimmicky and it sold as many as 200,000 tickets a year. We have plenty of time to be serious in June and July and August, right now let's try to have some fun. Let's hope it is.
More from the BBC
The best of the rest, in chronological order…
Army vs Navy
Star Meet, Gillis Field House, West Point NY
Saturday, Women's meet at 10:00am, men at noon
Host website | Live webcast link
The Star Meet, as the two teams call it, is the most intense dual meet in all of college track. The service academies are so much like each other and so unlike any other college campuses that Army and Navy care more about beating each other than anything else. Paul Coover, writing for Running Times:
The Star Meet is track and field at its most pure: measurements of time and distance are irrelevant; the team is valued over the individual; the importance of winning is second only to the honor with which the competition is conducted.
…
"If you've never been a part of it," says Troy Engle, Army's head track coach, "you can't understand the importance of it."
Donovan Robertson vs Chad Zallow
College Men's 60 meter hurdle finals, Armory Track Invitational
Armory Track & Field Center, New York NY
Saturday, 1:26pm
Meet website | Live webcast link
This is based on the presumption that both Ohio State's Robertson and Youngstown State's Zallow make the finals, but it's hard to imagine they won't. Based on PR times, the in-state rivals are currently ranked #2 and #4 in the NCAA.
Silas Kiplagat vs Bethwell Birgen vs Elijah Manangoi
Men's 1500 meters, Indoor Meeting Karlsruhe
DM Arena, Karlsruhe GER
Saturday, 7:28pm local time (1:28pm ET)
Meet website | Live webcast links
The IAAF World Indoor Tour kicked off in Boston last Saturday and the Karlsruhe meeting is already the third stop on the tour. These are the top three finishers from the 1500 meters in Dusseldorf on Wednesday. Manangoi slipped past Kiplagat, the most accomplished of the trio, and Birgen.
More from the IAAF
Hellen Obiri vs Laura Muir
Women's 3000 meters, Indoor Meeting Karlsruhe
Saturday, 7:50pm local time (1:50pm ET)
The men's milers might get the attention, but this is hands-down the best distance race (and maybe the best race of the weekend, period). Obiri comes into this meet on a four-meet winning streak, three cross country races plus the World Indoor Tour opening 3000 in Boston last Saturday. The Olympic silver medalist hasn't finished lower than second in any long-distance race in three and a half years. Muir broke the British indoor 5000 record last month in a remarkable solo run, and is an even better miler.
Ajee Wilson v Lynsey Sharp
Women's Invitational 600 meters, Armory Track Invitational
Saturday, 2:02pm
Tape-delayed TV coverage on NBCSN from 4:30 to 6:30pm
Still just 22 years old, Wilson is one of the world's best half-milers when healthy. Britain's Sharp had a breakout 2016 season, getting down to 1:57.69 and finishing 6th in the Olympic final.
Keni Harrison vs record book
Women's 60 meter hurdles final, Indoor Meeting Karlsruhe
Saturday, 8:22pm local time (2:22pm ET)
After Harrison surprisingly did not make the US Olympic team in the hurdles last summer, she surprised even more by breaking one of the oldest world records still on the books. She picked up right where she left off and recorded the fastest season-opening time in indoor track history with 7.75. There is a very real possibility that she will break the American record (7.72) or even the world record (7.68). That record holder? Susanna Kallur, one of her competitors in the heats.
USA v Jamaica
Women's and men's 4×200 relays, Armory Track Invitational
Saturday, 2:29pm and 2:50pm
Whether or not this will be competitive is entirely based on what personnel each team has available. Even so, national-team relay competitions are always fun. Other teams include France, Canada, British Virgin Islands, and Trinidad.
Andy Bayer vs Nate Brannen vs Leo Manzano
Men's mile, Camel City Elite
JDL Fast Track, Winston-Salem NC
Saturday, 3:50pm
Meet website | Live webcast via USATF.tv Plus (subscription required)
Olympians Brannen (Canada) and Manzano (USA) are the best-known names in the race, but miler-turned-steeplechaser Bayer may be the better runner at the moment. The Camel City Elite is a meet-within-a-meet, eight high-quality races in the middle of a larger collegiate-oriented meet.
More from the Winston-Salem Journal
Leonard Korir vs Chris Derrick
Men's senior 10k race, USATF Cross Country Championships
River's Edge Golf Course, Bend, OR
Saturday, 2:20pm local time (5:20pm ET)
Live webcast via USATF Plus (subscription required)
Chris Derrick is a three-time USATF cross country champion and was part of the US team for the 2013 World Cross Country Championships, where the American men shockingly beat Kenya for a silver medal. He's on the comeback from injury and running quite well, so he's a little bit of a question mark. Further adding to the mystery is that he will not run at the upcoming World Cross Country Championships if he earns a spot. The odds-on favorite is Leonard Korir, who won big races in Edinburgh (cross country) and Houston (half marathon) on back-to-back weekends last month, both on the strength of big kicks.
More from Let's Run
Eunice Kirwa vs Shalane Flanagan
Women's race, Marugame Half Marathon
Sunday, 10:35am local time (Saturday night at 8:35pm ET)
Race website
Kirwa has some good marathon hardware to her credit, a bronze at the 2015 World Championships and silver at the 2016 Olympics. She's accustomed to running in Japan and in fact is the defending champion at this race, where she set her PR of 1:08:06. Flanagan has been the top American long-distance runner for seemingly forever and this will be a new experience, her first race in the land of the rising sun. The two were separated by just 73 seconds at the finish of the Olympic marathon last August. The men's race features the usual array of fast Kenyans but also the Japanese record holders at 5000 and 10,000 meters plus Callum Hawkins, the fast-rising British star.
More from Japan Running News