No Comments
The Monday Morning Run (Special Afternoon Edition): Scotland, US Army, and more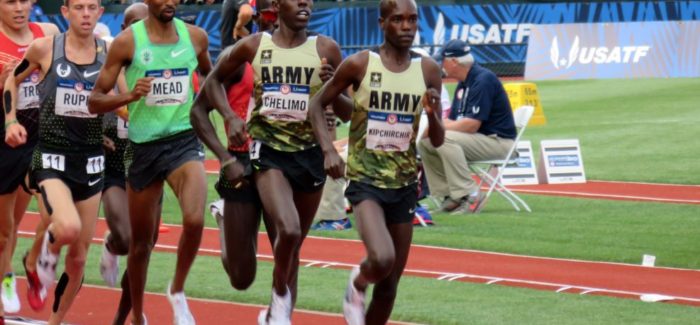 Jesse Squire | On 06, Feb 2017
The U.S. Army team has continued its remarkable distance running success.
The pace of publishing here at the Daily Relay has slowed significantly in the last five months. In fact, the last time Kevin Sully posted a Monday Morning Run was last June. In related news, Kevin and his wife now have a baby. So I've taken it upon myself to assume the duties. This one is a few hours later than usual.
This is the first Monday Morning Run of the year, so I'll give out the awards for the year as a whole so far.
Gold: Scots

A few weeks ago was Burns Night, the annual celebration of the poet and traditional Scottish culture. A local restaurant had a Burns Supper and I planned to go, but my inner Scot (read: cheapskate) came out when I balked at a $90 price tag for the dare of eating haggis.
I had kicked around the idea of a Burns Night post about the greatest Scots athletes of all time, but it came to naught after half a page of scribbled lines. That post would already have to be updated after just a few weeks of the new year due to the performances of Laura Muir, Andy Butchart, and Callum Hawkins.
Muir is en fuego. Whoops, I should say na theine — that's Scots Gaelic for "on fire". A month ago she broke the British indoor 5000 meter record with 14:49.12 in a solo run, which narrowly missed the European record. On Saturday she outkicked Hellen Obiri, the Olympic 5k silver medalist, with a new European 3000 meter record of 8:26.41.

At the New Balance Boston Indoor Grand Prix nine days ago, Butchart pushed Olympic medalist Paul Chelimo nearly to the finish in the men's 3000 meters and was rewarded with a new Scottish indoor record (7:42.97). One week later at the Armory Track Invitational, Butchart won the mile in 3:54.23, a world leading mark and good for second on the all-time Scottish lists.
Hawkins led most of the Great Edinburgh International Cross Country before finally being outkicked by the USA's Leonard Korir. In the process he became the first Brit in seven years to defeat Mo Farah. On Saturday he ran Japan's Kagawa Marugame International Half Marathon and defeated a quality field in 1:00:00. Last fall Hawkins won the Great Scottish Run with what appeared to be a Scottish record of 1:00:15, but last week the course was found to be 150 meters short and the record disallowed. No problem, just run faster and get the record back.
Silver: US Army World Class Athlete Program
In track and field, the current makeup of the Army WCAP team is almost exclusively immigrants who only recently became naturalized citizens: Leonard Korir, Shadrack Kipchirchir, Hilary Bor, Paul Chelimo, and others. Korir and Chelimo are legitimately among the world's best distance runners right now.
Korir has a three-race win streak going: the Great Edinburgh Cross Country, the Aramco Houston Half Marathon, and the USATF Cross Country Championships. Chelimo made a New Year's resolution to not lose a race and so far he's two for two, winning both with strong kicks that made it look easy. Kipchirchir will join Korir on the USA' team to the World Cross Country Championships next month.
The thing that's so interesting about this group is that its biggest stars didn't show this kind of talent in college. They were good, but not anything like this. Korir's last two college races were the 2012 NCAA Indoor Championships, where he finished 6th (5k) and 8th (3k). Chelimo was a better college runner, but never won an NCAA title; his best finish was a runner-up to Cam Levins in 2012.
Bronze: Vin Lananna
Lananna was elected president of USA Track and Field back in December and has already done something unusual: he's shut up and listened. He launched a coast-to-coast "listening tour" with plans to visit local USATF Associations all over the country. It's a radical departure from the seemingly never-ending shitshow of USATF leadership since the previous president's election in 2008. Instead of bullying, the president is now listening.
It's a wonderful change. On the other hand, if I could have one kind of president be a cautious drama-free consensus-building leader and the other kind be an unpredictable autocratic egomaniac with no regard for the rule of law, I'd go back to the last eight years.
Surging: Collegiate Records
Here's a timeline of new collegiate indoor records this year.
January 13: Kaela Edwards (Oklahoma State), women's 1000 meters (2:40.79)
January 20: Emanuel Korir (UTEP), men's 600 meters (1:14.97)
January 27: Oregon, women's distance medley (10:48.77)
January 28: Isaiah Harris (Penn State), men's 600 meters (1:14.96)
January 28: Texas A&M, men's 4×400 relay (3:02.52)
February 3: Sage Watson (Arizona), women's 500 meters (68.40)
Most of these records are at non-championship distances, but the two relay records are truly notable. There was a time when records drove interest in track and field, but that was when headlines drove sports media. Back then there were tons of records being broken, especially indoors, because there was a wide array of metric and yardage distances being competed. These days sports media is driven by highlights. For example, last years' most widely-known college track athletes in America were Meron Simon and Tanguay Pepiot.
Trying to save the throw: Nitro Athletics
I'll bring in a throwing event metaphor here for something that could be successful or not. Nitro Athletics is a new twist on the usual running, jumping, and throwing taking place on three nights in Melbourne, Australia. The first was last Saturday.
[Usain]Bolt's first run of the year and first in Australia brought the curtain down on opening night of the Series, which has pledged to "revolutionise" athletics with a team-based event that borrows heavily from the formula of sport and entertainment which has underpinned Twenty20 cricket's considerable success. . . . With mixed team events, a 2x300m relay and an elimination mile in which runners were knocked out progressively, the meeting carried on with troupes of dancers gyrating to electronic music in front of an enthusiastic crowd of about 7,000.
Some people liked it. Track and Field News message board member AS:
The event got a lot more coverage down here in Australia than we've seen for such meetings in recent years. It actually provided more entertainment that I expected, and despite some hiccups, the TV coverage wasn't too bad. Some of the innovations worked quite well such as interviews mid-event in PV, LJ etc, various mixed relays. The TV coverage allowed athletes' personalities to come through (and they thankfully avoided most of the irritating backstory dramatics). As no one is too precious about their performance there is more scope to be natural and engaging. That will do the Aussie athletes some good in terms of possibly building a public profile.
Friends who attended (I missed ticket sales) said the kids and non-hardcore fans seemed really engaged. Of course, from a purist's perspectives there was zero to get excited about, but there are enough other meets in the year for that stuff.
Others didn't. Kevin Sully reports an email from a House of Run listener who didn't care for it. He cited low-quality fields, gimmick races that didn't pan out, and unusually expensive tickets.
One thing I think we can count on is that this won't be a one-and-done proposition. Apparently the final day of the competition is already a sellout. Even more importantly, organizers gave Usain Bolt an ownership stake in order to get him involved. I think this is something that can evolve as it goes along once we see what engages fans and what doesn't. Remember American Gladiators, the slightly cheesy 1990s made-for-TV athletic competition? It had big changes as the years went along, and the Nitro Athletics concept has always made me think of that show.
Nitro Athletics is unlikely to address track and field's biggest problem as a spectator sport, which is that our athletes compete less often than athletes in any other major sports save boxing and horse racing. I'm still waiting for anyone to be able to figure out how to deal with that.
Slowing: Race commitments
That intractable problem of infrequent competition isn't helped when big names are announced as entering a major competition and then are no-shows. There's one particular situation which has come up in two of the last three years that highlights this problem.
Back in January, Shalane Flanagan and her training partner Amy Hastings were announced as part of the elite field at Japan's Kagawa Marugame Half Marathon by both race management and Flanagan's training group, the Bowerman Track Club. Flanagan has the fastest personal record of any entrant, even better than Olympic marathon silver medalist Eunice Kirwa. The IAAF headline blared "KIRWA VS FLANAGAN THE FOCUS IN MARUGAME".
But Flanagan didn't run. Neither she nor her representative made any announcement of her withdrawal. A perusal of her social media posts make it appear that she simply never had any intention of running; she never once mentioned the race, either as an entry or a withdrawal.
This same exact series of events happened two years ago at the exact same race. Announced as an entry, media trumpets her status as a favorite, never mentioned the race herself, a complete no-show. This time around she did in fact travel to Japan, but was silent on the race itself.