No Comments
The Weekend's Best Matchups: roads, cross country, and indoor track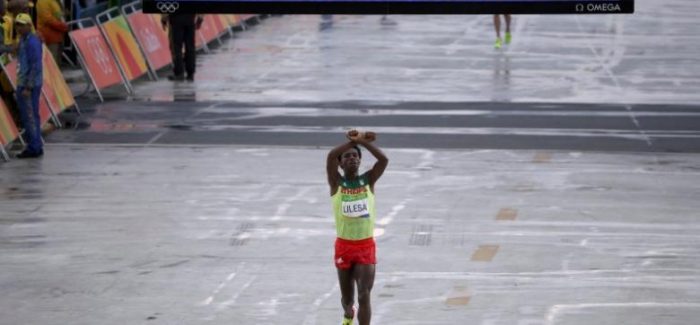 Jesse Squire | On 13, Jan 2017
The man who made a risky political protest at the end of the Olympic Marathon will be racing on Sunday.
The year is still early and the action is ramping up slowly, but there's still a lot to see this weekend. The top matchup of the weekend is at the Houston half-marathon.
Lelisa vs Demelash
Men's race, Aramco Houston Half Marathon
Sunday, 7:00am local time (8:00am ET)
Race website
Live webcast via ESPN3.com from 8:00am
This was supposed to be a big clash between the USA's Galen Rupp and the two above but Rupp withdrew due to plantar fascitis, leaving the pair of top Olympians as the main competitors.
Ethiopia's Feyisa Lelisa (59:22 PR) and Yigrem Demelash (59:48 PR) both beat Rupp at last summer's Olympics but not by much. Demelash was 4th in the 10k to Rupp's 5th, while Lelisa was 2nd in the marathon to Rupp's 3rd.
Does Rupp's withdrawal mean no Americans will be in contention? I don't know about that. Don't overlook Leonard Korir, the naturalized American who won last week's Great Edinburgh International XC.
The best of the rest of the matchups, in chronological order…
North Carolina vs NC State vs Duke vs East Carolina
Eddie Smith Field House, Chapel Hill NC
Friday, 4:00pm
Host website
UNC calls this quadrangular the "Carolina Cup", and the third-year meet includes the best three-way rivalry in college sports. North Carolina swept the titles last year, while UNC and Duke split the men's and women's cups two years ago.
Conseslus Kipruto vs Soufiane El Bakkali
Men's race, IAAF Antrim International Cross Country
CAFRE Greenmount Campus, Antrim NIR
Saturday, 2:20pm local time (9:20am ET)
IAAF preview
This is an interesting cross country matchup between two of the world's best steeplechasers. Kipruto won Olympic gold for Kenya last summer while Morocco's El Bakkali took fourth.
Hannah Cunliffe vs Ariana Washington vs Deajah Stevens
Women's 60 meter semifinals, UW Preview
Dempsey Indoor, Seattle WA
Saturday, 10:45am local time (1:45pm ET)
Meet home page
Live webcast via Flotrack (subscription required)
This is a formidable trio of sprinters, all competing for Oregon. Cunliffe was the NCAA indoor runner-up at 60 meters last year, Washington swept the sprints at the outdoor NCAA last June, and Stevens was an Olympic finalist at 200 meters.
If it weren't the first weekend of the indoor season I'd consider this the top matchup of the entire weekend. But it is, and for that reason I would not be surprised if one or more of these stars ran the semis only and not the final. After all, they all hope their season extends all the way to the World Championships in August.
Indiana vs Purdue
Gladstein Field House, Bloomington IN
Saturday, 4:00pm
Host website
This is a great college rivalry in any sport, and one of the nation's oldest in college track. The Hoosiers and Boilermakers first faced off in a dual meet in 1899, and their first indoor dual was in 1910. Indiana is coming off a dominating sweep of Tennessee.
Raevyn Rogers vs Olivia Baker vs Olicia Williams
Women's 600 meters, UW Preview
Saturday, 2:00pm local time (5:00pm ET)
Rogers is a three-time NCAA champion at 800 meters for Oregon and got to the finals of last summer's Olympic Trials. Her main competition here is a pair of Trials semifinalists, Stanford's Baker and post-collegian Williams. Rogers is the prohibitive favorite — she set the track record last year — but this is early in the season and an odd distance and that makes things a bit unpredictable.
Ruth Jebet vs Senbere Teferi
Women's race, Cross Internacional de Itálica
Ruins of Itálica, Santiponce ESP
Sunday, 12:25pm local time (6:25am local time)
Meet website | IAAF preview
Jebet is the Olympic steeplechase champion and world record holder, and is a pretty good cross country runner as well. Teferi is no slouch either, finishing fifth in the Olympic 5000, and has a high-quality win this season at the Cross de Atapeurca in November. The course itself is one of the more interesting ones on the European circuit — it passes through the ruins of an ancient Roman city.