No Comments
The Weekend's Best Matchups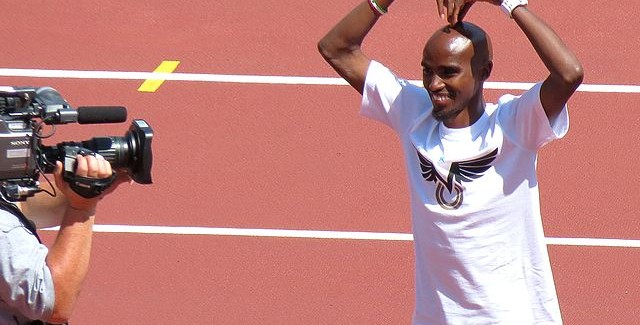 Will New Yorkers be doing the Mobot come Sunday?
There's a lot of top college and pro action going on this weekend. The NCAA Championships get top billing but they're far from the only show. Let's take a look at the dandy dozen matchups coming your way.
NCAA Championships
Everything you ever wanted to know about the NCAA Championships (but were afraid to ask) is at the USTFCCCA's National Championship Central: links to webcasts and live results, start lists, previews, meet stats and history, and more.
Also, be sure to follow us on Twitter for live updates of team score projections.
Your top seven matchups…
Oregon vs The Streak
Women's team competition
The Oregon Ducks have won four straight NCAA women's indoor track championships. Only last year's meet was particularly close; the meet was still up in the air heading into the 4×400 relay, where the Ducks slammed the door closed on the competition by winning the event. The previous three title weren't close: the Ducks won by 19, 29 and 25 points.
This year? Who knows what will happen. The computer rates Oregon as #2. The Oregonian's Ken Goe rates the Ducks as slight favorites. I have them winning by just one point, which means it's a complete toss-up. The fight is likely to be with Florida and Texas A&M, who battled down to the wire at the SEC Championships, but Texas might be in the fray as well. And guess which four teams are seeded into the fast heat of the concluding 4×400 relay? Texas A&M, Oregon, Texas, and Florida. It might be another winner-take-all race.
Florida vs Texas A&M vs Arkansas
Men's team competition
One of these teams will be your NCAA men's champions. Arkansas won this same three-way clash at the SEC Championships but the computers rate Florida as the favorite here. And Texas A&M has more than enough firepower to take the win should either of these teams leave the door open. Again, all three are in the fast heat of the 4×400–and Texas A&M and Florida both broke the collegiate record at the SEC Championships.
Lawi Lalang vs history
Men's mile, 3000 meters, and 5000 meters
Lalang is entered in three distance events: the mile, 3000 and 5000. No man has ever won three individual events at a single NCAA indoor championships. I don't know that this particular triple has ever even been tried. But if anyone can do it, it's Lalang. Last year he won four NCAA titles–two indoor, two outdoor–ranging in distance from one mile to 10,000 meters. And he already owns the meet records in the three events he's entered.
If there's an athlete who can challenge Lalang, it's Oregon freshman Edward Cheserek. He surprised everyone with an upset win at last fall's NCAA cross country championships (Lalang was out with injury), only the second time a freshman has won the title straight out of high school.
Japeth Cato vs Curtis Beach vs Kevin Lazas
Men's heptathlon
The men's heptathlon is shaping up to be a tight three-way battle. These are three of the top six on the all-time collegiate list; the PRs are 6175 (Lazas), 6165 (Cato) and 6138 (Beach). Lazas, who missed the SEC Championships due to family issues, is the defending champion and his Arkansas Razorbacks need his points. Beach won two years ago and is coming back to his hometown. Cato is coming back from last year's career-threatening achilles injury, and his Wisconsin Badgers are also in need of big points from him. The key events will be the high jump and pole vault. Cato excels in those but they are events in which it's very easy for an athlete to come up well short of his potential.
Texas A&M vs Florida
Men's 4×400 relay
Saturday, 8:05pm local time (10:05pm ET)
At the SEC Championships two weeks ago, Florida broke the Collegiate Record in this event. They didn't win, because Texas A&M also broke the meet record and finished half a step ahead. Their anchor legs are the top two seeds in the individual 400 (Deon Lendore for Texas A&M, Arman Hall for Florida). A&M's winning time of 3:30.20 would have won silver at last week's World Indoor Championships, behind only the USA's new world record. And, of course, it's quite possible that the team championship will be decided in this race–just like it was at June's NCAA outdoor championships, when Florida and Texas A&M ended up tied for the team title.
Kamaria Brown vs Dezerea Bryant
Women's 200 meters
Friday, 9:10pm local time (11:10pm ET)
In his meet preview for the USTFCCCA, Kyle Terwillegar says this showdown "is one of the biggest of the weekend". One or the other has been the collegiate leader for most of the season, and Brown came out the winner at the SEC Championships two weeks ago with a world-leading 22.50.
Brea Garrett vs Denise Hinton
Women's weight throw
Saturday, 7:00pm local time (9:00pm ET)
Garrett, throwing for Texas A&M, is the top seed and the 10th best in collegiate history. #2 seed Denise Hinton of LSU beat Garrett at the SEC Championships. The two have split their two meetings this year, and this tie-breaker is for all the marbles.
Other Top Matchups
There is plenty of other fantastic competition this weekend, led by two big road races.
Mo Farah vs Geoffrey Mutai
New York City Half Marathon
Sunday, 7:00am
Race website | Live webcast at ESPN3.com from 7:00am
These are the two most dominant men's distance runners on the planet over the last three years or so. Farah won double gold in the 5k and 10k at both the 2012 Olympics and 2013 World Championships, and has proven his ability over the half-marathon distance with his 2011 NYC Half win and his narrow loss to Kenenisa Bekele at last fall's Great North Run. Mutai holds the course records for both the New York and Boston marathon, and his half-marathon PR is more than a minute faster than Farah's. Both men are using this race as just a tune-up ahead of next month's London Marathon, but it should still be a ding-dong battle.
Chris Derrick vs Ben True
USA 15km Championships
Gate River Run, Jacksonville, FL
Saturday, 8:30am
Race website
I think this might be the best road race of the weekend. The NYC Half matchup is a great one, but both Farah and Mutai are holding something in reserve for next month's London Marathon. Neither of these two are gearing up for a marathon, and they're much more likely to be going all-out. They're both long-distance specialists who, just under a year ago, led their US team to a miracle silver-medal finish at the World Cross Country Championships, finishing 6th (True) and 10th (Derrick). The US record of 42:22, set nineteen years ago at this race by Todd Williams, could be broken.
Molly Huddle vs Sally Kipyego
New York City Half Marathon
Sunday, 7:00am
On paper, these are the two best runners in the race. Kipyego won Olympic silver at 10,000 meters in 2012, then missed most of 2013 with injury. Her 2-mile win at the New Balance Indoor Grand Prix indicates she's in shape. Huddle holds American records at 5,000 meters (on the track) and 12k (on the roads). But…
Neither of these two has ever raced a half marathon before. The furthest Huddle has ever raced is 10 miles, and for Kipyego it's 10,000 meters. This fact adds a degree of difficulty for both.
Men vs Women
USA 15km Championships
Gate River Run, Jacksonville, FL
Saturday, 8:23am
Shalane Flanagan is the heavy favorite in the women's race, enough so that it's worth mentioning that the US record at this distance is 47:14.2 (by Deena Kastor, in the 2003 Gate River Run). Two-time defending champion Janet Bawcom is entered, as well as Amy Van Alstine, the surprise US cross country champion. The real challenge for all of these women is not just beating each other (for a $12,000 payday) but also to hold off the men. The women will get a 6:18 head start and the first person across the line, regardless of gender, wins an extra $5,000.
Past heroes vs present selves
New York City Half Marathon
Sunday, 7:00am
Two notable entries in the NYC Half are Meb Keflezighi and Desiree (Davila) Linden. Meb is an ageless wonder, an NCAA champion in 1997 and Olympic medalist in 2004 who is still probably the USA's best hope at next month's Boston Marathon. Linden came oh-so-close to winning Boston three years ago, then got hurt in 2012 and spent most of 2013 on the comeback trail. For Linden and Meb and the fans cheering for them, this race isn't about the race itself so much as finding out if they are ready for the Patriot's Day classic.