2 Comments
5 Questions with Todd Williams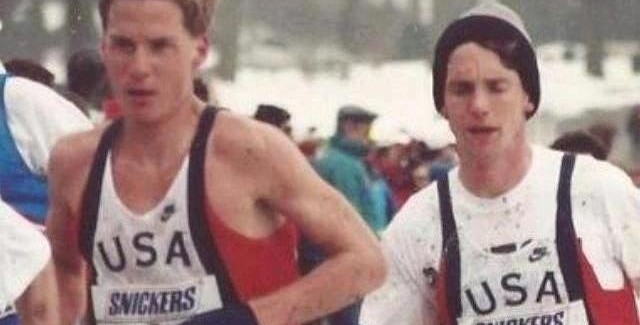 On

March 13, 2014

http://patprice.com
photo: Facebook
Welcome back to 5 Questions, where we pick the brains of people from all areas of the running scene. Today, we were lucky enough to catch up with Todd Williams, the American 15k Record Holder, on the eve of the event where he set the record in 1995, the Gate River Run. Check him out on Instagram and follow him on Twitter @RunSaferTodd. Learn more about RunSafer here.
5 Questions with Todd Williams
1. Daily Relay: This is a big weekend for you with the Gate River Run 15k being held. Your record has stood for 19 years now. Did you have any idea at the time that you had done something that special and that 42:22 would be chased for years by the best America has to offer?
Todd Williams: YES, this is a very big weekend for me! I'm honestly more excited about the two ladies I've had the pleasure of coaching and preparing for their first Gate River Run. They're so excited and have done a fantastic job working hard so I can't wait to watch them cross the finish line!
As far as my performance in 1995, I will say that day was MY day! The weather was perfect, the course was ideal, and my confidence from training was at an all-time high! Do I think others should have broken it by now? Sort of, but I trained my ASS OFF and was ready! I've always stated that I feel my work ethic, competitive fire and drive will not be matched by anyone; past, present or future.
Honestly, Chris Derrick is running Saturday, along with Ben True, and the weather is going to be fantastic! Both those guys are very capable of taking the record down if they jump on it from the gun!
2. Daily Relay: You now live in Jacksonville. Did your record or the race itself have anything to do with your relocation to the city? What is one tip you can provide for how to run successfully at Gate River?
Todd Williams: My relocation was a choice to be close to a family member who was sick and needed us to be around. I do love the city of Jacksonville and have met many great friends in the last 10+ years. Plus, my daughters are very happy here, so I really don't see myself leaving anytime soon!
To be successful at the Gate River Run, especially a record attempt, you MUST get out and roll the first 10k…. I went through 5k in 13:47 and 10k in 28:07. The bridge will add 15-20 seconds to that mile split, so you can't play around. If you're running for place and cash, then your best bet is to slow the tempo, sit in behind and pull a "Mark Coogan"….. The dash for cash technique which Mark was the King of! LOL!
3. Daily Relay: You developed RunSafer to help runners defend themselves from attackers. ASICS is on board as well. I know you are a black belt in Brazilan jiu-jitsu, so this melds the two sports you know best. How did you develop the company?
Todd Williams: After spending a few years in the running specialty sales world, I started to ask questions and research how prevalent attacks and assaults were on walkers, joggers and runners (which was more than I imagined). I also noticed the accessory wall was full of safety devices like mace, reflective gear, sound makers, etc. but nothing for a hands on full scale assault! From here is where my idea blossomed into RunSafer.com. Driving back from a sales call one evening in 2011, I realized that I needed to combine my two passions; a Brazilian Jiu Jitsu black belt and making two Olympic Teams at 10k in the running world. The goal was/is to take self defense to the running community like never before… RunSafer.com was born. I knew with my experience in sales, marketing, promotions, professional running and the relationships I had gave me a great opportunity to be successful; because to this point, no one on the planet has these two skill sets combined.
The goal of RunSafer.com, presented by ASICS, is to equip the walker, jogger or runner through hands on workshops in running specialty stores with skills that may help them get to safety if ever assaulted out on their workout! I've also had the opportunity to expand RunSafer into universities and colleges as well. Educating the collegiate athlete on the importance of safety is critical, considering how many assaults occur to the student yearly.
4. Daily Relay: If you are being attacked and have to learn one signature move, what is it and how is it done?
Todd Williams: There really isn't one "signature" move, but the mindset that you must have in an attack situation. You CANNOT lose if you're being assaulted. You must become the attacker and on the offensive because if you lose it could be over! I teach targets to go after, grip breaking, countering an attack from behind and a few other techniques that will give individuals tools that they would've never thought about before attending. I want to educate on the importance of safety training, as well as sharing some light on my passions Brazilian Jiu Jitsu and Running! My goal is to add something else to runner's toolbox…. They already have footwear, reflective apparel, watches, logs, etc. and now more safety so they can enjoy their workout even more. I want to empower individuals through my training, NOT scare them!
5. Daily Relay: A lot has changed since you and Bob Kennedy were the poster boys of American Distance running in the 90's. What is one of your most proud moments as a competitor and what is the biggest change you have seen for the positive in the sport?
Todd Williams: Even though Bob is a year behind me, I've always looked up to him both athletically, and now in the business world. He knows how to prepare and not waste time! I'm glad I've had the opportunity to learn and compete against him, as well as calling him a great friend!
My proudest moment as a competitor was probably not a individual performance, but receiving praise from my coaches, teammates and competitors, that I was the hardest worker they had ever seen! I loved out working everyone and pushing very hard being a leader! Honestly, the most satisfying goal I've ever accomplished as an athlete was receiving my black belt in Brazilian Jiu Jitsu. If you're in the correct system, it's very difficult and takes hours upon hours of training on the mat to achieve. People think I'm nuts when I say that, but believe me, it's very tough!
The biggest change for the positive in the sport would have to be access to information that can be shared in a snap. Young athletes can see, in real time, what the great ones are doing, so they can see what it takes to be the best. This in turn can accelerate the development of our young emerging stars. The old stars could only hear about what others were doing over coffee talk, not watch it live on some of the great sites we have today.
6. Daily Relay: With the rise of the internet, your old posters have begun resurfacing. They were wildly popular at the time. How much convincing did it take to strip down for them? Do people still ask you about those?
Todd Williams: The good ole naked shot that adidas shot back in the day! It wasn't too difficult to get me to strip down because I knew it was going to be fun, and I was committed to my career. That is until I showed to the site and it was 35 degrees.
I still get requests asking to sign my butt and I'll occasionally get asked if I'm the naked guy in the cool adidas ad campaign. I sign and laugh because it was an attention grabber for sure. I've always been willing to go whatever distance to satisfy my sponsors. When I sign with a sponsor, it's because they believe in what I do, and in turn, I believe in their brand. Adidas believed in me during my running career and so saying yes to the ad campaign was a no brainer for me.
Now that RunSafer has signed with ASICS, I feel the same way. After less than a year in business, ASICS agreed to sponsor RunSafer, starting in 2014. Two months into this year, ASICS fully supports RunSafer and wants us in even more places than the initial 12 appearances per year we had agreed to. We are now looking at doing about 24 RunSafer appearances all over the U.S., which means a lot of travel for me. But, just like when I ran I'm willing to do what it takes to be successful and reach as many people as possible and ASICS has made that possible for me in a great way!
If you enjoy 5 Questions, check out the archive of previous interviews over at Writing About Running