No Comments
Viewer's Guide to Olympic Track & Field: Sunday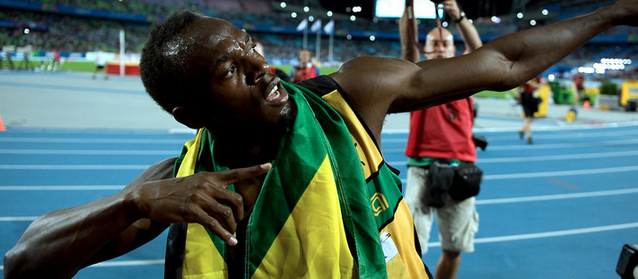 Jesse Squire | On 14, Aug 2016
Win or lose, tonight all eyes will be on Usain Bolt.
Welcome to the third of our daily Olympic track and field viewer's guides. We're here to help you find out what, when, how, who and why to watch all of the action.
Today's highlights:
Today's finals…
Women's marathon
Women's triple jump
Men's 400 meters
Men's 100 meters
TV coverage
Things are always in flux, but these are what the current listings say. All times are Eastern.
NBC, 8:00-11:15am (live)
NBC, 7:00pm-midnight (live, supposedly)

You have plenty of other viewing options as well, mainly via the internet, and all are far better than the NBC trainwreck.
Important links
The IAAF's live results page is awesome, bookmark it.
You also need our own "Non-Track Fan's Guides to the Olympics" for men and women, even if you're already a track fan.
Morning Session
The schedule is pretty simple: the women's marathon starts at 8:30am (Eastern time) and the medalists will reach the finish line by 11:00.
I highly suggest watching the streaming coverage at NBCOlympics.com or on one of the NBC apps for smartphone, tablet, or TV plugin. Coverage on NBC itself tends to be insulting to viewers who like their sports covered as sports rather than fairy tales.
The favorites: Mare Dibaba (Ethiopia), Jemima Sumgong (Kenya), Shalane Flanagan (USA), Helah Kiprop (Kenya), Tigist Tufa (Ethiopia), Tirfe Tsegaye (Ethiopia)
Americans: Flanagan, Desiree Linden, Amy Cragg
Canadians: Krista Duchene, Lanni Marchant
Long shot worth taking: Linden winning a medal pays 33:1 at PaddyPower.
Kevin Sully previewed the race, and Brendan Desrochers talked gambling on it. The favorites are the East Africans, any or all of the three Americans could be interlopers, and Olympic marathons always seem to be the breakout race for an unknown.
Evening Session
The Schedule
Track and field competition schedules are best understood in a visual format since the sport is a sort of three-ring circus, with many things happening at once.
The basics are that morning competition will begin at 7:30pm Eastern time and finish up by 9:30. Finals are the women's triple jump, men's 400 meters, and men's 100 meters.
7:30pm: Men's High Jump qualifying
Qualifying format: Two groups will compete simultaneously in adjacent mats. The finalists will be the larger of top twelve or everyone over 2.31 meters (7′ 7″).
Favorites: Bogdan Bondarenko (Ukraine), Mutaz Essa Barshim (Qatar), Derek Drouin (Canada), Erik Kynard (USA), Zhang Guowei (China)
Americans: Kynard, Ricky Robertson, Brad Adkins
Canadians: Drouin, Michael Mason
7:35pm: Women's 400 meter semifinals
Qualifying format: The top two in each of three heats qualify to the final, along with the two fastest 3rd/4th-place finishers.
Favorites: Allyson Felix (USA), Shaunae Miller (Bahamas), Stephenie Ann McPherson (Jamaica), Phyllis Francis (USA), Natasha Hastings (USA)
Americans: Felix, Francis, Hastings
Canadian: Carline Muir
7:55pm: Women's Triple Jump final
Favorites: Caterine Ibargüen (Colombia), Yulimar Rojas (Venezuela), Olga Rypakova (Kazakhstan), Kim Williams (Jamaica), Patricia Mamona (Portugal), Paraskeví Papahrístou (Greece)
American: Keturah Orji
Canadians: none
Bet worth taking: Rojas pays 6:1 to win.
Ibargüen suffered her first loss since the 2012 Olympics at the Diamond League tour's Birmingham meet in early June, but still remains a prohibitive favorite. If the upset were to occur, 20-year-old Rojas is figured as the one to do it. Orji, a sophomore at Georgia, is the first-ever US Olympic finalist in this event.
8:00pm: Men's 100 meter semifinals
Qualifying format: The top two in each of three heats qualify to the final, along with the two fastest 3rd/4th-place finishers.
Favorites: Usain Bolt (Jamaica), Justin Gatlin (USA), Trayvon Bromell (USA), Andre De Grasse (Canada), Yohan Blake (Jamaica)
Americans: Gatlin, Bromell, Marvin Bracy
Canadian: De Grasse
The key for Bolt is his start. If he's got that down, then it's hard to see him losing in the final. The sentimental favorite for making the final is Kim Collins (St. Kitts & Nevis), who is on his fifth Olympic team and starred at TCU in the 90s.
8:30pm: Women's 1500 meter semifinals
Qualifying format: The top five in each of two heats qualify to the final, along with the two fastest 6th/7th-place finishers.
Favorites: Genzebe Dibaba (Ethiopia), Faith Kipyegon (Kenya), Jenny Simpson (USA), Laura Muir (Great Britain), Sifan Hassan (Holland), Dawit Seyaum (Ethiopia), Shannon Rowbury (USA)
Americans: Simpson, Rowbury, Brenda Martinez
Canadian: Nicole Sifuentes
9:00pm: Men's 400 meter final
Favorites: Wayde van Niekerk (South Africa), Kirani James (Grenada), LaShawn Merritt (USA)
American: Merritt
Canadians: none
Bet worth taking: Merritt to win pays 5:1.
The three favorites are significantly better than anyone else, but it's hard to figure who will take which medal.
9:25pm: Men's 100 meter final
This is figured as a Bolt-Gatlin showdown, with everyone else fighting for bronze. What about the "big man", as they call him? He's not as good as he once was, but he's as good once as he ever was.