One Comment
The Weekend's Best Matchups: USA Half Marathon and College Rivalries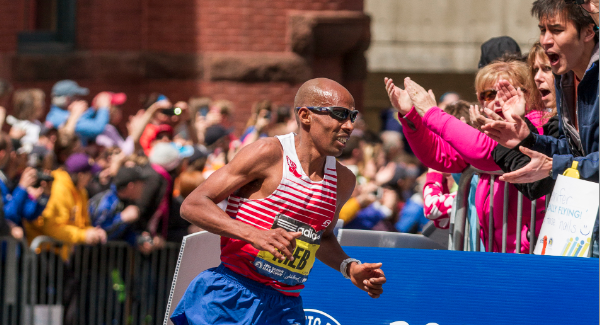 Jesse Squire | On 16, Jan 2015
The new year of track and field is beginning to roll, but some of the best matchups of the weekend are on the roads and the cross country course. In no particular order, here are the ten matchups you should be watching this weekend.
Meb vs time
Men's race, USATF Half Marathon Championships
Aramco Half Marathon, Houston TX
Sunday, 6:55am local time (7:55am ET)
Race website
Live webcast from 7:50am at USATF.tv
Meb Keflezighi is the two-time defending USATF half marathon champion, winning here in Houston in 2014 and Duluth in 2013. He also won the title in 2009 (also Houston), and those dates mean something. He pulled off his biggest wins in 2009 and 2014, in New York and Boston respectively. Whatever he does here, it will tell us a lot about what to expect from him at the upcoming Boston Marathon. This is a competition against time for him in two different ways. One is against the clock, and another is against the calendar. He's got to get old sometime, but it doesn't look like it yet—he's third on the current World Marathon Majors leader board.
Newcomers vs the half marathon
Women's race, USATF Half Marathon Championships
Sunday, 6:55am local time (7:55am ET)
There will be a new women's USATF Half Marathon champion on Sunday. No previous winner is entered. None of the athletes expected to be major players are half marathon rookies, but some are barely more than that.
The only three entrants with PRs under 1:11:30 are Janet Bawcom, Annie Bersagel and Lauren Kleppin. Bawcom is the fastest of all (1:09:55) and won her last two half marathons, both in the Rock N' Roll series. Bersagel (1:10:10) and Kleppin (1:10:16) set their PRs at last year's World Half Marathon Championships, and Kleppin was runner-up here last year.
The two most intriguing entries are women who have a lot of racing under their belt but little at this distance. Those are Sara Hall and Kim Conley. Veteran track runner Hall ran four half-marathons last year, all small affairs that she won by wide margins. Conley has just one half to her credit (second behind Hall last fall) but is getting a lot of attention due to her impressive track credentials, including a USATF Championships win at 10,000 meters last summer.
Texas vs Arkansas
Randal Tyson Track Center, Fayetteville AR
Friday, 6:00pm local time (7:00pm ET)
Live results
Live webcast at WatchESPN.com
ESPN's Bill Simmons coined the term "sports hate" several years ago.
If you're not familiar with the term, "sports hate" is an underrated part of fandom. Everyone has guys they don't like, and more importantly, guys they enjoy not liking. The reasons are unique to us. There doesn't have to be anything rational about it.
I would venture so far as to say that "sports hate" is essential to sports fandom, and especially as it applies to teams. Most sports fans have their team, and they have one or two teams they love to hate. Ohio State fans hate Michigan. Auburn fans hate Alabama. Arsenal hates ManU, and ManU hates Arsenal. Everyone hates the Dallas Cowboys. The one-ton Army surplus rocket that sits outside Toledo's stadium is aimed directly at Bowling Green's 50 yard line.
Texas and Arkansas is a hatefest that goes back to the days of the Southwest Conference. As a dual track meet it's been rather one-sided—the Longhorns have never won, either in the men's or women's competition—but that doesn't make it any less intense a rivalry. And it could go either way; the USTFCCCA preseason rankings have the men's teams at #3 (Arkansas) and #8 (Texas) and the women at #5 (Texas) and #7 (Arkansas).
Petrillose vs Morris
Women's pole vault, Texas at Arkansas
Friday, 7:45pm local time (8:45pm ET)
The single best event of the Arkansas-Texas dual is probably the best college matchup of the weekend. Texas' Kailtin Petrillose set the indoor collegiate pole vault record last year (4.60m/15' 1") while winning the NCAA indoor title, but bombed out of the outdoor championships with a no-height. Arkansas' Sandi Morris is #10 on the all-time collegiate list (4.50m/14' 9") and finished fourth at the NCAA outdoor meet in June. Lurking in the background is a Razorback freshman, Desiree Freier, who set the national high school record last year at 14' 7¼" (4.45m) and is quite capable of beating both Petrillose and Morris.
Kansas State vs Kansas vs Wichita State
Ahearn Field House, Manhattan KS
Saturday, 11:00am local time (noon ET)
Live results
These are the three Division I track teams in the state of Kansas and the meet is a revival of an annual triangular between Kansas, Kansas State and Missouri that ran from 1989 to 2006. Kansas State won fifteen of those seventeen triangulars and "The Jug", the trophy that went with it. Kansas' program has returned to national prominence since the series ended and this should be a tough matchup.
Indiana vs Purdue
Gladstein Fieldhouse, Bloomington IN
Saturday, 4:00pm
Meet home page
The Old Oaken Bucket is one of those ancient and unique traveling trophies that makes college football rivalries so fun. It's only awarded in football, not track, but this meet needs something. The rivalry in track and field dates from 1910 but it disappeared as a true dual after the 1972 season until it was revived in 2010. For the first four years of the revival the meets were one-sided, with Indiana winning every one of the men's and women's meets and by an average margin of 37 points. The Purdue Boilermakers turned their program around last year and it started with sweeping this dual. Revenge is on the Hoosier's mind.
Kent State vs Akron
Stile Athletics Field House, Akron OH
Friday, 7:00pm
Live results
Live webcast from 7:00pm
MAC teams? Yes, MAC teams. There are just two dual meets this weekend in which all four teams (men and women) are in the top 30 of the USTFCCCA pre-season computer rankings. Texas at Arkansas is one of them, and this is the other. Those rankings suggest this will be a close and hard-fought battle too: it matches up #17 (Akron) and #21 (Kent State) and #27 (Kent State) and #29 (Akron) in the women's competition. Meet winners won't walk away with a century-old bucket or jug, but they will win a Big Blue Baton. Since Akron's Shawn Barber is entered in the pole vault, there are two numbers to watch: 5.67 meters (18' 7¼") and 5.80 meters (19' ¼"). The first is the record for an indoor dual meet, and the second is the overall indoor/outdoor record for collegiate dual meets.
Medhin vs Toroitich
Men's race, Cross Internacional de Italica
Ruins of Itálica, Seville ESP
Sunday, 2:00pm local time (8:00am ET)
Race website
Timothy Toroitich had a four-meet win streak going in the Spanish cross country circuit until Teklemarian Medhin ended it last weekin San Sebastian. This will be the fourth meeting of the year between the two. Spoilers could come in former Kenyan Polat Arikan Kemboi, now European cross country champion; Bedan Karoki, defending Kenyan cross country champion, and Jarius Birech, the reigning Diamond League steeplechase champion.
Lavillenie vs Americans
Men's competition, Pole Vault Summit
Reno Live Stock Events Center, Reno, NV
Friday, 6:45pm local time (9:45pm ET)
Meet website
Live webcast
World record holder Renaud Lavillenie is coming to the Biggest Little City in the World for his second meet of the indoor season. He only lost once all of last year, when he no-heighted in difficult weather, but hope springs eternal that any of a number of Americans could pull off an upset: Brad Walker, Sam Kendricks, or Mark Hollis
Canada vs USA
Rock N' Roll Arizona Half Marathon
Phoenix, AZ
Sunday, 7:50am local time (9:50am ET)
Race website
The Rock N' Roll race series rarely gets really great matchups–usually they bring in one big name–but this Sunday's races in Phoenix are getting a couple. The headliner in the men's race is Ryan Hall, the American record holder at the half-marathon. He's struggled for the last few years and Canada's Dylan Wykes could be his equal. The women's race includes Amy Hastings, one of the USA's top long-distance runners, along with Natasha Wodak, the 2013 Canadian cross country champion.