2 Comments
College Track Issues & Answers: Big Marks & more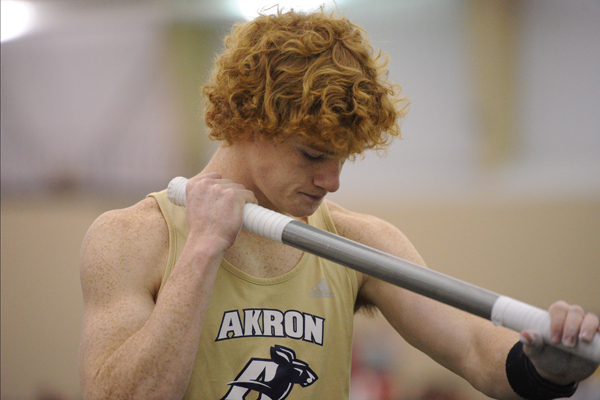 Jesse Squire | On 13, Jan 2015
The college season has barely started but some big marks have already been recorded, and none bigger than those by Shawn Barber.
The college season so far consisted of a handful of December meets and one weekend of low-key January meets. Those early season meets basically serve two functions. One is to be a rust-buster for athletes in power/strength/technique events, and the other is for runners coming off cross country to take a stab at an NCAA Championships qualifying time. The latter led to the most notable result so far this year.
Disanza throws down the gauntlet
Sarah Disanza, Wisconsin's redshirt freshman, won the 5000 meters at the Boston University Opener on December 6th in the time of 15:20.57. Providence senior Emily Sisson was right behind in 15:21.84. That's doubtlessly going to get both of them to the NCAAs because they are two of the seven fastest indoor times in college history (regardless of track size). Only Colorado's Jenny Simpson (2009), Providence's Kim Smith (2004) and Villanova's Sonia O'Sullivan (1991) ever ran faster indoors than Disanza's winning time. Since Simpson ran her time on Washington's oversize track and the other two two are from New Zealand and Ireland, this means Disanza is now the US collegiate record holder for the indoor 5000 meters.
Where in the heck did Disanza come from anyway? She was a surprise runner-up at the NCAA Cross Country Championships—she was third at the Big Ten Championships and twelfth at the Badgers' own adidas Invitational—and has made huge improvements. She redshirted last year's cross country and indoor track seasons, then had a solid-for-a-freshman outdoor track season; sixth in the Big Ten 1500 meters, tenth in the 5000, went to the NCAA prelims in the 1500 but didn't get out of the first round. At that point, there was absolutely no indication that she'd be running like this just six months later.
Since she's run faster than either Abbey D'Agostino (Dartmouth) or Sally Kipyego (Texas Tech) ever did indoors, women who won 16 NCAA titles between them, does that make Disanza the odds-on favorite to win the 5000 at the NCAA Indoor Championships? You'd think so, but maybe not. Remember that as distances get longer, fast times have less inherent meaning. Tactics come into play in championship races, as do other issues.
Kipyego and D'Agostino didn't run faster than 15:20 during the indoor season in part because they didn't see a need to do so. What they ran was plenty fast for qualifying to the NCAAs, and going faster wasn't necessary. Each went faster outdoors (15:11 for both) when hitting an IAAF qualifying mark may have been on their minds. And it's becoming more obvious that the fastest indoor tracks pose little to no disadvantage over an outdoor track, especially in the longer distances. Disanza ran 15:20. In the big picture of a comprehensive indoor/outdoor season, 15:20 is very good but not stunning. We give it extra meaning due to the circumstances (early and indoors) and our assumption is that she can go faster at some time in the future. Probably, but not definitely. And then there is the question of how much faster.
Besides, it wasn't even the most impressive run of December by a college woman.
Avery ups the ante
Iona's Kate Avery won the NCAA Cross Country Championships. She led from wire to wire in a dominating display of running. She won by over eight seconds and came up just three seconds short of Sally Kipyego's course record despite the muddy conditions. And since she's a native of Newton Aycliffe, England, she was offered a spot on the British team for the European Cross Country Championships and she took it.
Just barely ineligible for the U23 race, Avery went shoulder-to-shoulder with British teammate Gemma Steel in the senior race. The two traded the lead back and forth; Avery pulled ahead as they came to the finish but Steel came back and nipped her at the line.
Pushing Gemma Steel to her limit is no small thing. Steel's 5k PR is unimpressive (15:47) but that distance just isn't her thing. She recently took second at the BUPA Great North Run in 1:08:13 (faster than all but two Americans, Kara Goucher and Deena Kastor, have ever run) and in doing so she beat the reigning Olympic, World and London marathon champions. She beat Molly Huddle at August's Falmouth Road Race, less than a month after Huddle set the American Record for 5000 meters with 14:42.64. Going to-to-toe with Steel and very nearly beating her is a very big deal for any runner right now, let alone a college runner.
Avery vs Disanza is an NCAA Championships matchup that could be very interesting.
When is a record not a record?
On January 3 at the Texas Expo Vault, Akron's Shawn Barber pole vaulted 5.87 meters (19' 3") to establish new Canadian and collegiate indoor records. Just one week later at the Akron Pole Vault Convention, Barber cleared 5.80 meters (19' ¼") for another new collegiate indoor record. Wait, what?
There are two different groups that maintain records for collegiate track and field, and neither of them is the NCAA. Track and Field News has kept collegiate records for decades, and the USTFCCCA just started keeping them too. Where the two groups have a slight difference of opinion is this: when or where can a collegiate record be set?
The Texas Expo Vault was an open affair, Barber was not representing his university nor wearing the Zips' uniform, and the USTFCCCA does not consider it a "collegiate meet". TFN doesn't get into the nitty-gritty of what constitutes a "collegiate meet" and instead looks at what it considers as the collegiate season (running from the beginning of December through the NCAA Championships); any legitimate mark made during that time period is up for record status. So they can disagree on where a collegiate record can be set, although I think this is the only time it's happened.
In any case, Barber is on fire. Those are the two highest clearances of his career, and at both meets he beat two-time NCAA champion Sam Kendricks, the former Ole Miss Rebel who gave up his last year of eligibility to sign with Nike. There have only been ten indoor 19-foot-plus vaults ever by collegians, and Barber now has two of them—the only two ever achieved in January. Hopefully he hits another PR and consolidates the collegiate record book.
Who is Jalen Miller?
College track fans know who the rising sprint stars are. Established collegians include sophomores Trayvon Bromell (Baylor), the world junior record holder and reigning NCAA 100 meter champion, and Cameron Burrell (Houston), sixth at last year's NCAA indoor 60 meters. Incoming freshmen include Trentavis Friday and Kendall Williams (both Florida State), the first Americans in 26 years to sweep the men's sprints at the World Juniors.
Most college track fans haven't heard much about Jalen Miller, a sophomore at Ole Miss, but you will. Miller led off the winning 4×100 relay at last summer's World Juniors (the other three legs were Friday, Williams and Bromell). On Saturday at Purdue's Gene Edmonds Cup, Miller broke his indoor PR with 6.57 in the heats and beat it again with 6.56 in the final. Only five collegians ran faster than that in all of the 2014 indoor season (and only two return). Miller didn't begin competing in track until his junior year in high school, which explains his rapid rise.
College Football
The current collegiate leader in the triple jump is Eastern Michigan's Donald Scott with 16.34 meters (53' 7½"). Scott was 6th at the NCAA outdoor championships last June and the mark beat his indoor PR by over a foot and a half. He's doing very well right now.
At first I was surprised to see that Scott was jumping at all. He also plays football for the Eagles and while past football coaches have cooperated with the track program, I've been told that new head coach Chris Creighton does not plan to continue that cooperation. However, Scott is still jumping because he has exhausted his college football eligibility–and for the first time ever he is putting all of his time and effort into track. It's already paying off for him.
If you are reading this, you have long known what kind of athleticism our sport can give to a football player. If you're like me, you figure that cooperating with the track program gives the football program a recruiting edge. (One of my high school teammates chose Tennessee over dozens of other major programs because Johnny Majors would let him run track; he went on to be an All-American in the 4×100 and played eight seasons in the NFL.) I've always thought an unwillingness to share athletes with the track team showed the football coach to be foolish, arrogant, or both.
This first year of the College Football Playoff has been good for track and field for a number of reasons, the largest of which is that track got attention in the long buildup to the championship. Both teams in the championship game cooperate with their men's track programs (and one of the coaches likes to quote Steve Prefontaine). Tim Warsinskey of the Cleveland Plain Dealer compared the Ohio State and Oregon football teams' best track marks and scored an imaginary dual meet. The New York Times' Marc Tracy wrote about Devin Smith's leaping ability honed in the high jump. And there would be more if the fastest player in college football hadn't come up hurt on the first play of the tournament.
There is a second, hidden benefit to the CFP that might be gained in the future if football's postseason continues to move away from bowls and towards a tournament. Bowls suck money from college sports, especially mid-major universities, and that's where track is hurting the most. Money that goes to the NCAA via a tournament gets redistributed to member institutions and that would help, not hinder, our less-than-lucrative track programs. But that's a maybe and far in the future even if it does happen. Right now the biggest benefit is that it's becoming obvious to everyone that the best athletes compete in the sport known globally as Athletics.
Random Stat of the Week
Shawn Barber's 5.80 meters (19' ¼") at Akron on Saturday is the best pole vault mark ever made in the state of Ohio, indoors or out. The old record was held by Scott Davis at 5.73m (18′ 9½") at the 1988 Cleveland Knights of Columbus indoor invitational.
Coming Up Next Week
It's still early in the season, so there will be few if any big individual clashes next weekend, but there are some good team rivalries on the docket: Texas at Arkansas, Kansas and Wichita State at Kansas State, Kent State at Akron, Purdue at Indiana, Cornell & Brown at Harvard, and more. And Monday will see the first Track and Field News dual meet rankings of the season.