One Comment
The Weekend's Best Matchups: NCAA Championships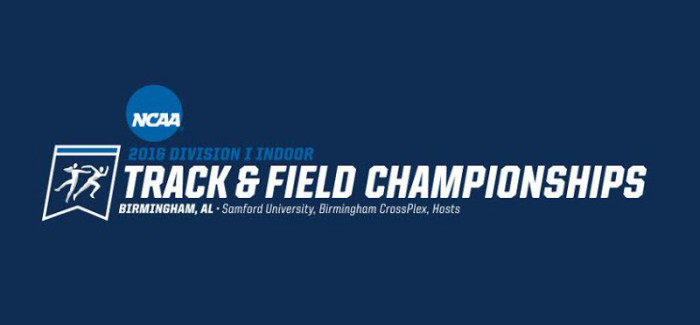 Jesse Squire | On 10, Mar 2016
This year is the first time that the NCAA and USA indoor championships are being held on the same weekend, and that means there will be two editions of the Weekend's Best Matchups. Today we look at the NCAA Championships.
Your key links:
The USTFCCCA's National Championships Central — everything you ever needed to know about the NCAAs
Live webcast via WatchESPN from 6:25pm ET on Friday and 4:55pm ET on Saturday
Live results, schedule and start lists
Event coverage by Let's Run | Flotrack | Eugene Register-Guard
The top matchup of the NCAAs is, of course, the fight for the team championships.
Oregon vs SEC
Both the men's and women's team championships will almost certainly come down to a battle between Oregon and one or more SEC teams.
The USTFCCCA computer rankings are a marks-generated estimate of teams' scoring potential at the NCAA Championships. The current rankings:
| | |
| --- | --- |
| Men | Women |
| 134.58 Oregon | 155.54 Florida |
| 126.03 Arkansas | 149.51 Oregon |
| 105.69 Florida | 143.16 Georgia |
| 102.59 Texas A&M | 119.50 Arkansas |
| 98.82 LSU | 99.33 Texas |
This is the sixth year that the USTFCCCA rankings have been produced. In the previous five NCAA indoor championships, only once did the team champion enter the national meet with less than 100 points in the USTFCCCA ratings (Oregon's men, 2014, with 97.06). So it's very safe to say that only the above teams are in the hunt for each championship, and fairly safe to say it's just among the top four.
MEN
Oregon is the men's favorite since the Ducks have the favorites in four events: the mile, 3000, 5000 and 60 hurdles. That alone is 40 points, and they have several other good scoring opportunities. 50 points is a realistic total, but with that many event favorites it's more likely that they'll underachieve than overachieve, because you can't do better than first place. When you realize that it's been eight years since a men's team won the indoor title with less than 50 points, you can see that Oregon has a bit of a precarious position.
If not Oregon, then who? Arkansas has 12 entries in 9 events but isn't expected to score big in anything save the long jump. That gives the Razorbacks plenty of opportunity to beat expectations – but that's a tall order for a team that runs all of its qualifiers on the "world's fastest track" yet still isn't seeded at the top. Florida has big-point opportunities, but with just eight entries in seven events, the Gators don't have any room for error.
WOMEN
If you score the meet by seeding, Florida is projected for 50 points, Georgia for 43, Oregon for 32 and Arkansas for 29. I feel fairly confident that seeding underrates Oregon, as the Ducks have 16 entries in 9 events and has plenty of upside. Georgia will be hard pressed to beat their projected total since the Dawgs are in just four events.
The best individual matchups, presented in chronological order…
Akela Jones vs Kendell Williams
Women's pentathlon, Friday from 12:15pm to 5:15pm local time (1:15-6:15pm ET)
Judging by marks alone, this should be the best event of the entire weekend. Georgia's Williams set the collegiate record at last year's NCAA Championships, while Kansas State's Jones almost broke it in January.
Molly Seidel vs Allie Ostrander
Women's 5000 and 3000, Friday at 8:25pm local time (9:25pm ET) and Saturday at 6:25pm local time (7:25pm ET)
These two are head and shoulders above the rest of the NCAA's distance runners (well, metaphorically speaking, they're both very short). Ostrander, a freshman at Boise State, finished second in her collegiate debut last September, but otherwise has lost to no one but Seidel (at the NCAA cross country championships). Notre Dame's Seidel has only one loss in the '15-16 season, to Ostrander at the Wisconsin cross country invitational. Ostrander has the year's best time in the 3k, Seidel has the best in the 5k. These should be epic races.
Battle Royale
Men's distance medley, Friday at 8:45pm local time (9:45pm ET)
This year has produced six of the twelve fastest (indoor) DMRs in college history. Perspective: Michigan broke its school record, one set by a team that included future Olympians such as Andrew Ellerton, Nate Brannen, and Nick Willis, and the Wolverines are still just the #5 seed. Washington and Stanford have 3:53 milers on their anchor legs, while Oklahoma State has the defending NCAA 1500 meter champion and Oregon has the favorite in Saturday's mile final. This is just a flat-out wide open race between as many as half a dozen teams.
Stanford vs Georgetown
Women's distance medley, Friday at 9:00pm local time (10:00pm ET)
Let's Run calls this race a duel between Stanford and Georgetown and gives it their usual deep analysis.
Birmingham vs the task of hosting the NCAAs
Just nine metro areas have ever hosted the NCAA indoor championships. The meet was created by University of Michigan athletic director Don Canham and its first seventeen editions were in downtown Detroit before moving to the Pontiac Silverdome for a few years, all well attended.
In 1984 the meet migrated to Syracuse for two years, where the fan turnout was truly anemic. It then went to Oklahoma City for three years, where the fan support wasn't much better (and the meet organization was terrible).
The NCAA indoor championships' next home was Indianapolis' Hoosier Dome for an eleven year stretch, where the attendance usually equaled or exceeded what it had been in Detroit. In 2000 the meet moved to Fayetteville, where fan interest has been decent but not stunning. Since 2009 the meet has bounced between Fayetteville and other sites (College Station, Boise, Albuquerque), and again the fan interest was good but not stunning.
Now the meet takes a trip to Birmingham and its Crossplex, a city-owned downtown sports complex. The seating capacity is small for an NCAA Championships venue, just 4,000, but otherwise it's a top-of-the-line facility: luxury suites, a warm-up facility with a 60 meter straightaway, and more. Will Birmingham come out to support the meet, or will this be just one more bump on what feels like the road to oblivion?
Megan Clark vs Lexi Weeks
Women's pole vault, Saturday at 4:00pm local time (5:00pm ET)
Clark is a senior at Duke and Weeks is a freshman at Arkansas. They are tied atop the collegiate list at 15′ 1″ (4.60 meters), which would have been good enough for the collegiate record just two years ago, and neither has lost to a collegian this year.
Minor programs vs major programs
Women's mile, Saturday at 4:10pm local time (5:10pm ET)
The top contenders in the women's mile includes the usual suspects: Villanova (Angel Piccirillo), Oklahoma State (Kaela Edwards), Georgetown (Andrea Keklak), and Michigan (Shannon Osika). Those top contenders also include some from teams that don't tend to get a lot of attention in college track: New Hampshire (Elinor Purrier), North Dakota State (Erin Teschuk), and Weber State (Jamie Stokes). The UNH Wildcats have never scored at the women's indoor championship, in this event or any other.
Allen vs comeback
Men's 60 hurdles, Saturday at 4:25pm local time (5:25pm ET)
Oregon's Devon Allen had a stunning end to his 2014 collegiate season. Not expected to even qualify to the NCAA Championships, he ended up winning and breaking the meet record. He followed it up with a US title two weeks later. Then it came to an abrupt end with an ACL tear while playing wide receiver in the 2015 Rose Bowl.
He took the cautious route back to health and redshirted the 2015 season. In his first season back he's run just three meets this year, and didn't win a race until the MPSF Championships—but it was a huge PR for the 60 hurdles and tied him for the collegiate leading time. If he's back to what he was, the USA has another Olympic hurdle contender.
Cindy Ofili vs Devynne Charlton
Women's 60 hurdles, Saturday at 4:35pm local time (5:35pm ET)
The Big Ten rivals from Michigan and Purdue respectively are the top two seeds and with identical times. They split their two head-to-head matchups and have lost to no one else. Oregon's Sasha Wallace is a very real threat to beat them both, though.
Ronnie Baker vs repeat
Men's 60 meters, 4:45pm local time (5:45pm ET)
TCU's Baker is one of only a handful of defending champions, and the 60 meters is short enough that it's a bit of a crapshoot. He didn't look all that great this year until the Big 12 Championships, where he left #2-seed John Teeters (Oklahoma State) well in arrears. His time of 6.51 was the fastest college time at low-altitude in fifteen years.
Shayla Sanders vs Mikiah Brisco
Women's 60 meters, 4:55pm local time (5:55pm ET)
Florida's Sanders and LSU's Brisco have split their two head-to-head races this year. Brisco won the SEC Championships to give Sanders her only 60m loss this year.
Everyone vs everyone
Men's 800 meters, 5:30pm local time (6:30pm ET)
In my experience, the 800 meters is the least predictable running event in track and field. This year there is no strong favorite, yet seven men have run under 1:47.00. Texas A&M freshman Donavan Brazier opened his collegiate career with 1:45.93, which is the fastest any American (collegian or not) has run since 2003. Akron's Clayton Murphy qualified to the World Championships semifinals last year, and there are a whole host of fast and experienced entrants. Friday's semifinals alone may be a madhouse, and anyone who gets to the final has a real chance at winning.
Brendon Rodney vs record book
Men's 200 meters, Saturday at 5:50pm local time (6:50pm ET)
Rodney runs for LIU Brooklyn and the favorite to win the 200 meters. If he has a great race, he just might have a chance at the Canadian indoor record of 20.26, set at last year's NCAAs by a then-unknown Andre De Grasse.
Edward Cheserek vs Patrick Tiernan vs Justyn Knight
Men's 3000 meters, Saturday at 6:10pm local time (7:10pm ET)
If I only get to watch one race at the NCAA Championships, this would be my choice. (My wife is giving a TED Talk at 7:00 on Saturday night, so no soup for me.) Oregon's Cheserek has been virtually unbeatable in college track, but not completely unbeatable. There's a chink in his armor, and it's the last 50 to 100 meters of the race. If anyone can manage to still be with him at that point, they have a chance. But of course that's a very big "if". Villanova's Tiernan and Syracuse's Knight are the two given the best chance to pull off the upset. Adding to the drama is that this race will be Oregon's final chance to score points for the team championship, and "Ches" needs to give the Ducks at least an eleven-point lead going into the 4×400.