No Comments
The Weekend's Best Matchups - Monaco Diamond League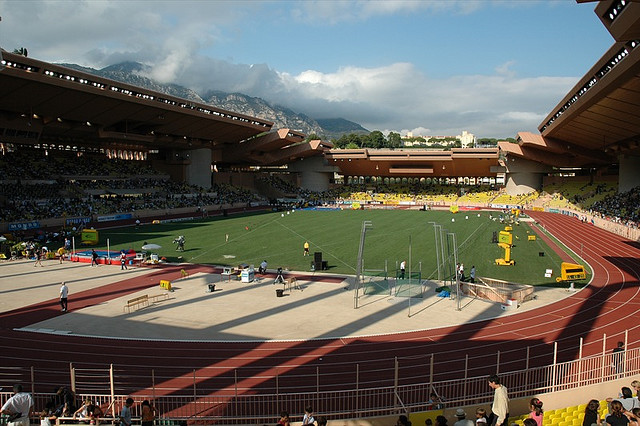 Jesse Squire | On 18, Jul 2013
Stade Louis II awaits. (Photo courtesy Creative Commons.)
As the season wears on, there are fewer and fewer competitions being held and they are at a higher and higher level. This weekend there is only one major competition on the slate: Friday's Herculis, the Monaco stop on the Diamond League tour and the source of all ten of the weekend's top matchups.
How to watch
The schedule, start lists and live results are available at the official web page.
TV coverage in the USA is on Universal Sports (which will be available to Time Warner cable subscribers beginning in August) and is also webcast at UniversalSports.com but only to those whose cable providers carry the TV channel. Fortunately, foreign webcasts can be seen here or here. Live broadcasts begin at 2:00pm (eastern time).
The Matchups
This week's list of matchups is listed by the meet schedule instead of ranked order. Here's what to watch.
Team USA vs baton exchanges
Men's and women's 4×100 relays, 7:25 and 7:40pm local time (1:25 and 1:40pm ET)
Repeated failures in the sprint relay at the World Championships and Olympics were a source of embarrassment for Team USA. Last year the responsibility for the relays was taken away from the Olympic head coach and given to Jon Drummond. The results were extraordinary, as the women's team broke an "unbreakable" Communist-era world record and the men's team tied the old world record (while losing to Jamaica's new record).
It appears that relay responsibility has once again been returned to the Worlds team head coaches. Will the exchange problems come back?
Renaud Lavillenie vs Raphael Holzdeppe vs Konstadínos Filippídis
Pole vault, 7:45pm local time (1:45pm ET)
These three lead the Diamond Race in the pole vault, and if any wins here then he will come out as the leader. Lavillenie is the best vaulter in the world right now but the nature of the event gives no one a guaranteed victory. Filippídis has only two major wins this year but both were in Diamond League meets, while Holzdeppe is the most consistent vaulter in the four D.L. competitions. All in all, five of the world's top six are competing, including US champion Brad Walker.
Javier Culson vs Johnny Dutch vs Kerron Clement
400m hurdles, 8:05pm local time (2:05pm ET)
World leader Michael Tinsley went through a bad patch recently and is not racing. The favorites here are Dutch and Clement, the next two fastest, and Diamond Race leader Javier Culson. Another contender comes in the form of Felix Sanchez, the 35-year-old reigning Olympic champion.
Brigetta Barrett vs Anna Chicherova vs Blanka Vlasic
High jump, 8:10pm local time (2:10pm ET)
These are the world's three best high jumpers right now and each bring something a little different. Vlasic represents the past, dominating from 2007 to 2010. Chicherova represents the present, winning gold at the '11 Worlds and '12 Olympics. The fast-improving Barrett is widely expected to be the future champion. But is the past over for Vlasic or can she return to the top? And does the future begin now for Barrett?
Milers vs non-milers
Men's 1500 meters, 8:15pm local time (2:15pm ET)
This race features Asbel Kiprop and Bethwell Birgen, the two fastest of the year in the 1500, plus American Olympic/World medalists Leo Manzano and Matt Centrowitz. We now live in a world where the USA has multiple milers who pose serious threats to the very best Kenyans, and that's one competition to watch here. Centro is a bit of a question mark, as he DNFed his last outing.
Another is to see how the "non-milers", Mo Farah and Nick Symmonds, fare against the 1500 specialists. Farah is working on his finishing speed for his Worlds runs in the 5k and 10k, while Symmonds has a long-term plan to transition from the 800 meters to the 1500.
Duane Solomon vs Pierre-Ambroise Bosse
800 meters, 8:35pm local time (2:35pm ET)
With the prolonged absence of world-record holder David Rudisha and his announced withdrawal from the World Championships, the men's 800 this year is a bit like the '73 Belmont Stakes without Secretariat. Everyone else is excited to have a chance to win (because previously they had zero chance) and there is no clear-cut favorite.
One of the men who could vie for gold is Solomon, the surprise runner of 2012 who nearly broke the American Record while finishing fourth in the Olympic final. He has the world's fastest time despite racing lightly. 21-year-old Bosse has run nearly as well and should be in it for the win. Djibouti's Ayanleh Souleiman, just 20 years old, has shown some great racing instincts at 1500 meters and has run very fast in the 800, so watch for him as well.
Christian Taylor vs Will Claye vs Pedro Pablo Pichardo
Triple jump, 8:40pm local time (2:40pm ET)
Taylor, the reigning World and Olympic champion, has been active on the Diamond League circuit, competing in the triple jump all five times it has been offered. Claye won bronze and silver behind his former Florida teammate in the last two years and has been much more conservative with his scheduling. Both lost in Budapest last week to Pichardo, a barely 20-year-old Cuban who has made massive improvements this year and is undefeated in Europe. If you want to lay down a long-shot wager for gold at the Worlds, you could do worse than Pichardo.
Galen Rupp vs Bernard Lagat vs American Record
5000 meters, 8:55pm local time (2:55pm ET)
No one has said there will be an attempt on the American Record of 12:53.60, but the meet director says he wants the meet record of 12:53.11 to be broken. (Whether the athletes want it too is a horse of another color.) But at the very least, it's going to be great fun to see US rivals Rupp and Lagat go at it, as they represent 2/3 of the American team for the Worlds in this event. (For the record, Lagat has won 15 of the 16 times they've met at 3000 and 5000 meters.)
Their main competition in this race is the entirety of the Kenyan team for the Worlds: Isiah Koech, Thomas Longosiwa, and Edwin Soi. Koech is rounding into form and dominated the Kenyan Trials, while Soi won the Prefontaine Classic earlier this year (with Lagat and Rupp in 5th and 6th).
USA vs Kenya
Women's 1500 meters, 9:25pm local time (3:25pm ET)
The top US miler, Jenny Simpson, is running her first 1500 race in six weeks and faces off against Hellen Obiri, who won the Kenyan Trials last week and the Prefontaine Classic in June. In fact, Obiri has lost only once this year (to undefeated Abeba Aregawi) and she poses a serious challenge for Simpson, the 2011 World Champion.
Four other top American milers are in this race. They are Treniere Moser, the US champion; Brenda Martinez, who is having a breakout year and will run the 800 at the Worlds; Shannon Rowbury, the 2009 Worlds bronze medalist who is on the US team in the 5000, and Gabriele Anderson, who won in Madrid last week.
Two other top Kenyans are entered in Nancy Lagat, who will run the 1500 at the Worlds, and Viola Kibiwott, who will run the 5000 at the Worlds. Two-time world champion Maryam Yusuf Jamal is also running; once the world's dominant miler, she hasn't broken 4:00 since 2010.
Justin Gatlin vs Michael Rodgers
100 meters, 9:40pm local time (3:40pm ET)
Over the last five days we learned that the World Championships final will a bit more open than we had previously thought. Tyson Gay and Yohan Blake will not compete, each for different reasons. That makes this matchup more interesting than it would have been just a week ago. Presuming that Gay will be disqualified from the US Championships, Justin Gatlin is now undefeated in five major races and Rodgers was second in three of them. Charles Silmon, the NCAA champion and US Worlds team member, is also in this race.