One Comment
The Weekend's Best Matchups -- May 3-5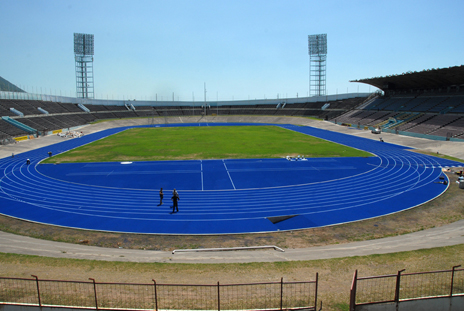 Jesse Squire | On 03, May 2013
College track is mostly on hiatus (with the exception of a few conference championships) but the pros are beginning to ramp it up. There's a lot of good stuff going on this weekend. What are the races and matchups to watch?
1. Allyson Felix vs Veronica Campbell Brown
100 meters, Jamaica International Invitational
National Stadium, Kingston JAM
Saturday, 7:50pm local time (8:50pm ET)
The IAAF's World Challenge series, the second tier of professional meets, restarts this weekend with the Jamaica International Invitational in Kingston. Of course, the meet is all about the sprints. Local stars Usain Bolt and Yohan Blake have withdrawn due to injury, which makes this the headline race.
It would be a titanic matchup if it were over 200 meters, as these two athletes own the last three Olympic gold medals in that event (and the last five Worlds golds), but it's still a great race at 100 meters. VCB has a 6-1 career edge over Felix in the short race and is a much better starter, but Felix has tremendous closing speed. "I know if I can get away from Allyson I have to stay away," the Jamaican said, "because if I get away from her she will be coming!"
Meet website | Live webcast ($5.99US)
IAAF preview
2. Tyson Gay vs Ryan Bailey
100 meters, Jamaica International Inviational
National Stadium, Kingston JAM
Saturday, 7:55pm local time (8:55pm ET)
These two were fourth and fifth in last summer's Olympic 100 meter final. Gay has been hit by injury after injury, and with his career best season five years behind him, we might begin to worry if he'll never regain that form. Bailey is the young, upcoming American sprint star who anchored the US 4×100 team last week at the Penn Relays. This is a good early-season test for both of them.
Based on early-season form, the favorite is likely to be Doc Patton, whose profile mixes Bailey's and Gay's. No youngster at 35, Patton is having his best season in quite a while. He broke the over-35 world record for 60 meters indoors at the Millrose Games, and has run some eye-popping wind-aided times.
3. Galen Rupp vs Matthew Centrowitz
800 meters, Oregon Twilight
Hayward Field, Eugene OR
Friday, 8:35pm local time (11:35pm ET)
At first glance, this looks like a mismatch. Centrowitz is on the short list of the world's best milers and Rupp is a long-distance specialist. But Rupp has shown a great turn of speed lately, putting up a world-leading 3:50.92 over one mile during the indoor season. Centro ran a very good 1200 meter leadoff leg for Team USA's distance medley at the Penn Relays last week, so he's already sharp. Rupp's current form is more of an unknown factor.
That two stars are willing to meet head-to-head and at an odd distance for both of them is what the Oregon Twilight is all about. It's simultaneously serious competition and a fun night out. It's part track meet, part senior night, and part community event. Paul Swangard, Oregon's PA announcer, joked that the biggest challenge in announcing the meet is getting through all 50 names in the middle school mile before the end of the first lap. Back in 2008, candidate Barack Obama showed up at the Oregon Twilight meet to help bolster his unexpected success in the Democratic primary campaign–an action that would have seemed out of place at other track meets, but not this one.
Meet home page | Schedule
Live results | Live webcast
Eugene Register-Guard preview
4. Yoshihide Kiryu vs Mike Rodgers
100 meters, Seiko Golden Grand Prix
National Stadium, Tokyo JPN
Sunday, 3:18pm local time (2:18am ET)
Kiryu is the 17-year-old sensation who just tied the 100 meter World Junior Record with a 10.01 clocking, which puts him atop the world list. Mike Rodgers won bronze over this distance at last summer's Olympics, and whose best this year is 10.04.
This was no one-off run for Kiryu; his 10.01 came in a semi, and in the final he ran 10.03 and beat an Olympic semifinalist. Hyperbolic media types are already asking if he'll become "Japan's Usain Bolt". He's already a major talent, and you'd expect him to improve. But just remember that one of those co-record holders is Jeff Demps, whose 10.01 remains his PR some five years later.
Meet website
5. Mary Cain vs the pros
800 meters, RE:Run San Diego
Balboa Stadium, San Diego CA
Sunday, 11:00am local time (2:00pm ET)
Yes, I posted this same matchup last week, and yes, it's still one of the best of the week. How can you not be fascinated by a seventeen-year-old taking on the best in the USA and the world and holding her own? Cain has run in races like the Millrose Games and the Drake Relays and beaten all but the very best of North America's professional runners. Over this shorter distance, though, it may be a dicier situation for the youngster. The competition includes two Olympians in Geena Gall (USA) and Lynsey Sharp (Great Britain), plus some other top level runners such as Brenda Martinez (who ran on the American-record setting 4×800 relay at Penn last week) and Phoebe Wright, and Cain's PR is by far the slowest in the field. If you're curious, the national high school record is 2:00.07, set 31 years ago by Kim Gallagher.
What the heck is RE:Run San Diego anyway? It's an idea whose time has come, a professional track meet built into a mass-participation road race. The race ends at Balboa Stadium, where the meet will be held as part of the post-race festivities. If it works, there will be many copycats–which can only be a good thing for track and field.
Event website | Live webcast (subscription required)
6. Duane Solomon vs Eric Sowinski
800 meters, RE:Run San Diego
Balboa Stadium, San Diego CA
Sunday, 10:45am local time (1:45pm ET)
This one should look familiar too, as it was one of my featured matchups two weeks ago at the Mt. SAC Relays. It turned out to be a great race, with Solomon pulling out the victory by a scant 0.02 seconds. Solomon came out of nowhere last year and ended up fourth in the Olympic final, and Sowinski came out of nowhere this winter to win the US indoor championship at 800 meters and break the American record for 600 meters. This could turn into a great rivalry, something domestic track and field sorely needs.
These are not the only two top-level runners in the race. There are Olympians in Lopez Lomong (USA), Boaz Lalang (Kenya) and Geoff Harris (Canada), plus old college rivals Charles Jock and Ryan Martin. This little experiment of a track meet has lined up the best men's 800 meter race in the USA yet this year. RE:Run San Diego will also have men's and women's mile races, with some pretty good fields as well.
Erik Sowinski turning heads in U.S. Track & Field
7. Kansas vs. Texas (women)
Big 12 Championships
Hart Patterson Track, Waco TX
Friday through Sunday
Kansas is the #2 women's team in the USTFCCCA computer rankings and Texas is #10, and four more Big 12 women's teams are in the top 25. The Big 12 women's indoor championships was a great meet, with Kansas barely prevailing over Texas by 2½ points, and Iowa State only 6 points behind the Longhorns. The men's championship doesn't look quite as tight, with Texas heavily favored.
Individual stars are plentiful. Those on the current edition of the "watch list" for the Bowerman Award include Olympic high jump silver medalist Erik Kynard (Kansas State), the current outdoor world leader; long/triple jumper Andrea Guebelle (Kansas), the national collegiate indoor athlete of the year; and distance runner Betsy Saina, the reigning NCAA cross country champion and the third-fastest 10k runner in collegiate history.
TV coverage will be a tape-delayed package via various regional cable outlets; check your local listings as times and dates vary widely.
Meet home page
8. UW-La Crosse vs UW-Oshkosh (men)
Wisconsin Intercollegiate Athletic Conference Championships
Veterans Memorial Field Sports Complex, La Crosse WI
Friday and Saturday
D-III track? Yeah, D-III track.
The best way to understand this meet is to realize that the WIAC is to D-III track as the SEC is to college football. These are the top two teams in the USTFCCCA rankings, #3 is also here in the form of UW-Eau Claire, and four more teams are in the top 20. The site, Veterans Memorial Field, seats 10,000 fans, which makes it one of the largest track stadiums in the entire Midwest. (The Wisconsin high school championships are held here, not in Madison.) This meet is basically a preview of the NCAA D-III Championships, in part because that meet will be held right here.
Despite the fact that this is by far the toughest D-III conference in the nation, UW-La Crosse has won it an amazing 22 times in a row and 34 out of the last 35. That last spoiler was UW-Oshkosh in 1990.
Three-fourths of the "track" and "field" D-III indoor athletes of the year will be here: milers Dan Sullivan (UW-Stevens Point) and Christy Cazzola (UW-Oshkosh), and long/triple jumper Isaac Vazquez (UW-La Crosse).
Meet home page | Schedule | Live results