One Comment
Running for cover in Houston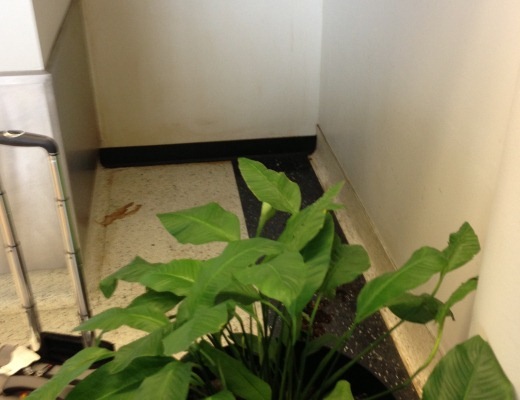 Pat Price | On 02, May 2013
The nook where I hid  with 10 others
This wasn't how today was supposed to be. After a long week at work, I had just gone through security at Terminal B at George Bush Intercontinental airport and had picked up a taco salad. Next step, check out episode two of Marc Maron's new show on IFC, "Maron." This is when things got hairy.
A few very loud noises at security, which is about 50 yards from where I am sitting, enjoying my lunch. Were those shots? Get up for a second. Peek around the corner. BAM! BAM! BAM! BAM! BAM! BAM! Holy $hit! Everyone is running for cover. Restaurant workers are screaming, diving back into the cooler. Everyone else is looking for somewhere to go. I pull one door handle by the BBQ joint. Locked. I channel my inner Usain Bolt and sprint 20 yards to the nearest nook and dive into hiding with ten of my closest new friends. One begins to pray. Then another. 10 minutes go by. The situation seems to be resolved.
We hear nothing. A few of us begin to slowly look around the corner. Things seem to be okay.
"Get in the coolers. Hide!" shouts airport security.
Another 10 minutes go by, we then begin to look around the corner and the situation looks to be controlled.
Of course, I look to Twitter; offer a few words to let everyone know the situation has calmed. That's where I look for breaking news.
Luckily it finally has. It's been about an hour now, and I am still trapped in the food court. Hoping to get home tonight to celebrate my girlfriend's birthday, but happy to be alive.
Thank you IAH security. We shall live to run another race.
If you want to see the interview I gave to Fox News, here it is and here's the AP Story