No Comments
The Weekend's Best Matchups: College Duals and Road Races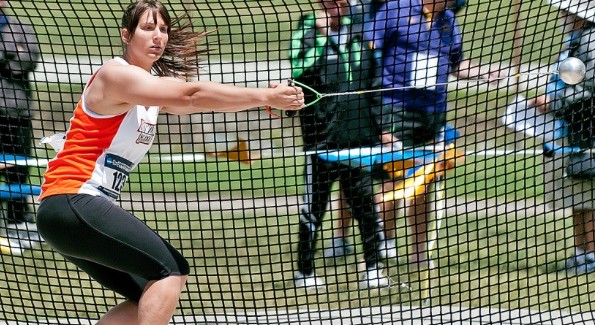 Jesse Squire | On 09, Apr 2015
The women's hammer throw kicks off the weekend with an NCAA 1-versus-2 matchup at the Tennessee Relays.
After the big Texas and Florida Relays, the collegiate season takes a breather and mostly incorporates dual and triangular competition this weekend. The pro action on the roads is ramping up, with big marathons on Rotterdam and Paris. Let's take a look at the best matchups of the weekend, presented in chronological order.
Berry vs Pleger vs Price
Women's hammer throw, Tennessee Relays
Tom Black Track, Knoxville TN
Thursday, 4:00pm ET
Meet home page
Last weekend, Brooke Pleger (Bowling Green) showed herself as a contender for the NCAA title and leads the collegiate list. Second on the list is Deanna Price (Southern Illinois), and both face off against pro Gwen Berry (New York AC), seventh at last year's USA Championships.
Steel vs Britton
Women's race, Great Ireland Run 10k
The Phoenix Park, Dublin IRL
Saturday, 1:10pm local time (8:10am ET)
Race website
Gemma Steel (Great Britain) and Fionnula Britton (Ireland) have won three of the last four European Cross Country Championships between them and they seem the most likely contenders for the win. Certainly the local fans will be cheering for Britton to beat the Briton.
The men's race is likely to be a battle between Leonard Komon (Kenya) and Birhanu Nebebew (Ethiopia). Komon is best known as the world record holder for the road 10k, a mark he set five years ago. He hasn't won a race since last April, when he won the Crescent City Classic 10k in New Orleans. Nebebew's last outing was a win, France's Cross de l'Acier cross country race.
LSU vs USC
Jim Click Shootout
Roy P. Drachman Stadium, Tucson AZ
Saturday, 9:00am local time (Noon ET)
The Jim Click Shootout is a nice little meet that gets great financial support from its namesake's local car dealerships. This year it features hosts Arizona against USC, LSU, Purdue and Illinois. In the latest USTFCCCA men's rankings it's LSU at #4 and USC at #5, and for the women it's USC #7 and LSU #15. Ken Goe, the track beat writer for the Oregonian newspaper, thinks that maybe one of the Trojan teams might be able to break up Oregon's long Pac-12 Championships win streak, and this meet will give us some indication as to whether or not they have enough balance across the full slate of events to makr a run at the Ducks.
Harvard vs Yale
McCurdy Track, Cambridge MA
Saturday, 12:30pm
Harvard and Yale didn't invent the collegiate dual meet—that honor goes to Oxford and Cambridge, back in 1864—but theirs was the first track rivalry in the United States. Harvard is sitting on four straight sweeps and it looks like it will happen again, but duals can sometimes have unexpected results.
Oregon vs Kentucky vs Washington
Pepsi Team Invitational
Hayward Field, Eugene OR
Saturday, 1:30pm local time (4:30pm ET)
Meet home page
Live coverage from 3:30pm PT on the Pac-12 Network/Oregon and pac-12.com
In the latest edition of the Track and Field News dual meet rankings, Kentucky's women are #3, Washington is #10, and Oregon is #14, while the men are Washington at #11, Oregon at #15, and Kentucky unranked. In the USTFCCCA national championship-type rankings, Oregon's women are #6 to Kentucky's #5. No matter how you rank them, there are some darned good teams in this meet.
There are going to be some great individual matchups, too. The men's javelin (4:05pm PT) will feature Oregon's Sam Crouser against Kentucky's Ray Dykstra, the men who were first and second at last year's NCAA Championships. The women's 4×100 (3:30pm PT) could be good too, since the Wildcats and Ducks sit at 4th and 6th on the NCAA list. The men's 1500 (3:46pm PT) has an interesting matchup with Kentucky's Keffri Neal, an 800 star, going against a deep lineup of Oregon milers.
Cal vs Stanford
121st Big Meet
Angell Field, Palo Alto CA
Saturday, 2:00pm local time (5:00pm ET)
This is the second-oldest dual meet rivalry in the nation and dates back to 1893, when Leland Stanford Jr. University first opened. Cal swept the meet last year for the first time since 2000, and the men's team (#3 in the dual meet rankings) is looking for a third straight victory. The Bears are sitting on seventeen straight wins in dual/tri/quad meet competition and, of course, their last loss was in this very meet in 2012 against their archrivals. It's a meet that should get coverage on the Pac-12 Network, but somehow it doesn't.
Seboka vs Gobena
Paris Marathon
Sunday, 8:45am local time (2:45am ET)
Live webcast at Universal Sports website
Tape-delayed coverage on Universal Sports TV at 9:00am ET
The women's race at the Paris Marathon looks to be the most interesting. The favorite is probably Mulu Seboka (Ethiopia), who finished sixth at the Duabi Marathon in January with a 2:21:56 PR, making her the fastest entrant. Before that, she had a streak of four straight wins, so she knows how to compete. Amane Gobena (Ethiopia) is coming off a win at the Istanbul Marathon last November and has a 2:23 PR. Atsede Habtamu (Ethiopia) has a fast PR too but hasn't finished a race in over three years.
Lelisa vs Koech vs Maiyo
Men's race, ABN AMRO Rotterdam Marathon
Rotterdam, NED
Sunday, 10:00am local time (4:00am ET)
Race website
Live webcast link
The three fastest entrants in the Rotterdam Marathon are Ethiopian Feyisa Lelisa (2:04:52) and Kenyans Bernard Koech (2:04:53) and Jonathan Maiyo (2:04:56), and the race director wants a 2:04:something showing on the clock when the winner comes across the line. Times aren't necessarily the best method of evaluating runners; note that Lelisa has been a DNF in three of his last five marathons, and is coming off the Dubai Marathon just ten weeks ago. Koech has been a whole lot more consistent and was runner-up at this race last year, while Maiyo has posted the more impressive half-marathon results over the last year or so.
Bottorf vs Kenyans
Women's race, Credit Union Cherry Blossom 10 Mile
Washington, DC
Sunday, 7:20am
Race website
Live webcast from 7:10am via Runnerspace.com
As is often the case in US road racing, the top end of the elite field is almost entirely Kenyan. The favorites are Cynthia Jerotich, 2nd at the World' Best 10k on April 9 and winner of the Cooper River Bridge 10k on March 28, and Mary Wacera, 7th at the World's Best 10k. If an American is going to be in the mix to win it, Juliet Bottorff (Boston AA) is the one who might be able to do it. The former NCAA 10k champ at Duke set a 5k PR last week at the Stanford Invitational and has been on a consistent upswing over the last year or so.
The men's race has some good runners in it, but Stephen Sambu (Kenya) is head and shoulders above the rest.