2 Comments
Monday Morning Run: Bolt/Gatlin rivalry, Mekhissi injured, who is Elaine Thompson?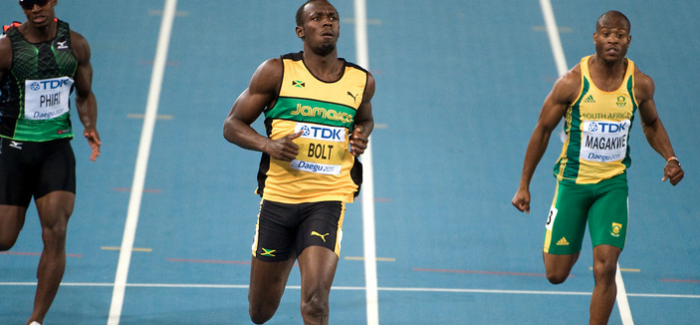 Kevin Sully | On 13, Apr 2015
The proxy war between Usain Bolt and Justin Gatlin is heating up, both on the track and in the media. Last week, Bolt's manager and coach took shots at Gatlin on separate occasions. Over the weekend, Gatlin ran a 200 at meet in Tampa, Florida in 20.10 with a +2.1 wind, while Bolt put out a workmanlike 20.20 in a wind legal race at the UTech Classic in Kingston.
As of right now, there isn't much separating the two. Whether it will stay that way until August is unclear. Compared with the last few years, Bolt's racing schedule is looking quite heavy in 2015. He's set to run a 100 next weekend in Brazil. He has already committed to the World Relays in May and the New York Diamond League meet in June. While there is a chance that he matches up on a leg of a relay against Gatlin in the World Relays, it is more likely that the two will avoid each other all of the summer until Beijing.
Ordinarily, I would hate that. But after the desert of a season last year in the men's sprints, I'll happily take what I can get–an actual rivalry in the men's 100 for the first time since B.B. (before Bolt).
Fueling the rivalry is the animosity toward Gatlin and his presence on the circuit after serving a four-year doping ban. Nike threw kerosene on the fire when they recently decided to sponsor Gatlin. Previously, Gatlin had been in sponsorship purgatory and was being supported by the Chinese company Xtep. Nobody in America could get mad at Xtep because nobody knew what Xtep was.
In March, ESPN ran a documentary called "I Hate Christian Laettner." As the title suggest, the film lays out the reasons why the successful college basketball player from Duke University became so disliked during his career. Central to the hate from fans and opponents, according to the movie, were five "pillars"–privilege, white, bully, greatness and looks. Some of these turn out to be rooted in reality. Others, the film uncovers, are a bit more complex.
There aren't five pillars of hate for Gatlin, only three. "Nike" "American" and "doping suspension," the latter of course being the one that gets the public the most upset, but like Laettner, it's the combination of all the factors that engender the deepest feelings. I can't remember someone in track and field being rooted against so heavily.
All of this controversy makes Bolt more popular and has positioned him as the guardian of all things good and holy in track and field. That's an oversimplification-of course, but it makes for a nice narrative heading into an Olympic cycle. One that the public will be interested in following.
So while there are many who say Gatlin is killing track and field he also simultaneously might be helping keep it afloat. That's not a comforting thought to those who think he shouldn't be running in the first place, let alone racing for medals and with the sponsorship of a major shoe company. But that's the rub. If he is eligible to compete, then it's tough to say why he shouldn't be eligible for awards or able to get sponsorships.
The major team sports in America don't have this problem. Fans in New York cheered Alex Rodriguez this year despite getting caught cheating, and lying about it, on multiple occasions. Shawne Merriman finished third in the NFL Defensive Player of the Year voting in the same season where he served a four game suspension for steroids. In those sports, doping is an infraction that goes away after the suspension has been served. There is no discussion of the benefits of performance enhancing drugs post-suspension. In most cases it's treated like a regular conduct violation, it goes on the permanent record, but isn't a disqualifier in the eyes of most fans or media. For track, the suspension may not last a lifetime, but every result in an athlete's career is tarnished with one positive test.
Gatlin vs. Bolt should be wildly popular on its merits. Bolt is aiming for historic gold medals in Rio de Janeiro and Gatlin is one of his only real challengers. It's Jamaica vs. US. Icon vs. Antagonist. Instead, it is destined to become more about the value of second (and third) chances and the lifetime benefits of performance enhancing drugs. It's damn hard to be a track fan. Not because people cheat, but because it's one of the only sports willing to openly discuss issues like this. Track has taken the opposite approach of the major sports–acknowledging every controversy.  The individual nature of the sport and the reliance on the record book make this a reality that doesn't seem likely to change.  It also makes a simple 100-meter race between two men very complicated.
To the rest of the Run!
The Medalists
The top three performances of the week
Gold: Elaine Thompson
Fast times on the Kingston track are commonplace, but consider this…..Thompson's 10.92 at the UTech Classic puts her seventh on the Jamaican all-time list. Of the current crop of sprinters, only Shelly-Ann Fraser-Pryce, Veronica Campbell-Brown, Sherone Simpson and Kerron Stewart have run faster.
So who is Thompson? She's 23-years-old, too old to be considered a prodigy, though young enough to still speculate about her ceiling in the event. Her previous best was 11.09, which came from a meet this year. Prior to this season, she ran 11.17 in 2014 and 11.41 in 2013.
Her time on Saturday will be magnified because it was run in April. We have a tendency to project April times into August success with very little accuracy. A sub 11 and jump in time this large means she is ready to compete for a World Championships spot this year. It is also a good reminder that this Jamaican sprinting thing is self-perpetuating and there is a future after Shelly-Ann Fraser-Pryce.
Silver: Stephen Sambu
Pick any American road race in the past two years and chances are Stephen Sambu has won it. He continued his monopoly on the roads on Sunday, winning the Cherry Blossom 10-Mile Run in 43:30. The route was shortened to 9.54 miles due to an accident on the race course.
Bronze: Kirani James
Under the dim lights of Tempe, Arizona James ran 44.31 to open his season. He easily handled Deon Lendore of Texas A&M and looked strong over the final 50 meters. Lendore placed third.
Running fast early in the season is typically of James. In 2013, he ran under 44 seconds in May causing me to immediately proclaim that he would break the world record in 2016. He ended up finishing 7th in the World Championships that year so don't put too much stock in my predictions or on James's early season races.
I expect him to finish no worse than second in the world this year, but I don't anticipate a huge improvement in time between his first race and his last one. I could be wrong on that prediction though.
Surging….
-Aries Merritt
In his second race outdoors, Merritt ran 13.29 to win the 110 hurdles in Tempe. Not impressed when a 12.80 runner, posts a time well north of 13 seconds? Well, to you Merritt has this to say:
"The year I broke the world record I opened up with 13.25, so running 13.29 is not too far off."
That puts it in a different context. Although that same year Merritt was sub 13 by June so we will know shortly if his season is resembling 2012.
Since the world record, Merritt has significant time due to injury and now has relocated to Arizona to train. The US team is just as strong as always and new hurdlers keep coming out of the American assembly line ready to run elite times. Merritt won't need to be as good as he was in 2012 to make the US team for the World Championships, but he will need to get down to around 13.10 over the next two months.
-Mark Korir
The Paris Marathon champion ran a personal best of 2:05:49 to win the biggest race of his career. The men's race was a reminder that it is often the person who makes the second move after 30K that prevails. Korir caught Mike Kigen with 5K remaining as Kigen faded badly to the finish.
We've seen this pattern in major marathons recently. The main pack gets whittled down to a few runners at the 30K mark. Someone surges and looks like the sure winner only to have their lead last one minute/one mile/5 kilometers. A runner from the chase pack overtakes the leader and cruises to the win. The old leader starts running six minute miles and wondering how it is possible to wait 18 miles to make a move and still be considered impatient.
-Meseret Mengistu
More PRs in the Paris Marathon! Mengistu won the women's race in 2:23:24, an improvement of 5:58 over her personal previous best. At her current rate, she only needs two more races before she shatters the world record. She also just set a very high mark in the race for Most Improved Marathoner Award.
-Abera Kuma
The Rotterdam Marathon is typically fast. Sunday's edition was slowed by the wind. Abera Kuma, who was third in the 2014 Berlin Marathon, won the race and earned his first marathon victory. Kuma's spits tell the story of the wind. He finished in 2:06:46 after passing halfway at 1:02:40.
His strategy to avoid the front and tuck in behind other runners paid dividends over the final miles. After the pacers left the race, Kuma stayed behind Mark Kiptoo and Bernard Koech, who ultimately finished second and third.
How did those two feel about the drafting?
"It was a great race for us. The support of the crowd was fabulous," said Kiptoo. "But next time, we should help each other more to get a better time. There wasn't enough cooperation."
………
"I tried to push several times (after the halfway point), but nobody was helping," added Koech.
Both statements are nice ways of saying the guy who won didn't do any work in this godforsaken wind and if I could have thrown water bottles at him during the race I would have.
Slowing….
-Mahiedine Mekhissi
According to a post on Facebook, the French steeplechaser is out for the season after surgery on his foot. Mekhissi went bronze-silver-bronze in the last three global championships. Last year, he took off his shirt while racing and made an idiot of himself. For a variety of reasons, he will be missed.
Other than mascots, who is most impacted by Mekhissi's absence? Why it's none other than America's own, Evan Jager. With Mekhissi out, Jager is no worse than fifth at the World Championships with the possibility of breaking up whichever four runners Kenyan sends. The Kenyans are capable of a sweep, but without Mekhissi, Jager is the best of the rest. He is still so young in the event (this is his fourth year steepling) and he made inroads at the 2013 World Championships when he beat Paul Koech and was less than a second from the bronze medal.
Jager will also have a smoother lead up to the World Championships. The Kenyan steeplers always race hard and by August it's common for them to be burnt out. Jager has no rivals in the US. He can coast through the US Championships and pick and choose his Diamond League races for optimal peaking. If he runs around where he was last season, there really are only going to be four men who can beat him in Beijing. That is, unless Qatar jumps into free agency like they did with Saif Shaheen in the early 2000s.
-Athletics Kenya
The governing body in Kenya seems committed to micromanage their way to defeat. Several big name runners including Eunice Sum and Janeth Jepkosgei were left off the Kenyan squad for the World Relays after they did not race at the qualifying meet in Kenya.
I'm someone who loves the meritocracy of track, so if this were coming from any other place but AK it wouldn't be so ridiculous. AK has spent the last several years trying as hard as they can to force themselves in the middle of situations that don't need solving. They've taken a simple sport and added layers of opaque rules and arbitrary decisions. It's as if they are self-sabotage the team, just to prove how strong Kenyan distance running is. This has turned into the irresistible force of the dominant nation of athletes meeting the immovable object of an inept bureaucracy. In 2012, they screwed up the marathon team for the Olympics. Last year, the head of AK, Isaiah Kiplagat, threatened punishment if Kenyan athletes didn't limit their Diamond League racing schedules.
In this most recent issue, Isaiah Kiplagat's point is essentially that Kenya has enough good runners so why put ones on the team that aren't following the rules? This, of course, ignores the logic of athletes having to run a qualifying race in April for a season that extends into August. Asbel Kiprop is on the men's team just because Asbel Kiprop seems like the type of guy who will race twice a week and still show up to your running store's Wednesday night track workout.
The women's teams are a who's who of names you don't know. The group for the 4 x 800 features Annet Mwanzi, Sheila Chesang, Eglay Nalianya, Sylvia Cherop, and Purity Cherotich. There is no disputing the depth that Kenya has and they still will be favored to win the 4 x 800 and the distance medley relays next month. If they don't win, AK has made themselves the fall guy.
Winners who didn't win
-Jake Riley
Riley ran a strong race for second at the Cherry Blossom 10-Mile Run. He finished in 43:37, just seven seconds behind Stephen Sambu and probably set a 9.54 mile PR.
-Kaylin Whitney
The seventeen-year-old finished third in a 200 in Tampa. She ran 23.16, far from her fastest time, but a good start to a season that will carry heavy expectations. Despite winning the World Junior Championships last year, Whitney still isn't a household name, even in track and field terms. That should change in the next couple months when she will replace (or complement) Mary Cain as the phenom of the moment.
-Wallace Spearmon
I'm not sure if his relay team won or lost so he might be ineligible for this category. What I do know is that Wallace Spearmon ran a leg of a 4 x 400. In a USA jersey. And wait was he even carrying a baton…..
Race of the week
Here is Shelly-Ann Fraser-Pryce vs. Sherone Simpson in the 200 at the UTech Classic.
Not sure their coach was thrilled that they went so hard in a race in April, but this is a refreshing reminder that we are once again in a championship year and there will be no sleep walking through this season.