3 Comments
College Track Issues & Answers: Half Empty or Half Full and Win Streaks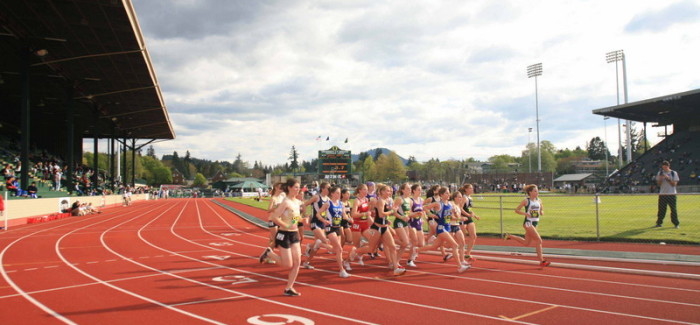 Jesse Squire | On 14, Apr 2015
Were the seats at Hayward Field half empty last Saturday, or half full?
The last weekend of college track had less of the big giant all-day invitationals and more of the smaller scored meets. One of those was Oregon's traditional Pepsi Team Invitational, which was a triangular between the Ducks, Kentucky and Washington.
One particular moment in that meet caught the attention of the mainstream sports press. Oregon's Tanguy Pepiot started celebrating his steeplechase win about halfway down the homestretch, unaware that Washington's Meron Simon was closing hard. Turns out Pepiot had no win to celebrate because Simon caught him from behind.
The video provided by the Pac-12 Networks made the rounds of the cable sports blab shows on Monday. I didn't see it, but I was told that on Dan Le Batard's "Highly Questionable", father/sidekick Papi Le Batard wondered how there could be any fans to wave to at a track meet anyway. My brother, who relayed this to me, said that Papi didn't realize it was a meet at Hayward Field so there really was a crowd.
Well, sort of.
The official attendance figure was 3,428, which is pretty good anywhere else. But not in Eugene. The Oregonian's Ken Goe:
There were 5,004 at Hayward Field last year for the Pepsi, which was a dual meet with Arizona. The Pepsi hadn't drawn fewer than 5,000 since 2009. Attendance hadn't been below 4,000 since 1996. If I'm reading the numbers correctly, this was the smallest crowd for a Pepsi meet since 1994, when attendance was 3,423.
Goe noted a number of possible explanations for the low turnout. One was the live television coverage, which is generally credited with the long national decline in attendance for virtually all sports. Another was poor weather; I'm not buying that, because there's been more than a bit of bad weather at the Pepsi meets over the last twenty years. His third explanation was "[i]t's possible that Oregon's regular season has lost some luster".
Goe notes the long list of top-level action to come at Hayward Field: the Pre Classic, the NCAA and USATF Championships. But less than one year ago he also noted some dissatisfaction among Oregon fans in regards to the Ducks' regular-season schedule.
The Eugene community long has felt a special connection to the UO team and athletes. Some clearly want to see UO athletes compete at home, and compete to win in regular-season meets that matter.
That kind of competition has been de-emphasized over the last two years, and I don't think it's any accident that the attendance has declined. I say that as someone watching from across the country, but I don't think it takes an insider to see the big picture. The comments section of Goe's article noted several other possible explanations, including a relative lack of pre-meet hype.
In any case, attendance at Oregon meets surged when Vin Lananna was head coach and has fallen off since he left the job. It's no knock on his successor, Robert Johnson, it's just a recognition that no one else can fill seats like Lananna–which is why he was offered an associate AD position to organized large national and international meets. If there is a realization at Oregon that the college meets need attention again, they are in a far better position to address that than any other track program in the nation.
Win Streaks
There has been a distinct increase in scored meets over the last few years. Most of the meets held last weekend crowned a winning team. So who has the nation's longest winning streaks?
I got an interesting response when I teased this topic over the weekend.
@tracksuperfan @dailyrelay I look forward to reading where we stack up! http://t.co/nSyr2m5OYH

— Ben Raphelson (@raphelso) April 13, 2015

Ben Raphelson is the head track coach at CalTech, and the linked article refers to his Beavers winning their first dual meet in four years. CalTech's basketball team had a much longer losing streak–310 games over 26 years–as profiled in the documentary Quantum Hoops. CalTech may or may not have a Nobel winning streak, but the university has produced 34 such laureates (and some of the best and most high-tech pranks in college history).
Anyway, back to us dumb jocks. With two national championship meets every year, it's hard for a win streak to get too long. The reigning men's and women's NCAA indoor champions obviously have the longest active streaks.
Arkansas' women have won four consecutive scored meets, all indoors: a dual against Texas, the Razorback Invitational, the SEC Championships and the NCAA Championships.
Oregon's men have a seven meet win streak over two years. The Ducks' last loss was at the 2014 MPSF (indoor) Championships. Since then they won the NCAA indoor, a dual against Arizona, the Pac-12, the NCAA outdoor (all in 2014), the MPSF, the NCAA indoor, and Saturday's Pepsi Team Invitational.
That's if we look at all scored meets. If we limit it to duals (using the TFN definition as a scored meet between four or fewer teams), then some surprising teams come up to the top.
The longest current win streak among women's team's is held by Kansas State at six meets (fifteen defeated opponents) dating back to 2012. (It might be longer, but the archives at K-State's website make the research a bit difficult.)
LATE EDIT: as pointed out below, I missed a loss last year by Kansas State. That's what happens when you do your research on an iPhone while at 30,000 feet. Besides, I discovered two more women's streaks: six straight by Eastern Michigan, and seven straight by Marquette.
Three men's teams have streaks longer than that. Akron has won seven straight dual/tri/quad meets (eighteen defeated opponents), with their last loss being to Eastern Michigan in January of 2013. Cal has won nine straight meets (eighteen defeated opponents), and their last loss was to Stanford in The Big Meet of 2012.
By far the longest streak is held by Nebraska. The Huskers have won fourteen consecutive dual/tri/quad meets (thirty-five defeated opponents). Their last loss was to UCLA in a triangular on April 13, 2001.
People talk about unbreakable records–I remember when Don Drysdale's consecutive shutout inning record was "unbreakable" until Orel Hershiser broke it–but college track has one that really is untouchable. USC won 79 straight dual meets between 1949 and 1962, bookended by a tie with Michigan State and a loss to Oregon.
Note: these streaks are among "major" programs. I would hardly be surprised if other streaks existed among less competitive D-I programs or among D-II and D-III programs. If I missed them, please inform us in the comments section.
Random thoughts, news, and views
Cristian Soratos, the new middle-distance star out of Montana State, opened his outdoor season over the weekend with a 1:49.46 (800 meters) at the Utah Spring Classic, followed by a 3:44.24 (1500 meters) the next day at the Weber State Open. The NCAA altitude adjustments convert them to 1:48.88/3:39.65. I'd say that you should always take them with a grain of salt, but it turned out to be remarkably accurate during the indoor season. Soratos an a high-altitude 4:05.88 mile, then came down to sea level and ran 3:55.27. He backed up both of those with a second-place finish at the NCAAs. Soratos was held out until now due to minor injury, but he looks more than ready to compete for the NCAA title.
Another week, another javelin accident. This time it was Austin Greer, a freshman thrower at Montana, who was hit during practice. The javelin reportedly went all the way through his forearm. He was taken to a local emergency room where '[t]hey took it out, and then just patched it up and sent him home," according to a teammate.
I was on spring break last week and took a trip to Grand Canyon National Park. My route took me along I-17, right by Flagstaff, which has emerged as a distance training mecca. There's the altitude of course, and the combination of high altitude and southern latitude combines for pleasant running weather nearly year-round. What really struck me was the miles upon miles of rolling pine forest just south of the city. It looks like some of the best base-training opportunities available anywhere. No wonder the Northern Arizona Lumberjacks have been a national-level cross country power for nearly fifty years.