3 Comments
The Scoreboard: Armory Track Invitational & Overseas Pro Action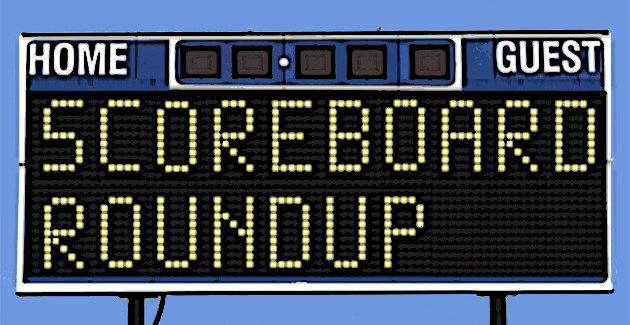 Jesse Squire | On 01, Feb 2015
Every Friday I post my picks for the most anticipated matchups of the weekend in track and field and road running, and every Sunday I post a recap of how they turned out. Let's get started.
Wilson vs Cain vs Roesler: Wilson
Ajee Wilson won this marquee matchup of 800 meters runners at the Armory Track Invitational. She is a legitimate contender for gold at this summer's World Championships and made it plain that she was by far the best runner in the field. Mary Cain struggled with a challenge she didn't have as a wunderkind high schooler: "people are in the way now", and learning how to compete when you're not just flat-out better than everyone else is a common growing pain for 19-year-olds. Laura Roesler withdrew and it appears she will not compete indoors at all this year.
More from the New York Daily News
Arkansas vs Texas A&M vs Florida: Arkansas
The Razorbacks swept the men's and women's titles at their home invitational. It may or may not have much predictive power for the upcoming SEC and NCAA Championships, but the close men's team battle was entertaining on its own terms. The men's meet was already in the bag for Arkansas when the 4×400 came around, but Texas A&M threw down a 3:03.23, just 0.03 off the Aggies' own collegiate indoor record and a world record for the month of January.
Kruger vs Welch: Kruger
A.G. Kruger looks to be on his way towards a ninth US title in the weight throw after easily topping the competition at the Findlay Elite Throws. Justin Welch, competing for the host Findlay Oilers, was the #4 thrower in all of college track going into the night but ended up finishing third behind Kruger and Ashland's Zac Ball.
Cantwell vs Whiting: Cantwell
The first IAAF Permit meet of the indoor season was on Saturday in Karlsruhe, Germany, and Christian Cantwell won the big shot put showdown with Ryan Whiting by just 5 centimeters (2 inches).
More from the IAAF
Rowbury vs Kampf: Rowbury, with a bullet
Shannon Rowbury won the Camel City Elite mile at the JDL Fastrack in Winston-Salem, NC, and it wasn't close. She beat Morgan Uceny, a former world #1 miler, by over 8 seconds—about the entire home straightaway. That just doesn't happen at this level of racing. Rowbury's time of 4:22.66 is the ninth-fastest ever run indoors and by far the fastest ever run on a flat 200 meter track.
More from Let's Run
Leer vs Manzano: Leslie
The two most notable entrants in the men's Camel City Elite mile were Leo Manzano and Will Leer, the #1- and #5-ranked milers in the US last year. Leer finished second and Manzano fourth in a bang-bang finish won by Cory Leslie in 3:56.99.
More from Bring Back the Mile
Kendricks vs Barber: Barber
For the third time in a row, Akron pole vaulter Shawn Barber beat new pro Sam Kendricks, this time at the Amory Track Invitational. Barber cleared 5.80 meters (19′ ¼") for the win, while Kendricks had his first poor outing of the season and finished fourth.
More from GoZips.com
D'Agostino vs Hasay vs Hall: Hasay
Jordan Hasay won the 2-mile at the Armory Track Invitational with relative ease. The race was not all that fast and she took a big lead with 400 meters to go and was never seriously challenged. Abbey D'Agostino withdrew from the race and Marielle Hall, last year's NCAA 5000 meter champion over D'Agostino, was fourth.
More from Let's Run
Rupp vs the double: Levins
When the men's 2-mile field at the Armory Track Invitational was first announced, it was trumpeted as a record attempt by Galen Rupp. That was no longer on the table going into the meet, but Rupp was going to double up in the mile and 2-mile with very short rest in between. He then withdrew from the mile, and I thought it was a classic bait-and-switch where the athlete entered a race he never had the slightest intention of running, but it appears that all of these changes happened because Rupp probably knew he wasn't up to the challenge. Cam Levins was up to that challenge, and pulled off the biggest one-night double in recent memory. He won both and came perilously close to breaking Canadian indoor records each time.
More from the New York Times
USA vs the clock: USA
The men's distance medley relay at the Armory Track Invitational was promoted as a "world" record attempt—British statistician Jon Mulkeen quipped that a "world" record in the indoor DMR is about as global as MLB's "World" Series—but what few people expected was that Irish anchor Ciaran O'Lionaird would make a race out of it. The USA won in record time, and Ireland was under the old record too.
More from The Oregonian
Flanagan vs Japan: Japan
Shalane Flanagan was supposed to run in the Kagawa Marugame Half Marathon but did not. She was announced as part of the elite field, even just a day earlier, and no withdrawal announcement was made on either side of the Pacific Ocean. As yet there has been nothing about the withdrawal from either Flanagan personally, her management team, or from race officials. A Twitter post on Monday makes it appear that she is still healthy and training in Oregon. I cannot understand why a simple statement has not been released. This is the kind of inaction that other, truly professional sports would never just let go. (See: Lynch, Marshawn.)
Kuchina vs Licwinko: Licwinko
The women's high jump at today's Russian Winter meet in Moscow was a rematch of last year's World Indoor Championships high jump, where Mariya Kuchina and Kamila Licwinko tied for high jump gold. Licwinko won with a 2.01 meter (6′ 7″) clearance, a new world-leading mark and a meet and Polish national record.
Kiplagat vs Wote: neither
Silas Kiplagat and Aman Wote were the world's #1 and #5 milers in 2014, but the win in today's 1500 meters at the Russian Winter meet went to Vincent Kibet in 3:37.79, a new world-leading time. Kiplagat was third and Aman did not run.