5 Comments
The Monday Morning Run: Levins doubles, Hasay kicks and Russians get suspended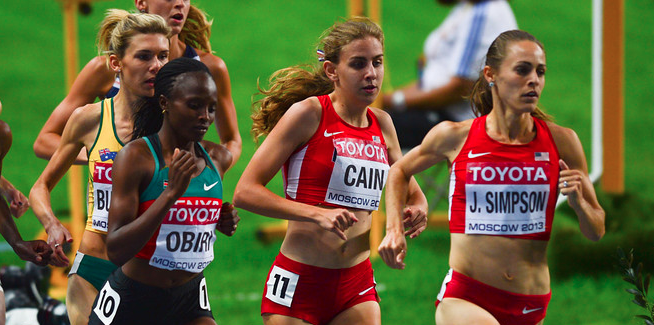 Kevin Sully | On 02, Feb 2015
Don't let the Super Bowl, or Katy Perry, overshadow a busy week in track and field. There were upsets and world records at the Armory, a massive breakthrough in Japan and a trifecta of big name drug suspensions. For a quick look at the week, check out Jesse's weekly scoreboard.
Let's get to the Run!
The Medalists
The top three performances of the week
Gold: Cam Levins
Running is strange sport. How could it be that Levins can run 3:54 mile, take a 30 minute break, and then run a two-mile where he convincingly beats someone he has never come close to?
Levins's second act at the Armory Track Invitational on Saturday night included upsetting Galen Rupp and winning the two-mile in 8:15.38. That alone is incredible (especially when you consider his splits, Levins went through 1,600 meters at about 4:14), but it's even more remarkable coming after a personal best in the mile just a half hour before. If there is such a thing as being in the zone as a distance runner, then that was Levins on Saturday.
Clearly Rupp wasn't anywhere near his best and he ultimately faded to fourth place. Still, beating a off-form Rupp is better than not beating him at all. Levins was phenomenal his senior year in college, winning titles in the 5,000 and 10,000. He set personal bests in his first two years as a professional, but didn't really have a signature race. On Saturday, he ended up with two.
Silver: Shannon Rowbury
Rowbury began her indoor season two weeks ago with a promising double in Seattle. This week she was even better. On the flat track in Winston-Salem, North Carolina at the Camel City Elite meet she ran 4:22.6 for the mile. If you want to do the conversion game, that probably is worth a sub 4:20 on a banked track. The mark is ninth best all-time indoors and she did it with no competition. Morgan Uceny was second place, more than eight seconds behind Rowbury. The last few years, Nike Oregon Project athletes have shown to be very sharp, very early in the season. Rowbury and Levins are filling those roles so far in 2015.
Bronze: Ajee Wilson
Entering the weekend, the women's 800 at the Armory was the most interesting race on the schedule. Wilson was slated to square off against Mary Cain and Laura Roesler. Then, track and field happened and the whole thing came apart.
Roseler withdrew and Cain was a non-factor in the final lap. The one constant was Wilson who seems to always churn out strong performances. The pace went out very quickly and wreaked havoc on the whole field. The rabbit passed 200 meters in 28.17, then 58.8 for the 400.
As everyone labored over the last two laps, Wilson hung on in a battle of who could slow down the least. The women's 800 remains the most interesting event to watch at the USA Championships this summer.
Surging….
-Obscure American indoor relay records
Last year it was the 4 x800, this year the distance medley relay fell victim to the American world record juggernaut. The American squad of Matt Centrowitz, Mike Berry, Erik Sowinski and Pat Casey ran 9:19.43, taking more than six seconds off the old record held by Kenya, Ethiopia, another American team, the University of Texas.
Centrowitz's opening 1,200 of 2:49 gave the American team room to maneuver. Berry followed it up with a 46.40 in the 400 and Sowinski logged an uncontested 1:47.60 for the 800. Ireland rallied on the final leg, but Casey's kicked away from Ciaran O'Lionaird to secure a comfortable win. The Irish team also went under the old record, running 9:25.37.
-Sifan Hassan
Hassan posted the best result from the Karlsruhe indoor meet in Germany, running 4:02.57 in the 1,500. You could suffocate yourself trying to convert Hassan's banked 1,500 time to Rowbury's mile on a flat track, but instead I think we can save some time and just say that the performances are very close. .
-Zane Robertson
At the Kawaga Marugame International Half Marathon in Japan, Robertson ran 59:47 and finished just behind Kenya's Paul Kuira of Kenya. Robertson is now the fourth non-African to break one hour in the half-marathon and was only four seconds slower than Ryan Hall's American record. Robertson famously moved to Kenya at the age of 17 with his twin brother Jake. He now lives in Ethiopia. Some very interesting nature vs. nurture arguments to come.
-Jordan Hasay
Hasay blasted a 30.8 final 200 to win the 2-mile at the Armory Track Invitational. The overall time (9:38.28) was slowed by a modest first mile, which would seemingly work against Hasay who has been outkicked several times throughout her career.
This time Hasay was the aggressor and created a gap between the rest of the field entering the last lap. Buze Diriba faded to third and didn't look like the same runner that finished fifth at last year's World Championships.
-Cory Leslie
Rowbury's race took the headlines at the Camel City Elite meet, but the men's mile featured four Americans under 3:58. Leslie won the race in 3:56.99 and, more importantly, notched wins over Will Leer (3:57.54), Matt Elliott (3:57.76) and Leo Manzano (3:57.79).
-Kim Collins
Collins ran 6.52 earlier in the 60 meters earlier in the week and then he smoked the field in Moscow with a personal best of 6.48 on Sunday. Collins is 38 years old and in his 12th year sprinting at an elite level.
Slowing….
-Galen Rupp
Rupp struggled and finished fourth at the Armory. A surprising result partly because he lost to runners he has never lost to and also because Rupp has always been so good so early in year's past. But let's go back to last spring. On May 15, Collis Birmingham upset Rupp at the Oxy High Performance meet. Rupp looked flat and could only manage a 13:19. Fifteen days later, he ran 26:44 in the 10,000 and broke the American record. The obvious lesson is that Rupp's race on Saturday in New York might not tell us anything about how he will do this summer, or even this indoor season.
There was talk a few weeks ago that Rupp was targeting the American record in the 2-mile at the Armory. Once that plan was scrubbed, it was clear that he wasn't quite ready to run like he did at this point last year. Given the choice, I'm sure he would rather peak in August than in late January. I'll wait at least one more race before I think Rupp has anything to worry about.
-Mary Cain
Like Rupp, Cain's fifth place finish in the 800 will likely turn out to be much ado about nothing. On Saturday, it was viewed as a disappointment only because she was billed as threat to win the race. The pacing didn't do her any favors. The fast first 200 turned it into a "go out hard and hang on for dear life" kind of race. With her 1,500 background, Cain is better suited for a more even pace. Remember, she trailed the pack for the first 400 when she ran 1:59 at the Pre Classic in 2013.
-Laura Roesler
She was scheduled to race against Cain and Wilson in New York and withdrew from the competition and ended her indoor season before it started.
Winners who didn't win
-Lawi Lalang
Kenya was so far back in the distance medley relay at the Armory that you never saw much of Lalang's 3:52 1600 split, which was the fastest of the day. He also spared Kenya the embarrassment of losing to college teams from Columbia and Duke. Time for some soul searching in Nairobi.
-Treniere Moser
As we watched Cain slow on the last lap of the 800, Moser moved up to second and almost caught Ajee Wilson before the line. She finished in 2:01.79, a lifetime best indoors. If Moser can re-create her 2013 form then the American women's 800/1500 group becomes even more potent.
-Andrew Wheating
Speaking of old form, Wheating finished second in the mile behind Ryan Hill in Seattle.
3:57 mile for 2nd! First PR in four years. Safe to say this year is off to a great start!!

— Andrew Wheating (@AndrewWheating) February 1, 2015
FAQs
-Who got suspended or had medals stripped this week?
Do you want them all at once or one at a time?
-How about all of them?
Marathoner Rita Jeptoo was suspended for two years after testing positive for EPO. The new rules call for four year bans, but those didn't come into effect until 2015. If the four year ban was on the table, it is hard to see how Jeptoo isn't deserving of the full penalty. The benefits of the drug she used are widely known and the results of the drug test aren't in dispute. Unless she offered information about others involved, there is no real case for leniency.
Steeplechaser Yuliya Zaripova received a backdated suspension from 2013. It looks like she will also lose her 2012 gold medal. Heptathlete Tatyana Chernova also received a backdated suspension, but gets to keep her 2011 World Championships gold medal and is eligible to compete this summer.
-Where did the positive tests come from?
Jeptoo's came from a garden variety drug test. Zaripova was flagged under the biological passport system. Chernova's positive came after anti-doping officials re-tested a sample from 2009.
-What is the purpose of backdated suspensions?
To confuse and infuriate. Actually, in cases like Chernova's they are trying to pin down the exact time when the cheating took place. The problem with the Zaripova and Chernova's situations is that Russia essentially suspended them without telling anyone. Kind of like putting them on double secret probation except the rest of the world just thought they were injured or not racing.
-Who gets their medals/prize money?
Through an extremely convenient sequence of events Chernova is keeping hers.
It also annulled her results from 15 August 2009 to 14 August 2011 – a period that ended just 16 days before she won world gold in Daegu with a personal best of 6,880 points…
Jessica Ennis-Hill was second in that competition and her coach is not happy about the timeline of the annulled results.
The fortuitous timing of the suspension is also why Zaripova only has to forfeit her Olympic medal and not her 2011 World Championships gold (her ban ended seven days before those Championships). For the Olympics, Habiba Gharibi would be elevated to first place.
The Jeptoo case is still awaiting the completion of the appeals process before the World Marathon Majors take any further action.
-The numbers of Russian positives are really stacking up, how many recent medalists have been involved with doping?
At the 2011 World Championships, the Russian women topped the medal table with seven golds. Five of those athletes have since been linked to performance enhancing drugs.
The AP reports that "of the 22 Russians who originally won athletics medals at the 2012 Olympics, six have since been banned for doping."
-Is 'who got suspended this week" going to become a weekly segment?
I hope not.