No Comments
The Weekend's Best Matchups: USA XC, New Balance Indoor GP, and more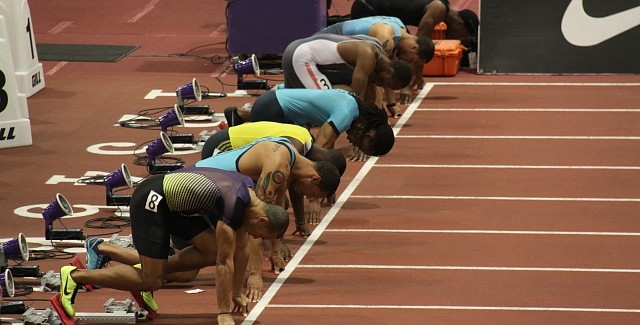 Jesse Squire | On 06, Feb 2015
Photo credit: Dane Schubert for Daily Relay
We're set for a truly super Saturday of track and field action coming your way, highlighted by the USA Cross Country Championships and the New Balance Indoor Grand Prix. My pick for the best matchup is the first head to head showdown of college track's "Year of the Vault".
Payne vs Morris
Women's Pole Vault, New Mexico Classic
Albuquerque Convention Center, Albuquerque NM
Saturday, 10:30am local time (12:30pm ET)
Meet info and live results
This is a matchup of the #1 and #6 pole vaulters on the 2015 world list. Demi Payne (Stephen F. Austin) has broken the collegiate indoor record three times this season, and that was after Sandi Morris (Arkansas) already broke it once. It will be the first time in quite a while that two collegiate record breakers (in the same event) have met head-to-head, and actually three of them will meet; Texas' Kaitlin Petrillose is also entered, and she set the collegiate indoor record at last year's NCAA Championships. (A note of caution: there are actually two sections of the women's pole vault at this meet and athletes may seed themselves, so it's possible that Payne and Morris won't go head to head, but college athletes tend not to be the gutless coward types who duck the best competition.)
The best of the rest, in chronological order…
Army vs Navy
Gillis Field House, West Point NY
Saturday, 11am (women) and 3pm (men)
As college dual meets go, this isn't a particularly high-level meet, but it is the most intense of all of them. Athletics at the service academies are so different from sports at other universities that their only real peers are each other. That makes this their national championship meet; winning one of these meets is considered a bigger accomplishment than becoming an All-American. The Army-Navy duals are also a little different from others because its alumni include a president and an Apollo astronaut.
Nelson vs Thweatt
Women's open 8k, USATF Cross Country Championships
Flatirons Golf Course, Boulder CO
Saturday, 12:15pm local time (2:15pm ET)
Meet website
Live webcast at USATF.tv
The front end of the women's championship race is likely to have a local flair. Laura Thweatt (Boulder TC) is a rising star in US women's running and a bit of a cross-country specialist. She won the last two USA Club cross country titles, and while she was just 14th at the 2013 US Cross Country championships, that was back when her 5k PR was a good 40 seconds slower than it is right now. Among her chief rivals is Brianne Nelson (Boulder Running Co/adidas), who was runner-up at the USA half marathon championships three weeks ago. That proves she's fit, and being a Boulder-area runner means she's ready for the altitude. Probably the biggest name in the race is Sara Hall (Asics), who is prepping for the LA Marathon; she finished 34 seconds behind Nelson at the USA half marathon championships.
Canada vs USA
Men's Meyo Mile, Meyo Invitational
Loftus Sports Center, South Bend IN
Saturday, 2:25pm
Meet home page
Live webcast at Flotrack (subscription required)
The Meyo Miles are some of the best interactive fun in college track and field. Meet management gives fans "thundersticks" and allows them down onto the track in the outer lanes, creating a tunnel of craziness for the athletes to run through. Three-time champion Jeremy Rae is back, but not in a Fighting Irish uniform. He's wearing the colours of Ontario's Speed River Track Club, and brings along fellow Canadians Taylor Milne (Speed River) and Ross Proudfoot (Univ. of Guelph). Milne is an Olympian with a 3:36.00 PR for 1500 meters, although he's now mostly a steeplechaser, and Proudfoot is the favorite to win the 1500 at the upcoming CIS Championships. Leading the way for the Americans is Sam Penzenstadler (Loyola), who was third at the NCAAs last June.
Derrick vs True
Men's open 12k, USATF Cross Country Championships
Saturday, 1:00pm local time (3:00pm ET)
While Garrett Heath (Brooks) and Dathan Ritzenhein (Nike) each won a big European race this year, the two runners in this race who appear hard and shoulders above the rest are Chris Derrick (Bowerman TC/Nike), the two-time defending champion, and Ben True (Saucony), the top American at each of the last two World Cross Country Championships. Both have spent significant time training at high altitude for this race (plus the Worlds), which will be a distinct advantage in Boulder. You might wonder why the championships are being held in a mile-high city, and why the next two will be held in Bend, Oregon (elev. 3,623 feet). The answer might be that suitable low-elevation sites didn't bid against them, but it's more likely that the sites of the next two World Championships were the deciding factor; they are at 4,123 and 3,900 feet of altitude respectively.
Record holders vs the record book
Men's 1000 meters, New Balance Indoor Grand Prix
Reggie Lewis Track Center, Roxbury MA
Saturday, 6:12pm
Meet website
Live coverage from 6:00pm on NBC Sports Network
Let's Run is billing this race as an American record attempt by multiple athletes. That may or may not be in the works, but the talent is there. Matt Centrowitz (Nike Oregon Project) ran very well last week over 1200 meters while leading off a record-setting distance medley relay and seems the most likely candidate. Cas Loxsom (Brooks Beasts) recently broke the 600 AR held by Erik Sowinski (Nike), and both are in the race, but 1000 meters might be a bit too long for either of them to pull off the upset. Another to watch is Pat Casey (Oregon TC/Nike), who anchored that record-setting DMR last week. All of the above hold an American indoor record, so whether or not they get another record is secondary to the fact that this should be a ding-dong race. Still, remember the time to beat: 2:16.76, set last year by David Torrence at Boston University.
Bracy vs Powell
Men's 60 meters, New Balance Indoor Grand Prix
Saturday, 6:22pm
Marvin Bracy (adidas) was the World Indoor Championships silver medalist last year in his first full season as a pro. Asafa Powell (Jamaica) is in his 14th season as a world-class sprinter and still managed a 9.87 last year, a zip code ahead of Bracy's 100 meter PR (10.09).
Suhr vs Stefanidi
Women's Pole Vault, New Balance Indoor Grand Prix
Saturday, 6:30pm
When at her best, Jen Suhr (adidas) is the class of any competition, but this is her season opener and that leaves her a bit vulnerable. Ekateríni Stefanidi (Greece) is currently #7 on the world list and won the big Pole Vault Summit last month in Reno and thus poses serious competition.
Cain vs Moser
Women's 1000 meters, New Balance Indoor Grand Prix
Saturday, 6:33pm
If you're reading this, chances are you already know who Mary Cain is: the closest thing to the reincarnation of Jim Ryun that US track has ever had. Last week she had one of her few bad races since coming to national prominence, but it might not have been that bad considering that it was well at the short end of her range (800 meters) and that she was using it for sharpening work. I expect a much better race this week. She has a formidable opponent in clubmate Treniere Moser (Nike Oregon Project), who beat her in that race and almost ran down the winner, Ajee Wilson.
New Balance vs the clock
Women's Distance Medley Relay, New Balance Indoor Grand Prix
Saturday, 6:42pm
Given the lineups announced, the New Balance team should win this with ease, so the only real question is how fast. The "world record" for the women's indoor distance medley is 10:50.98, set by the University of Tennessee in 2009. The only first-tier pro running in this race is Brenda Martinez, and this is her season opener, but that still gives the team a fighting chance. The leadoff leg is Sarah Brown (nee Bowman), a dependable runner who just happened to run anchor on the team that holds the record. The middle two legs will make it or break it.
Coburn vs Seyaum vs Kipyego
Women's 2000 meters, New Balance Indoor Grand Prix
Saturday, 7:15pm
This is an unusual distance, although it doesn't have to be. It's ten laps, which seems like it should be a nice round number. It brings together a number of athletes with different strengths and hands an advantage to no one. Emma Coburn is one of New Balance's biggest stars, one of the world's very best steeplechasers and a pretty good miler too. Dawit Seyaum (Ethiopia) won the 1500 at last year's World Junior Championships, and Sally Kipyego (Kenya) won World and Olympic silver medals at 10,000 meters.
Lagat vs Father Time
Men's 3000 meters, New Balance Indoor Grand Prix
Saturday, 7:28pm
The leading entries in this race are Dejen Gebremeskel (Ethiopia), the Olympic silver medalist at 10,000 meters, and Lawi Lalang (Kenya), who ran a spectacular anchor leg on a distance medley relay last week, but all eyes will clearly be on Bernard Lagat (Nike). He is the elder statesman of US distance running, which is a nice way of saying that he's just plain old. The real question is whether that matters. He is likely to destroy all records in the 40+ age group, and he might still be a threat to win any race he enters.
Simpson vs the clock
New Balance Women's 2 Mile, New Balance Indoor Grand Prix
Saturday, 7:45pm
Jenny Simpson is the USA's best miler in decades and, as New Balance's premiere star, the meet was built to lead towards this race. None of her competitors are likely to give her much of a push. Instead, watch the clock. (Simpson should also watch the lap counter, since she didn't last year and kicked one lap too soon.) The American record is 9:23.38, by the notorious Regina Jacobs at this same meet in 2002, and that's more than doable. The meet record is 9:10.50, by Tirunesh Dibaba in 2008, and that's a stretch. The world record is 9:00.48, by Genzebe Dibaba last year, and that does not appear in reach.