One Comment
The Weekend's Best Matchup: The Pro Season Begins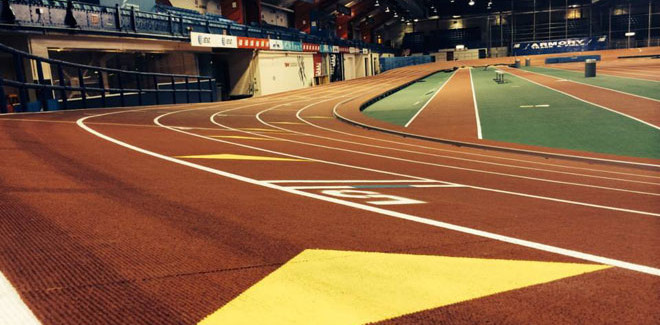 Jesse Squire | On 30, Jan 2015
The professional end of indoor track gets going this weekend with the Armory Track Invitational, the first meet of the USATF Championship Series, plus two IAAF Indoor Permit meets in Europe.
There are a lot of great matchups to see, and I plan on watching as many as I can, but it's an easy choice if I had to pick just one.
Wilson vs Cain vs Roesler
Women's 800 meters, Armory Track Invitational
Armory Track & Field Center, New York NY
Saturday, 5:25pm
Meet website
LIVE TV coverage from 4:30pm on NBC Sports Network
The 800 is often an exciting and unpredictable event. Indoor track's tight turns and short straightaways make for more excitement and unpredictability. Add in the top entries, three of the USA's biggest rising stars, and this should be a barnburner of a race. Ajee Wilson (Nike) is a legitimate contender for gold at this summer's World Championship (it would be a first for the USA at the outdoor Worlds), Mary Cain (Nike Oregon Project) is a brilliant young miler who seems to defy limitations, and Laura Roesler (Oregon TC) just won the Bowerman Award as the college track athlete of the year. We could be in for a lot of these kinds of clashes—the oldest of the three (Roesler) is just barely 23 years old.
The rest, in chronological order. . .
Arkansas vs Texas A&M vs Florida
Razorback Team Invitational
Randal Tyson Track Center, Fayetteville AR
Friday and Saturday
Live results
Live webcast at WatchESPN from 6pm Friday and noon Saturday
The top five teams in any given year of college track virtually always include these three, whether it's men's competition or women's. The latest men's computer rankings from the USTFCCCA put them at #2 (Florida), #3 (Arkansas) and #4 (Texas A&M), and for the women they are #1 (Florida), #3 (Texas A&M) and #5 (Arkansas). This is a scored meet between fourteen teams, and includes other traditional powerhouses such as Florida State, LSU, and Texas. From a purely team-oriented point of view, this is probably the third-best meet of the indoor season after the NCAA and SEC Championships.
Kruger vs Welch
Men's weight throw, Findlay Elite Throws
Malcolm Athletic Center, Findlay OH
Friday, 7:45pm
A.G. Kruger (Nike) is a three-time Olympian in the hammer throw, but has won more US titles in the indoor weight throw (eight) than the hammer (five). Justin Welch (Findlay) is one of the USA's young upcoming hammer throwers and is currently #4 on the all-division college list. While they are friendly competitors, it's worth noting that Welch competes for the hosts, the Findlay Oilers, while Kruger coaches at Ashland, Findlay's main rival in the Great Lakes Intercollegiate Athletic Conference. The elite portion of this mostly college meet also includes a men's shot put and women's shot and weight.
Cantwell vs Whiting
Men's shot put, Indoor Meeting Karlsruhe
Europahalle, Karlsruhe GER
Saturday, 8:02pm local time (2:02pm ET)
Meet website
Live webcast
This is the best event on the schedule at the Indoor Meeting Karlsruhe. Both Christian Cantwell (Nike) and Ryan Whiting (Nike) had some injury issues last year but should be back in shape to throw far. When they do, it's very far; both of their PRs are over 73 feet (22.25m), a feat matched by only one other active thrower (Reese Hoffa).
Rowbury vs Kampf
Womens' Camel City Mile, Hilton Garden Innvitational
JDL Fastrack, Winston-Salem NC
Saturday, 3:45pm ET
Meet website
Live webcast at Runnerspace Plus (subscription required)
The Camel City Elite races are a three-hour subset within the Hilton Garden Innvitational, and some of them are pretty darned good races. Shannon Rowbury (Nike Oregon Project) was the world's #4-ranked miler in 2014 and already has a 4:27 to her credit this year (worth about 4:07-4:08 for 1500). Heather Kampf (Team USA Minnesota) isn't quite as fast but is a wily competitor that thrives on unusual environments, such as indoor racing.
Leer vs Manzano
Mens' Camel City Mile, Hilton Garden Innvitational
Saturday, 3:55pm ET
From Bring Back the Mile:
The early favorite, based on past credentials, has to be Leo Manzano (HOKA ONE ONE), the 2012 London Olympic 1500m silver medalist and owner of a 3:50.64 Mile PR. Will Leer (Nike), the 2014 Wanamaker Mile champion and owner of a 3:51.82 PR, will make sure that Manzano doesn't have it easy. Cory Leslie of Furman Elite and Nike will be on hand to defend his facility record, which stands at 3:57.81.
Kendricks vs Barber
Men's pole vault, Armory Track Invitational
Saturday, 4:35pm
Live webcast at USATF.tv
It's early in the season to be sure, but Sam Kendricks (Nike) and Shawn Barber (Akron) are #2 and #3 on the world list, behind only the world record holder. They've already met twice this year, with Barber coming out on top both times. This rivalry is likely to keep going for a long time; they're both young and compete for opposing national teams, the USA and Canada respectively. If I understand things correctly, the field events at the Armory Track Invitational will get live webcast coverage during the TV broadcast window (4:30-6:30).
D'Agostino vs Hasay vs Hall
Women's two-mile, Armory Track Invitational
Saturday, 4:48pm
Abbey D'Agostino (New Balance) and Jordan Hasay (Nike Oregon Project) are the headliners, but new pro Marielle Hall (Nike) posted the fastest 5k of the three last year. Hasay ran well at the UW Preview two weeks ago, doubling up in the 1000 and mile and nearly setting PRs in both.
Rupp vs the double
Men's mile and two-mile, Armory Track Invitational
Saturday, 5:12pm and 5:44pm
Galen Rupp (Nike Oregon Project) is by far the best runner entered in the 2-mile and, with Leo Manzano, Will Leer, and Matthew Centrowitz running other races this weekend, he's probably the best in the mile too. What makes this double interesting—besides the fact that it's exceedingly rare in professional competition—is that it's like a "handicap" in the two-mile. Long out of vogue, handicaps are headstarts given to inferior runners in order to keep a race competitive. If he can pull off a double victory, it will only add to his legend.
USA vs the clock
Men's distance medley relay, Armory Track Invitational
Saturday, 6:17pm
The goal in this race is a new world indoor record for the distance medley relay. The IAAF does not maintain any official record, but the best on record is 9:25.97 by the University of Texas in 2008 (with Leo Manzano on anchor). It's assumed that the US team of Mike Berry (400), Erik Sowinski (800), Matt Centrowitz (1200) and Patrick Casey (1600) will be the one to do it, but a team of US-based Kenyans is also running. Carvin Nkanata (400) and Lawi Lalang (1600) give them plenty of talent on each end, but the middle will make or break it. If strategy totally fouls up and everyone is still in this race at the end, I wouldn't be shocked to see the New Jersey-New York Track Club team ending up with the win.
Flanagan vs Japan
Women's race, Kagawa Marugame Half Marathon
Marugame, Japan
Sunday (Saturday night in the USA)
Top American runners rarely venture into Japanese road races, particularly while preparing for major domestic competition, so this is different. Shalane Flanagan (Bowerman TC) is the favorite in this race, as one of only three athletes entered with sub-1:10 PRs. The others are Hanae Tanaka (Japan) and Ehitu Kiros (Ethiopia). The Japanese scene was once almost impenetrable to US fans, but Brett Larner's excellent Japan Running News service has cracked it open and it will probably further open up with the upcoming Ekiden Men by Adharanand Finn, author of Running With the Kenyans.
Kuchina vs Licwinko
Women's high jump, Russian Winter
CSKA Arena, Moscow RUS
Sunday, 5:00pm local time (9:00am ET)
Meet website
This is a rematch of last year's World Indoor Championships, where Mariya Kuchina (Russia) and Kamila Licwinko (Poland) tied for high jump gold. They're both already in good form, with Kuchina clearing 2.00m (6' 6¾") on Tuesday and Licwinko making 1.96m (6' 5") last Saturday. This is the opening event in a new format for the traditional early-season IAAF Permit meet; there will be two 45-minute sessions with a fifteen-minute "halftime" break in between.
Kiplagat vs Wote
Men's 1500 meters, Russian Winter
Sunday, 5:08pm local time (9:08am ET)
Silas Kiplagat (Kenya) was the world's fastest 1500 runner in 2014 and comes into this meet as the favorite. Aman Wote (Ethiopia) took silver at last year's World Indoors and might be the most likely to challenge him, along with Collins Cheboi (Kenya).