No Comments
The Monday Morning Run: World XC recap, Dibaba misses record, fast times in Texas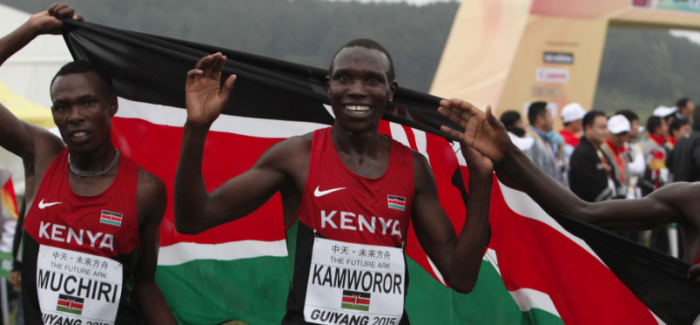 Kevin Sully | On 30, Mar 2015
Photo: © Getty Images for IAAF
Road, track and cross country meets top this week's headlines in running.  Kenya and Ethiopia dominated in cross country (as expected), the wind blew in Texas (as always) and Genzebe Dibaba didn't set a world record (as, wait what?!?).
The Medalists
The top three performances of the week
Gold: Geoffrey Kamworor
In an American sports parlance, Kamworor is a "tweener."  He's good on the roads and on the cross country course.  However, his breakthrough in the marathon has yet to come and he hasn't had a race on the track that justified the considerable hype that his followed him during his career.
After Saturday's win in China, he is the current World Cross Country and World Half Marathon.  Both great accomplishments, but ones that are a couple notches below a gold medal on the track or a top finish at a major marathon.
Kamworor beat a strong field on Saturday at the World Cross Country Championships.  Who knows if it will translate into bigger championships. He's run great times at every distance he's attempted, but his best performances have come in the "in between" races. Tweeners get a bad rap because they are difficult to quantify.  They don't have one athletic identity. Their height, speed, skill or agility (depending on the sport) puts them in a gray area.  Kamworor isn't destined to say in this position though. Even if he does he can make a lot of money and win a lot of races in his 12K- half marathon sweet spot.
Silver: Genzebe Dibaba
Dibaba is entering that Bolt territory where each of her performances is unfairly compared against ones that preceded it.  Her 14:48 at the Carlsbad 5,000 on Sunday is a remarkable time and is only diminished because of world record expectations.   She came up two seconds short of setting mark for a road 5K, running 14:48 and winning the race by 25 seconds.  Outdoor season can't come soon enough for her.
Bronze: Agnes Tirop
She won the women's race in China posted a five second victory over Senbere Teferi of Ethiopia. In the team race, Ethiopia edged Kenyan 17-19.  Pre-race favorite Emily Chebet was only Kenya's third runner and she finished sixth overall.  The first 10 runners in the women's race were from Kenya and Ethiopia. In the men's race the two countries accounted for the first seven positions.
Surging….
-Yoshihide Kiryu
You have to take the Texas Relays times with a grain salt…..a grain of salt that runs a .5 personal best because it gets blown down the straightaway with a 20 m.p.h at its back.
Japanese sprint star Yoshihide Kiryu is the latest to get the benefit of the Austin, Texas tailwinds.  He ran the 100 in 9.87 seconds with a 3.3 m/s wind at his back on Saturday at the Texas Relays.  That time looked even better after fellow sprint phenom Trayvon Bromell posted a 9.90 in a different heat, also with a + 3.3 m/s wind.
-Sara Hall
After a marathon, it takes most people four days to walk down stairs properly.  Even elite marathoners typically take off two weeks off to recover.  Sara Hall had only 13 days between the Los Angeles Marathon and the World Cross Country Championships.  Despite the quick turnaround, and her disappointing run in Los Angeles, Hall was the top American in China, finishing in 20th place.
-Muktar Edris
Edris was a name that popped up last year in the merry-go-round of winners that was the Diamond League men's 5,000.  Nobody had any idea if he was going to stick around or if he was just a one summer wonder.  He finished third on Saturday behind Kaworor and Bedan Karoki and is building a nice resume.  We already know he has speed with a 12:54 personal best in the 5,000.  The strength to perform well over a 12,000 meter cross country course projects very well for his potential in the 10,000 on the track.
-Renaud Lavillenie
First, a warning that you should not try this at home. Even Lavillenie shouldn't be trying this and he is a world record holder with a multitude of talents on the track.  Previously, he mashed up hurdling and pole vaulting.
Now he put some barriers on the long jump runway.  There is no official measurement on the jump, but it looks pretty far to me.  I'm not sure what combination event he is going to try next. After you hurdle with a 15 foot pole everything probably seems tame in comparison.  Until he figures it out, we will continue the spectacle of a world record holder doing dangerous things for our entertainment on Instagram.
Slowing….
-Bahrain
They trotted out an African all-star line up for the World Cross Country Championships with runners from Kenya, Ethiopia and Morocco on their men's team that finished third in the senior men's race. You could be outraged by this or you could look at it cynically as the sport becoming more professional.
If you view countries as teams, then what Bahrain (and Qatar) is doing is essentially track and field free agency.  They see an abundance of quality African runners who aren't on their national teams, give them a space to compete and, presumably, compensate them.
If national federations didn't dictate so much of the sport, this wouldn't be a problem.  The best runners would run at the championship meets, regardless of nationality.  As it stands now, all the World Championships and Olympics are funneled through countries meaning if you are the 10th, 11th or 12th best athlete in your event where you live, it makes much more financial sense go somewhere where you can be the best and make national teams consistently.  With Bahrain's success I expect more of this to occur, especially in the Gulf states where they have shown the willingness to pay for top talent.
-World Cross Country Tiebreakers
Kenya and Ethiopia's men's teams both scored 20 points at the World Cross Country Championships. In international cross country, the first four runners score with the other two runners on the squad serving as "pushers," making the scores of other teams higher.  To break ties, the team with the highest placing fourth place runner wins.
There is one problem with that.  You've already accounted for the fourth runner, when you came up with the total score.  In high school cross country, the sixth runner doesn't count in the team score, but is used to break ties.  Speaking from experience, the only thing that keeps the sixth runner going that final mile is the idea that their position might somehow factor in to the team score.  The same practice should hold true for the fifth runners at Worlds. Their position isn't counted in the team score, but please, please, use them to break ties.  It's what validates their existence.
On Saturday, it didn't change the outcome.  Ethiopia had a better fourth runner than Kenya and a better fifth runner.
-US Cross Country Team
It turns out I was way too optimistic about the American team chances at the World Cross Country Championships.  Leading into the race, a distant third place for the men and women seemed realistic and appropriate.  The men ended up in seventh.  The women finished fifth.
I didn't think the men would contend with Ethiopia and Kenya unless there was a major injury from one of the favorites, but I never thought they would place behind Uganda and Tanzania.
My short-term memory is partly to blame.  The men finished second in the last World Cross County Championships and though that was billed as a major upset it didn't seem too strange in a one-off race.
I also thought the American success on the track would have more of a carryover effect.  If terms of depth and breadth of the distance events on the track, it's hard to put the US any lower third for both the men and the women.  This, of course, is predicated on the best runners competing.  The American women were especially short staffed.  A trio of Molly Huddle, Jenny Simpson and Shalane Flanagan drastically improves their position.
Then, there is the general unpredictability of cross country—in particular, a cross country race that doesn't have really any build up.  This race exists in isolation on a random Saturday in March. In 2013, the conditions broke well for the US.  This time, the travel to China, the layout of the course (mostly dry and firm) and the altitude perhaps worked against them.
Because of all this, it might be over-analysis to try and pin down any definite takeaways from the race. I doubt many of the top runners circled March 28th as their focus for the year.
We learned that Kenya and Ethiopia are the two best countries for distance running, which is a shock to no one. Saturday didn't signal the demise for American distance running any more than 2013's upset showed that American had surpassed Kenya as a distance running nation.  The reality is in the middle of the past two results.  The Americans as a whole are in that second tier of nations and can contend with the best in the world when they have their best runners at their disposal.