2 Comments
College Track Issues & Answers: Why do we do things this way?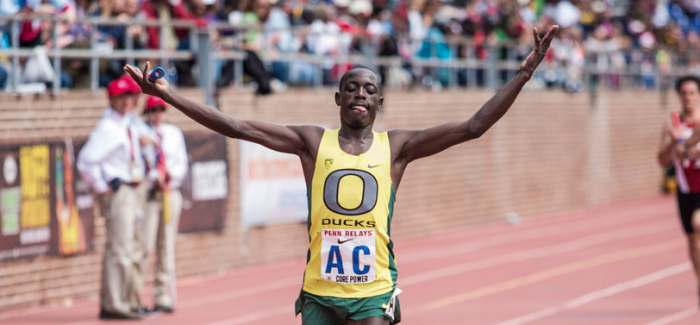 Jesse Squire | On 06, Apr 2015
This guy had to run a race last weekend that he had no intention of trying to win. Why does the system make him do that?
A few weeks ago I used this space to talk about how college track was different back when it was popular. Sports and sports fans have changed since the 1950s, 60s, and 70s, but track changed too.
If a track fan in 2015 stepped into a time machine and went back to 1975, the most dramatic difference they would notice is that athletes competed basically every week, week in and week out, from the beginning of the season to the end. These days, it's rare to see a college or pro athlete compete more often than every two weeks. Compare this to the college and pro sports that are popular; the least you're going to see your favorite athlete or team is once a week, and usually more often than that. It's an endemic problem for our sport at both the college and pro level; it's hard to develop a fan following when there's very little to follow.
I have no illusions that this will change soon if ever. We're not going back to the days when teams would run a dual or relay meet every week, or when pros would run an indoor meet on one coast on Friday and the other coast on Saturday. I did come up with a workable solution to make more out of what we have, and that is to split men's and women's competition. If our two biggest problems is that our meets are too few and too long, then a simple fix is to start dividing them up. It's what we're trying at this year's NCAA Championships, where we will have two separate final days—each of which will culminate with a trophy being handed out to a winning team.
There is another major change that has taken place in track and field over the last forty years. Qualifying marks are a big, big part of the sport now, but they didn't use to be. I think that an overemphasis on hitting a particular time or height or distance changes too many of our competitions into glorified time trials or practices, where winning and losing is secondary to the clock (or simply not important at all).
So let's just think about this. How would modern track and field be different if the need to hit qualifying marks was reduced to an afterthought? Forget about the mechanics of how that would happen, I'll get to it in a few paragraphs. Instead, let's look at how it would change scheduling and competing.
As it stands, most of a college team's schedule is set up to find the most advantageous conditions for getting qualifying marks. It leads them to do things that don't help them develop any fan interest. During the outdoor season, teams in the North and East rarely if ever compete at home. During the indoor season, the tracks that coaches perceive to be "fast" get so many teams coming to them that the meets are far too long and uninteresting, while other tracks sit unused. Splitting squads in search of marks is the norm, another barrier to building spectator interest.
Last weekend, the Cal-Virginia-Michigan rivalry was renewed. It's a triangular competition between three major-conference schools that view themselves as "public Ivies" and it's a nice meet. But Michigan split off some of their best distance runners and sent them to Stanford, the massive time-trial meet. It ruined any chance they might have had at winning the triangular.
The Stanford Invitational itself is a meet that will only appeal to true track nerds. Personally, I find it less exciting than doing my taxes. Winning isn't the point in any of the umpteen heats of distance races, rather it's just important to run fast. While Kevin Liao laments the loss of the meet's "time trial" status, what he's really lamenting is the lost of competition, either between athletes or as a record attempt.
Both Kevin and I are disappointed that Edward Cheserek and Eric Jenkins, the Oregon superstars, sleepwalked their way through the 10,000 meters in 26th and 27th place just so they could get qualifying times for the NCAA Preliminary Round. Like I noted above, their racing opportunities are going to be fairly limited, so why are they forced to jump through this hoop? If they didn't, maybe they could run a race that might be interesting.
The truth is that they' don't have to jump through this hoop. In qualifying for the east and west preliminary round, the NCAA could just follow the IAAF's lead. Qualifying marks for the IAAF World Championships may be made indoors, and top finishers at the IAAF's cross country championships get qualifiers in the 10,000. Given what these two have already done in the 2014-15 school year–first and second at the NCAA cross country and fast indoor times across a range of distances–it's hard to argue that they still need to prove that they belong in the post-season for the outdoor season. If indoor marks carried over to outdoors, and the top ten or fifteen (in each of the east and west) at the NCAA cross country championships also received qualifiers, then the outdoor season would look much different.
The other place where a de-emphasis on qualifying marks could occur is in conference championship meets. Consider the following, from the BG News' preview of Friday's dual meet between my Bowling Green Falcons and their archrival, Toledo:
Going into the Battle of I-75, the majority of the meets the team compete in are not scored. Usually, the meets are for rankings and qualifying marks until the MAC championships. This meet is different. Each competitor can score points depending on what place they come in, in addition to pushing for those marks. "It's definitely more motivation. We always want to beat the team up north," [senior co-captain Brittany] Sinclair said. "Toledo is always a big rivalry, I think that's for every sport here. It's always something to look forward to."
It sounds like Sinclair finds this meet more fun and motivating than some big invitational. I know which of those is more fun to watch, and which will gain more traction in the local sports media and among casual fans of BGSU athletics. But when drawing up the schedule, the coaching staff has to consider the need for achieving Mid-American Conference championships qualifying marks.
Not all conferences require them for the championship meet. If I understand correctly, the Big Ten merely limits each team to 32 athletes at the championship meet, in whatever events the coach chooses. The MAC limits teams to no more than three entries per event, but uses qualifiers to limit to 20 entries per event. I understand why this is needed indoors, give tight spaces and a short timeframe, but why is it necessary outdoors? If you combined the two systems–capping each team's entries both overall and by event–the result would be totally manageable in an outdoor meet. And more importantly, it would free coaches to try a schedule that could lead to greater fan interest.
Random Thoughts, News and Views
Random thoughts on the weekend's action in the Larry King style…
(Who's Larry King? HEY YOU KIDS! Get off my lawn!)
I was the PA announcer for the Bowling Green vs Toledo meet, which means I saw two NCAA leading marks. One of them was in the rarely-run 2000 meter steeplechase, and an NCAA leader in that event is about as meaningful as leading the major leagues in home runs hit in Tuesday night away games on artificial turf. The other was in the women's hammer throw, and that's meaningful. Bowling Green's Brooke Pleger unleashed the best series of her life, which means a lot given that she was 3rd at the NCAAs and 10th at the USATF last year. Last April was a bit of a struggle for Brooke; she never really relaxed and performed up to her ability until May. This is what she told me about the difference between now and a year ago:
I think my mental state this year is more "mature". Last year I was very caught up in what everyone else was throwing, and I wasn't as focused on what I myself needed to do. This year I have grown a lot as a thrower, and I trust and enjoy the process a lot more and I think that has shown in my season opener. Also, I feel a lot more confident about where my season can go this year.
Like the vast majority of college athletes that aren't on TV, Pleger is also a serious student. She is a nursing major and last spring saw some very challenging coursework which had its effect too. The classes are just as hard now, but just as in the throwing cage, she's mentally prepared for what she's experiencing. On Thursday she throws against pro Gwen Berry (7th at last year's USA Championships) and Southern Illinois' Deanna Price (#2 on the NCAA list) at the Tennessee Relays.
Bowling Green beat Toledo for the third year in a row. I've been told that BGSU athletic director Chris Kingston takes this meet very seriously, and he definitely needed some good news to end his week.
Neither Army nor Navy are nationally or even regionally competitive in track and field, but their dual meet series consistently deserves a new installment of Alcoa's Fantastic Finishes. This time, the Army Black Knights had the women's meet clinched as long as they got the stick around in the 4×400. The second leg cut in too early, the team got DQ'ed, and Navy got the win. Army coach Mike Smith said "Today was a painful lesson in the importance of execution". Given that most of the team is headed for military leadership, learning a tough lesson like that is probably worth losing their most important meet of the year.
Alabama's Remona Burchell won the 100 meters at the Florida Relays in 11.04 seconds. The time is very good; it's just 0.01 off of the defending NCAA champion's PR, which already puts her #10 on the all-time collegiate list. The wind reading of -2.5 raises some eyebrows. One calculator says it's equal to 10.84 in still air (0.0 wind reading), and the low-altitude collegiate record is 10.93. Wind adjustments don't always work out to be accurate, though, and sometimes the wind reading doesn't perfectly describe the wind conditions.
We used to have a fall throws-only meet when I was in college, and my freshman year I had to mark the javelin. This was my nightmare:
Authorities say a field judge working a track meet at a northern New Jersey college was struck in the heel by an errant javelin toss….[Dan] Klice apparently saw the javelin headed toward him and tried to avoid it. But he tripped while moving backward and his legs went up.
Firefighters had to saw off the javelin to get him into the ambulance; removing it on the field would have worsened the bleeding.
Haley Crouser, the national high school javelin record holder, has left the Oregon track team. No word on why, but it makes Oregon's chances at a national title even slimmer than they already were. Her brother, Sam, is the defending NCAA javelin champion and remains with the Ducks.
I've been told that Beth Alford-Sullivan, the new head track coach at Tennessee, is dedicated to bringing the Tennessee Relays back to relevance. In the 70s and 80s it was known as the Dogwood Relays, as Knoxville's trademark flowering trees are at peak bloom in mid-April, and the meet was a big deal. If rebuilding fan interest is part of that, it requires more than just getting top teams and athletes to come. Multiple smaller meets (duals and triangulars and the like) got Vol fans excited for the Dogwood Relays, and educated them about what to watch for. On one level, track is not complicated; you shoot off a gun and the first one to the finish line wins. But what small subtleties there are take a bit of experience to appreciate, and dual meets were how the fans got that experience back in the day.
This week's trivia question:
The Big Ten had two of the final four in men's basketball this weekend. When was the last time the conference claimed two of the top four at the NCAA outdoor track & field championships?