One Comment
The Monday Morning Run: Olympic Cuts, IAAF drama and Adrian Peterson talks track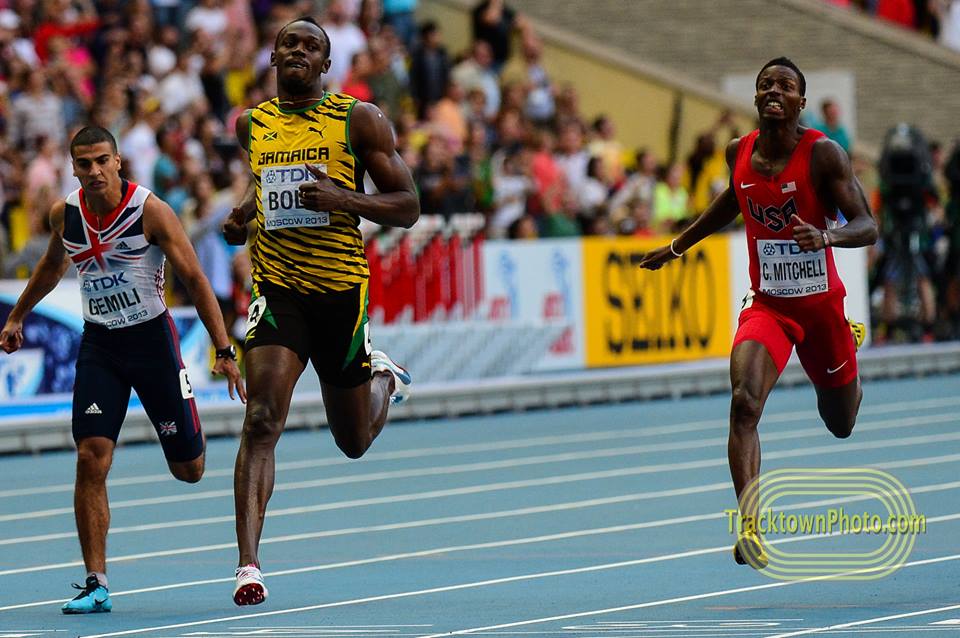 Kevin Sully | On 15, Dec 2014
You may have been thinking that track and field hasn't been let down enough by governing bodies over the past two weeks. Bribery, corruption, charges of rampant doping seemed like enough. Then, before you even had time to Google the name Papa Massata Diack, in stepped the IOC and their suggestion that the sport should eliminate events from the Olympic program. Among the nominated are the 200, 10,000 and shot put.
The 200? Isn't that the event of golden shoes and memorable Olympics doubles? The event that helped catapult Usain Bolt, Michael Johnson, Carl Lewis and Allyson Felix to stardom?
And the 10,000? I thought we were making progress there. It was just over two years ago when the event provided one of the most unforgettable moments of the entire Olympics. Mo Farah capped off Super Saturday for Great Britain and Galen Rupp broke through for silver. The race was competitive, the television ratings were phenomenal and there were GIFs that didn't involve someone falling in the steeplechase pit!
The proposed elimination of events is part of a larger plan by the IOC to tighten up the Games and leave room for new sports. Still, gutting entire events seem drastic, especially in track and field which is no lower than third in the Summer Olympics pecking order (and that's giving you a lot of credit, gymnastics). At least in the 200 and 10,000, athletes can look elsewhere to still make an Olympic team. Not true for the shot putters who would need to learn to throw a different object entirely if they wish to compete. Think it is hard to convince a promising thrower to give up football now–wait until you take the biggest competition in the world off the table.
The decision seem rash, but let's hear more about the rationale. Here is Australian athletics official, Brian Roe.
"The IOC clearly has a view to reduce the number of those competing in athletics events and options were raised for how to do that and clearly there was a strong view that the 10,000, 200, one race walk and shot put were the most at risk."
Understood, but wouldn't it be easier to cut the amount of athletes in each event, rather than chopping off whole events? A final of the 10,000 (or 200, or shot put) is infinitely more interesting than preliminary heats of any event.
Also, we aren't talking about a large number of athletes. There were 29 men and 22 women in the 10,000 during the last Olympics. Some, like Farah, Rupp, Tirunesh Dibaba and Vivian Cheruiyot also ran the 5,000 so they aren't taking up any extra space at the athlete's village.
Fewer track and field athletes means room for new sports. Fair point, but if the IOC is going to discuss what is going to be added, you also need to look at what is potentially lost by cutting these events.
The perceived redundancy with the 100 and 5,000 make the 200 and 10,000 prime candidates for elimination. But that same redundancy makes them appealing. Without the 200 or 10,000, there would have been fewer nights of Bolt and Farah in London. The mainstream public latches on to stars, particularly in the Olympics where names come and go very quickly. They enjoy repeat winners. If the goal is viewers, you can't have enough athletes attempting to double or triple in one Olympics.
The recent list of men's 10,000 champions goes like this…Farah, Bekele, Bekele, Gebrselassie, Gebrselassie. Their legacies were heightened because they ran multiple events. Bekele and Gebrselassie didn't break into the mainstream during their Olympic appearances, but on the nights they competed they were the story, in large because they had run enough races to gain traction with those whose only experience with track is watching the Olympics.
Back to the article…..
"The 10,000 is not really part of the track-and-field calendar any more other than at the Olympics and Worlds so there was an argument against it."
The 10,000 was also dying pre-2012 and that still got a huge rating on television. In terms of lack of 10,000 races, that is due in large part to the tight television windows that aren't fond of a 30 minute race in a broadcast that only spans two hours. That problem doesn't exist in a meet that stretches over a week like the Olympics.
More from Roe….
"The feeling was that the main protagonists are nearly all road runners so if we are to continue with the distance, why not have an event to which millions around the world can directly relate – a 10-kilometre road race."
Wait, I thought this was about the number of athletes? How is 29 men running on a road any less of a problem than 29 men running on a track? Unless they are planning on having a road race with fewer than 29 people in which case that wouldn't be very relatable to the public. And if relatability is the core issue, why are they keeping the pole vault and why wouldn't they hang on to the 200?
I think track and field officials are trying to go along with the IOC's suggestions while aiming to piss off as few people as possible. There is no reason to cut the 200 and the 10,000 other than their proximity to other events. This still doesn't explain the shot put though. The arguments for its elimination seems to boil down to 'it isn't as entertaining as other events.'
The biggest revelation from this announcement is the discovery that there are people out there who actually want less Olympics. With all the money being made and the high viewership numbers it seems strange that they would want to tinker with an established sport like track and field.  I thought they would add to the program before they would ever consider scratching events.  Then again, I'm also the guy who wouldn't mind if the Olympics lasted three weeks.
-Moving day for the IAAF
The IAAF has cut ties for the time being with Papa Massata Diack, and their head of anti-doping Gabriel Dolle and treasurer Valentin Balakhnichev. Balakhnichev did leave room for him to return in case the IAAF is ever in need of someone who has past experience taking bribes to cover up drug tests. Can you get endorsed for that skill on LinkedIn?
Diack, son of IAAF president Lamine Diack is accused of asking for $5 million dollars in order to secure Doha's bid for the 2017 World Championships and is also stepping aside until the conclusion of the ethics investigation
-False starts
One controversy from track's no good very bad week looks to have dissipated (at least for now) since it was first reported last week. The same German documentary that broke the Liliya Shobukhova story also had possession of a list of more than 150 athletes who had suspicious blood tests from 2006 to 2008. The documentary claims that the IAAF did little to pursue the athletes who had abnormal blood levels.
The IAAF responded and said that a single blood test does not prove doping and the findings did trigger follow-up testing. Some media athletes have seen the list, though the names remain private.
As much as I feel like I'm swimming up a current, the IAAF does seem to be on solid ground on this issue, both in terms of the science involved and in the decision not to make the list public. At this point, any name mentioned will immediately be linked to doping regardless of their guilt or innocence. The public will see the names along with the words "suspicious" and "abnormal" and all context about the what the findings actually mean will be lost. And, as track fans know, context is sorely needed in issues involving performance enhancing drugs.
It's a lack of context that makes people think track and field is dirtier than major team sports despite all the evidence to the contrary. It's lack of context that conflates supplement positives with "harder" PEDs. And It's lack of context that could, if the names are released, ruin the career of someone who has competed clean for their entire career.
-Bekele to Dubai
Kenenisa Bekele announced he is running the Dubai Marathon in January. This is a very quick turnaround for Bekele after he raced the Chicago Marathon in October. It's also a disappointing decision for those who wanted to see him race in another major marathon. I hoped that after Chicago he would ditch paced races and instead run Boston and New York where his cross country success might have some crossover effect.
Instead, he entered Dubai, a soulless race that will let him run a fast time, but won't get him any closer to being one of the best marathoners in the world. Hopefully, this doesn't mean that he is destined for a life of time-trialing against generic 2:06 runners.
-Adrian Peterson Talks Track
File this in the definitely won't happen column–suspended NFL running back Adrian Peterson said he might retire from football and try to make the Olympics in track. Making him the first person to list the Olympics as their back-up plan.
Peterson also mentioned pursuing a career in real estate and not returning to football even when he is eligible to play next season. I wonder if all the real estate blogs blew up when he said that.
His personal bests are from high school and don't make him any sort of threat to make the team unless they start running the race with pads. That actually might be an interesting event. Are you listening IOC???
The Medalists
The top three performances of the week
Gold: Ryan Hill/Laura Thweatt
Hill and Thweatt won the USA Club Cross Country Championships in Pennsylvania on Saturday. Hill showed great range for someone with such a strong kicking, running the 10K course in 29:07. Jacob Riley finished second and German Fernandez was a surprising-but-really-shouldn't-be-that-surprising third place. Is this a sign of strong 2015 for the phenom?
In the women's race, Thweatt capped a breakthrough 2014 with a 10 second victory over Tara Erdmann. I have Thweatt making the US team in either the 5,000 or 10,000 in my way too early 2015 World Championship predictions.
Silver: Gemma Steel and Kate Avery
The duo went 1-2 in the women's race at the European Cross Country Championships and lead the British team to victory. Bonus points for Avery who just won the NCAA Cross Country Championships in November.
Bronze: Anna Rohrer/Grant Fisher
Both won their second Foot Locker title of their career on Saturday in San Diego. For Fisher, the double win is a very good sign for his future. Other 2-time winners include Dathan Ritzenhein, Edward Cheserek and Lukas Verzbicas. Verzbicas went on to break four minutes in the mile during his senior season and Cheserek and Ritzenhein both won multiple titles in college.
Winning Foot Locker isn't as auspicious for women. Past repeat champions include Erin Keough, Melody Fairchild, Erin Sullivan and Jordan Hasay. No Foot Locker champions ever won the women's NCAA Cross Country Championships, though Hasay did win titles in track.