One Comment
The Monday Morning Run: Hammer world record, Felix to the 400, more doping investigations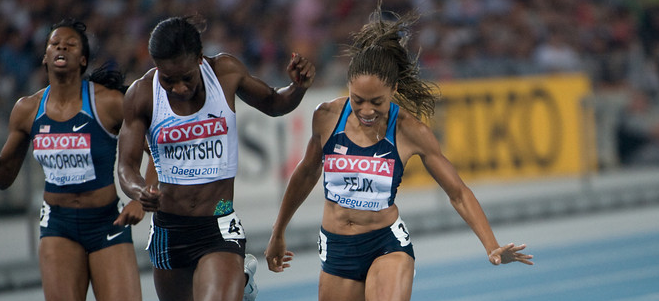 Kevin Sully | On 03, Aug 2015
The Stockholm Diamond League found itself in the unenviable position of being the final major meet before the World Championships. Virtually all of the fields on Thursday were depleted and the athletes that did compete did so with the goal of avoiding any mishaps before the biggest competition of the year. Precaution took precedent over competition. There were some scheduling conflicts–Stockholm overlapped the Kenyan trials which sapped the distance fields. Many American athletes came home after London to make their final preparations at home before heading off to China. All of this took the meet down a few notches and didn't leave much of an imprint before the three week break that now precedes the World Championships.
What will fill that time?
How about another doping story? Hajo Seppelt and the German television station ARD released another program focused on drugs in track and field. Their story in 2014 focused mainly on Russia and led to the departure of a few high level officials in the sport. This report was just as damning as Seppelt tried to uncover why drug tests aren't catching the cheaters. He received access to 12,000 blood tests in the IAAF database that suggested numerous medal winners since 2001 had abnormal or suspicious readings. The highlights of the database can be found here or you can view the full 55 minute program.
Along with the examination of the blood levels and inquiries into Russia, Seppelt traveled to Kenya to see if PEDs are prevalent there. Turns out they are. This wasn't a huge secret, especially after earlier reporting as well as the positive tests of Matthew Kisorio and Rita Jeptoo. Seppelt found doctors willing to inject athletes with EPO and other performance enhancing drugs. No athletes are named specifically, though doctors did claim to work with high profile athletes. Managers in Kenya explained that Athletics Kenya officials take bribes from athletes to cover up tests and in some cases deduct prize money from athletes as a payment for not releasing the results of the failed tests.
Seppelt and anti-doping experts he brings in to look at the blood test from the IAAF criticize the IAAF for not acting on the suspicious levels. They even say track is in a worse position than cycling when it comes to anti-doping, which is about as harsh an indictment you can level when it comes to performance enhancing drugs. The IAAF released this statement after the program aired.
I think most people accept at this point that drug test can't be perfect in a sport like track and field. There are too many athletes and too many nations involved in the sport to truly make it fair across the board. But what can't happen is what Seppelt exposed in Russia and Kenya. Policing the sport is hard enough without governing bodies becoming complicit in the cheating. The bribes, the covered up tests, the lack of tests and the early notification of tests make a farce out of the idea that nations can monitor themselves. Bringing all of the out of competition testing under one roof right now seems like a more effective option, but who knows what unintended side effects that might bring. What I do know is Kenya is being lumped in with Russia and track is being compared with cycling.  That is a pretty definitive signal that both need to make some changes.
Gold: Anita Wlodarczyk
In Cetniewo, Poland, Wlodarczyk broke her own world record and became the first woman to break 80 meters in the hammer throw. On her second attempt she threw 81.08m to better her previous best of 79.58m.
Good thing this didn't happen at a major meet, somewhere like, let's say….Stockholm? They could have used a boost.
If hammer had been in @Diamond_League we could have had not just a world lead but a world record last Thursday in Stockholm.

— Martin Bingisser (@bingisser) August 1, 2015
Silver: Ferguson Cheruiyot
Barack Obama visited Kenya two weeks ago which meant the Kenyan trials for the World Championships were pushed to this past weekend. That was a deft covert move by the President to tire our Evan Jager's competition before Beijing.
All of the favorites for medals at the World Championships advanced and most of them won their races outright. The exception came in the men's 800m where Cheruiyot beat Rudisha 1:43.66 to 1:43.89. Rudisha led for the first lap, a reversal on his strategy at the London Diamond League, but was caught on the homestretch by a fast closing Cheruiyot. That looked familiar to anyone who has seen Rudisha race this year.
The good news for Kenya is that maybe they can win a gold in Beijing from someone other than Rudisha. Blasphemy I know, but Cheruiyot's finish looked eerily similar to what Nijel Amos has repeatedly done to Rudisha the last two years. The battle won't be for the lead at the bell as much as it will be for who can get the coveted position behind Rudisha with 600 meters to go. Joining them on the 800m team, is Alfred Kipketer, the runner famous for going out well under 50 seconds for the first lap. So Kenya will send Rudisha, the world record holder, Cheruiyot, a guy who changed his name to honor a famous soccer coach and Kipketer, a runner who can be counted on to sometimes hang on after his psychotic start and other times completely fall apart.
No shortage of storylines there.
Bronze: Shelly-Ann Fraser-Pryce
Finally, we get to a race from Stockholm. There were only two running events in Sweden that had any semblance of a World Championship preview. The women's 100m and the men's 110m hurdles. The women's 100m was top heavy with podium favorites Fraser-Pryce and Tori Bowie. Past that it didn't look like what we will see in Beijing, but it did feature the best sprinter in the world lining up against someone who has a great chance of getting on the podium.
Fraser-Pryce rolled a 10.93 into a slight headwind, easily beating Bowie who ran 11.05. Since Fraser-Pryce struggled in Rome back in May, she's hasn't been stopped. This race is her fourth fastest time of the year and she has notched wins over all of her prospective challengers at the World Championships. Why she doesn't want to also run the 200m is another story.
Surging….
-Genzebe Dibaba
In the world of doubles, there was exciting and sobering news. Allyson Felix is running the 400 and not the 200. More on that below. But…but….BUT…….Dibaba announced that she will compete in the 1500m and 5000m at World Championships. That makes both events infinitely more interesting, not because they were dull to begin with, but because Dibaba is just that interesting to watch compete right now. I extolled the virtues of a Dibaba double three weeks ago after she ran 3:54.
Since then, she's only strengthened her case that she can win both. In the 5000m, it looks to just be a race between her and Almaz Ayana. After their shared pacing attempt gone awry in Paris, I don't expect any team tactics.  That should actually favor Dibaba since she has the better kick and can just wait on Ayana's shoulder until the time is right.
The more compelling race is the 1500m. It comes before the 5000m, which means the 1500m runners went from having to deal with no Dibaba to racing against a fresh Dibaba in a matter of weeks. Rough deal. How she runs the race will be just as fun to watch as the end result. Everyone is assuming a Dibaba victory, the natural result when you set a world record and have a six second buffer on the next fastest runner in the world, but how will she decided to cover those 3 ¾ laps? Will it be quick and decisive death for the field after a hard opening 800? Does Dibaba toy with everyone and dissect them over the 400 meters? The outcome is the same–the artistry is in the process. 20 minutes into Taken (or Taken 2, or Taken 3) you knew Liam Neeson was going to kill everyone, but you still wanted to see how he got it all done.
-Ayanleh Souleiman
From slowing last week, to surging the next. Out of the shadow of Asbel Kiprop, Souleiman ran 3:33.33 to notch a dominant win in Stockholm. He won the race the way he seems most comfortable–at the front with 1200m remaining where he can counter any moves that are made for the lead. Souleiman is good enough for that plan to work against pretty much anyone in the world except Kiprop. Kiprop can sit and sit and sit until the final 100 meters. Souleiman doesn't have that luxury.
But when it comes to the 1500m at a championship, none of us have any idea how it will shake out. Kiprop hasn't been invincible running rounds throughout his career so even with his 3:26.69 from Monaco he is beatable.Souleiman is running the 800m before the 1500m, which just complicates things further.
-Men's high hurdles
There are no meets off for this group even when the rest of the athletes pretty much skipped Stockholm in some form or fashion. They are unaffected by lulls in the schedule. This race looked like a World Championship final–and shouldn't that be what we see the closer we get to a championship? Shouldn't the competition get better and better as the season progresses?
I could understand the absences if the meet was a week before Beijing, but we were still three weeks clear. Besides, if the high hurdlers can do it why not everyone else?
Orlando Ortega won the race in 13.18 followed by Sergey Shubenkov, David Oliver and Pascal Martinot-Lagarde. Since this was the last Diamond League before Beijing, there is probably the last bit of information before you attempt to pick a winner. This event is a complete toss-up that could go at least five ways. Any of the above four could win and you also have to factor in Omar McLeod, who ran 12.97 this year, as well as the other three Americans joining Oliver on the team.
-Ashton Eaton
At the American Track League meet in Atlanta, Eaton ran a personal best of 45.55 in the 400m. He finished second to Steven Gardiner and beat Kyle Clemons, Mike Berry, Jeremy Wariner and Deon Lendore.
-High altitude world records
On Sunday, Jesse updated the best marks from thin air. There were two news ones to add after the Kenyan trials in Nairobi. Faith Kipyegon in the 1500m (4:01.85) and Geoffrey Kamworor in the 10,000m. Kamworor's 27:11.89 is more impressive than when he ran 26:52 in the paced, lower altitude of the Prefontaine Classic.
Kenya's top three from this weekend of Kamworor, Bedan Karoki and Paul Tanui were clearly their three best at the distance so there was optimism after the meet that they can beat Mo Farah in Beijing. Of course, Farah handled Tanui and Kamworor pretty easily back in Eugene and hasn't look to have gotten any slower over the past two months.
All of the other big name Kenyans made it through. Vivian Cheruiyot and Sally Kipyego in the women's 10,000. Eunice Sum and Janeth Jepkosgei in the women's 800. Asbel Kiprop and Silas Kiplagat in the men's 1500m. Ezekiel Kemboi and Jarius Birech in the steeplechase. Full list of entries here.
-Machel Cedenio
If I had to guess, I'd say Cedenio watched Christine Ohuruogu when he was growing up. His late race rush is reminiscent of Ohuruogu's final 100 meters and I'm amazed that someone so young (he turns 20 this year) isn't ruffled by a huge deficit. At best Cedenio was seventh coming off the last curve in Stockholm, but he looked like he was exactly where he wanted to be as the race wound down. He erased the deficit in an instant and still had enough time to pad his margin of victory. Cedenio finished in 44.97. Luguelin Santos was second with a time of 45.21.
-Renelle Lamote
When the commentators mention that a race is a chance for new names to step forward that is usually code that the field isn't very good. Lamote of France seized the opportunity to run a Diamond League without Eunice Sum or Ajee Wilson and won the women's 800m in 1:59.91.
-Sara Petersen
The Danish woman who is in the midst of a breakout year finished just behind Zuzana Hejnova in the 400m hurdles running 54.42 in Stockholm. Denmark hasn't won a medal at the World Championships or Olympics since 2004 and their last women's medal comes from 1993. Petersen sits third on the yearly rankings behind Shamier Little of the United States and Hejnova.
Slowing….
-Felix 200/400 double
I'm not sure about the exact date of birth for the Felix double, but it suffered a swift death on July 29th when her coach, Bobby Kersee, said that "the schedule will not allow it."
Felix will instead run the 400m and both relays at the World Championships. On July 3rd, Kersee said the 200/400 double was "not that impossible," even though the 200m semifinals were an hour before the 400m final.
A couple of reverberations from this decision
-The women's 200 loses another star for the World Championships. Felix being the biggest.
-Felix in the 400m means Francena McCorory won't get bumped up and get to race. The US team will be Felix, Phyllis Francis and Natasha Hastings.
-Without McCorory and Sanya Richards-Ross, the 400m is Felix's for the taking. If Shaunae Miller doesn't run the 400m, then Felix will be an even bigger favorite.
-This will only be the second time Felix has run the 400m at a major championship. With the fast track and only one individual event to focus on, I think she will beat her personal best of 49.59.
-If Felix wins hopefully there will be some discussions about changing the schedule for next year's Olympics so that she can run both the 200 and 400 without having to run two races on the same day. If the 200m and 400m were schedule liked the men's 800/1500 or women's 1500/5000, there wouldn't be many people betting against Felix winning both this year.
-Women's 200
Nobody wants to touch it this year. Felix isn't running it at Worlds. Tori Bowie didn't run it at the USA Championships. Shelly-Ann Fraser-Pryce said no. Shaunae Miller hasn't committed to the 200m or the 400m, but has said she won't run both. If you take those runners out, and the others who didn't qualify, here is the yearly top marks list:
Candyce McGrone: 22.08
Dafne Schippers: 22.09
Elaine Thompson: 22.10
Jenna Prandini: 22.20
Jeneba Tarmoh: 22.23
I'm not sure why Fraser-Pryce is so resistant to racing the 200m this year. She has a wild card so she could conceivably just wait until the morning of the first round in Beijing and make her decision. Despite that, she has been firm that she doesn't want to run it. If Miller hops into the 200m she'd be an instant medal contender. All of the absences mean that someone not mentioned has a great opportunity to sneak into top three position.
-Mutaz Essa Barshim
Since the Prefontaine Classic, his best clearances are 2.36m and 2.33m. Also, he's had trouble winning. In Stockholm, he managed 2.29m in the rain and finished second to Jacorian Duffield of the United States. Maybe we are looking at a late peak for Barshim? Or, possibly he needs his old jumping mate Bohdan Bondarenko to snap him out of this funk.
-Yohan Blake
Other than doping stories, here's a nominee for most depressing headline of the 2015 track season….
That's Blake, as in Yohan Blake. Forget the fact that he lost to Churandy Martina by almost two tenths. The bigger sign of just how far Blake has dropped off the map is that he's racing as a guest at the Dutch Championships instead of running in Diamond League meets prepping for the World Championships. I've been a Blake optimist, probably to a fault at this point. He's still young and this season has always looked like it was only going to function as a building block for the Olympic year. But, we are coming up on three years without breaking 10 seconds. If you are looking for answers as to why you can look at his coach's explanation that he has been "running scared" after his injuries.