No Comments
The Monday Morning Run: Farah fights the tape and the tape wins, Rudisha goes 1:44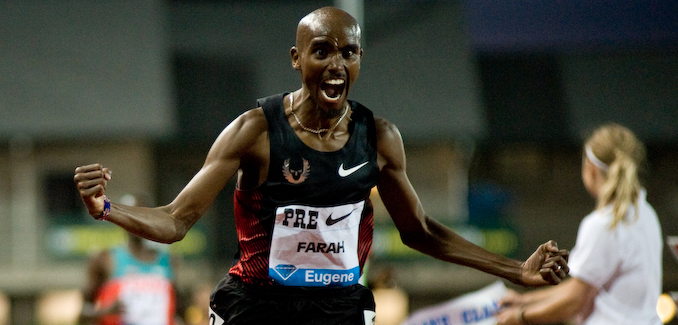 Kevin Sully | On 23, Mar 2015
Due to the slow week in track and field, the Monday Morning Run is shorter this week. Fortunately, the action will pick up shortly. April is a sneaky good month for running and it might even be the best of the entire calendar, especially if you live in the United States. The Penn Relays and the Drake Relays are both on live television and there are the two major marathons. Throw in some mid-season NCAA races and the Mt. SAC Relays and you have a great four weeks.
But for now, we push through late March, where if it wasn't for Mo Farah or David Rudisha there wouldn't be anything to recap at all.
The Medalists
The top three performances of the week
Gold: Mo Farah
Farah has spent the early season nibbling at the edges of his usual distances. He went short in his one indoor appearance a ran a two-mile. On Sunday, he stretched his range the other direction and moved up to the half marathon distance. He was successful in both, setting a world record in the two-mile in February and winning the Lisbon Half Marathon in a personal best of 59:32. The time was also a European record.
You have to be really into road racing to know the names that Farah beat on Sunday, but they were known commodities, some with personal bests of 58 minutes. Farah's closest challenger, Micah Kogo is a successful marathoner and pushed Farah all the way to the line.
The only problem for Farah came as he crossed the lined when he got tangled in the finishing tape and fell down. Doesn't make for the most graceful finishing photo.
.@michaelirvin88 taking a bit too much pleasure in @Mo_Farah's fall at the Lisbon Half Marathon. https://t.co/3x3FBTYMXS

— Jim McDannald (@jmcdannald) March 22, 2015
The speed and the stamina Farah has shown in 2015 obviously put him in a great position for the outdoor season. He's raced enough to prove his fitness, but not so much that he will be concerned with burnout later on in the season. The versatility of someone to run an 8:03 two-mile and a 59:32 half marathon just four weeks apart is freaky.
Silver: Rose Chelimo
The women's race in Lisbon was also very deep and very good. Chelimo emerged as the winner, beating Sara Moreira and Priscah Jeptoo, and finishing in 1:08:22. That is a personal best for Chelimo, who I'm sure will make her marathon debut soon. Jeptoo was well off her best time of 1:06:11, but in the context of marathon training for London next month, did fine. Remember, she was so dominant in 2013 before having a rough 2014 that contained scratches and drop outs.
Bronze: David Rudisha
Still Down Under, Rudisha made a slight improvement over his season's best, running 1:44.94 to win the Melbourne World Challenge. This wasn't crush your spirit and take your soul performance though. Jeff Riseley of Australia was within a few meters at the finish and Rudisha was working hard to maintain the margin. Like last week, Rudisha was rabbited to a fast first lap and then left to run the second lap by himself. The fast pace will help him come championship season, but it doesn't do him any favors in these early season meets.
The gap between him and the rabbit (Sammy Tangui) is right on the border of being too big to be useful and Tangui doesn't stick around very long after the bell. That leaves Rudisha to fend for himself after a tough first lap. He's probably hoping for a callusing effect with this style of running. Based on his past results (excluding 2014) it's hard to make an argument that he should change, but it probably means some closer than expected results until he gets into peak shape.
Also, if you needed another reason to love track watch the post-race interview. It's the one where a broadcaster wearing a headband presents Rudisha with an inflatable kangaroo.
Surging….
-Jeff Riseley
I don't care that Rudisha lost to a bunch of people last year which made beating him look ordinary. We are in a new year now, one where staying near Rudisha qualifies as some sort of victory.
-World Cross Country Championships
The race takes place on March 28th in Guiyang, China. Even though "championship" is in the title, that doesn't always denote a worthy field. For this race, many nations have stopped sending full teams and fewer stars have shown up in recent years. The timing of the meet provides a challenge. It is right during spring road racing season and just before outdoor track begins. There is no perfect time to hold the meet, but the schedule does contribute to the ability to attract the best runners in the world.
That being said, this year's meet looks interesting. Scanning the entries, there are many recognizable names from track. In the men's competition, Ethiopia is sending sub 13-minute 5,000 runners, Hagos Gebrhiwet, Muktar Edris.
Atsedu Tsegay, a 58-minute half marathoner with experience in cross country as well, is also on the roster. The Kenyan team has a potential top three of Bedan Karoki, Geoffrey Kamworor and 2013 champion, Japhet Korir.
Chris Derrick leads the Americans. In 2013, they won a surprise silver medal. That should be hard to match this year, at least if all of Kenya and Ethiopia's entries make their way to the start line. A bronze medal for the US team is well within reach. They have depth, which is very useful over a 12-K cross country course where attrition can decide the outcome.
The women's race is more open, but it is not a stretch to see it coming down to Kenya vs. Ethiopia. Emily Chebet is billed as the favorite, but she didn't even make the Kenyan team outright. Laura Thweatt was the US Cross Country champion in Boulder, Colorado. Sara Hall is also entered despite running the Los Angeles Marathon one week ago. Like the men, a third place finish isn't unreasonable. There are only 10 countries with five or more runners entered in the women's compeititon.
-Asbel Kiprop
He reportedly ran 1:44.4 in Kenya, but any race that doesn't include hundredths in their times is mighty suspect to me. If the time is accurate he is .5 seconds ahead of Rudisha, which means I should have put him much higher on this list. To my knowledge, he did not receive a kangaroo, or any other animal, as a prize. Advantage: Rudisha.
-Sally Pearson
Back to Melbourne, Pearson ran 12.93 in the 100 hurdles. That was far from her season best of 12.74 from Brisbane, but more than enough to win. I wonder if the southern hemisphere athletes get tired of their endless summer of track?