One Comment
College Track Issues and Answers: Long throws, a program rebuilding, and are we all hipsters?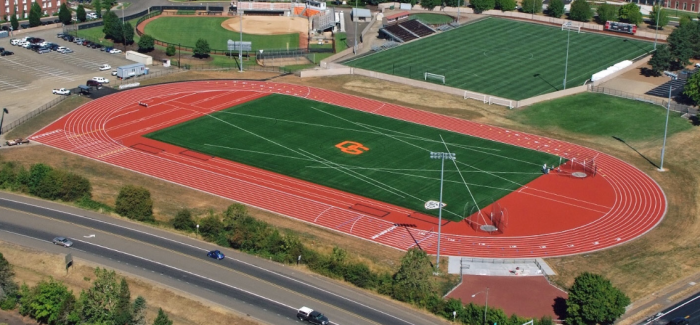 Jesse Squire | On 24, Mar 2015
Starting from zero, Oregon State is rebuilding a program. This weekend was another milestone.
As you might expect, the first weekend of the outdoor season wasn't exactly full of action. Usually the USTFCCCA has a recap of the weekend's action, but all they have this time is a tally of the week's top marks. To some degree, this weekend was something like the NFL's pre-season—a few stars ran an event or two while nothing really seemed to be on the line—but there was meaningful competition if you knew where to look.
Most indoor events have a direct counterpart outdoors, or nearly so, and athletes who compete in them didn't do much this weekend. Even those who specialize in the outdoor-specific hurdle events, the 400 hurdles and steeplechase, still ran quite a bit indoors and mostly weren't called upon.
Long Throws
The real action came in the long throws. The discus, hammer and javelin specialists have been chomping at the bit and finally got a chance to hurl heavy objects and scream at the sky.
The names at the top of the national collegiate lists right now are mostly familiar. The women's leaders in the early season are two defending NCAA champions (Shelby Vaughn, Texas A&M, discus; Julia Ratcliffe, Princeton, hammer) and an All-American (Hannah Carson, Texas A&M, javelin). Two of the men's leaders are familiar as well, another NCAA champion (Sam Crouser, Oregon, javelin) and the #2 returning thrower (Rodney Brown, LSU, discus).
But the early leader in the hammer throw is a decidedly unfamiliar name: Gian Ferretti. Learn it. The 24-year-old Italian is listed as a sophomore at Minnesota, and he threw 68.94 meters (226' 2") at Arizona State's Baldy Castillo Invitational. That would have put him 9th on last year's NCAA D-I list, and it's still just the third week of March. For perspective, Kent State's Matthias Tayala won the NCAAs last year with 73.47m (241' 4"), and he opened his 2014 season about a foot shorter than Ferretti just did.
So who is this guy? Like I said, he's a 24-year-old Italian who is listed as a sophomore. He attended Minnesota last year but did not compete for the Golden Gophers, and threw 67.92 (222' 10") while competing as an unattached athlete. He had some success on the age group level in Italy but has definitely upped his game since coming to the USA.
In an average year, he might be considered a contender for the NCAA title, but this is not an average year in the hammer throw. Every single NCAA championships finalist returns, and two more stars come back from redshirt years—UCLA's Alec Faldermeyer, a two-time All-American, and USC's Conor McCullough, a former IAAF World Junior champion and the early favorite for the NCAA title.
Oregon State Still Rebuilding
Oregon State's administration cut its track and cross country programs in 1988. The Beavers had once been a proud national power; they won the 1961 NCAA cross country championship and beat Oregon in seven out of twelve dual meets between 1963 and 1969. At times more than 5,000 fans crammed into Bell Field to see them compete, and Dick Fosbury's famous high jump innovation that led to a world record and Olympic gold was just one of many high points. But by the late 80s they were, well, a team that could be eliminated.
A women's team was reborn in 2005, and its climb back into relevance has been slow but steady. A long-term fund-raising program led to new track facility in 2012. They're still working on the next phase of fund raising (for seating, a pressbox, a scoreboard, a hammer ring, and so forth) and the phase after that is the big one, an endowment to get a men's team going again. On Saturday, the women's team reached another milestone: the first home dual meet since Ronald Reagan was still president.
The opponent was Utah, a natural rival in the Pac-12. Both are women-only programs and are of relatively equal strength, meaning they both occupy the bottom of the Pac-12 (which is possibly the NCAA's deepest track conference). The Beavers won, their first true dual meet win since 1986 (they beat Portland last year in a dual-within-an-invite setup, and beat Portland and Williamette in a double dual in 2013).
Live Meet Today
UCLA is hosting a triangular this afternoon against Washington State and Long Beach State, a meet specifically engineered for the Pac-12 Networks. The triangular format keeps it neatly in a two and a half hour TV window (starting at 4:00 Pacific/7:00 Eastern), and it's on a Tuesday because that's when the network will consistently have time available for broadcasting track meets.
I have two reactions to this.
1. I think it's wonderful that UCLA head coach Mike Maynard was forward-thinking and creative enough to get his teams onto live national television.
2. THREE TEAMS were willing to adjust their schedule ONE TIME to get on TV? What is this, the 1980s? Every other sport on every D-I campus in the entire nation will do whatever it takes to get on live TV, we now have four dedicated college cable TV channels (Big Ten, Pac-12, SEC and Longhorn Networks), and we have ONE TRACK MEET scheduled for an unusual time? It's like the entire sport is run by hipsters whose worst nightmare is to have their niche become widely popular. (I guess that would explain why Portland is now the capital of track in the USA.)
Of course football and basketball drive the bus that is cable TV sports, but there are an awful lot of other sports on campus. Track is getting killed by basically all of them, including wrestling. Wrestling! The sport that nearly got kicked out of the Olympics and is fighting for its very life in the NCAA. Everyone has to understand the big picture: the opponents are not the other track teams. They are the other "non-revenue" sports.
I've said it before and I'll say it again: if we do things in such a way that makes it clear we don't care about spectators, then we won't have any. And that's not a sustainable model in Division I athletics, no matter how many championships you win. Do what you have to in order to get on TV, and make sure what gets on screen isn't so boring or impenetrable that viewers change the channel.