One Comment
The Monday Morning Run: Barshim goes higher, Gatlin doubles, Keitany returns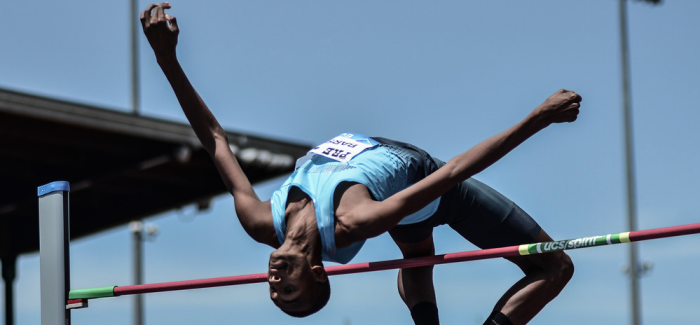 Kevin Sully | On 08, Sep 2014
Photo via TrackTownPhoto
The Diamond League finale in Brussels spanned the entire 2014 professional track and field season in two hours. The high jump was spectacular, the men's 100 was controversial, an American woman shined in the mid-distances and there were premature celebrations. If you missed the previous 13 meets, the competition on Friday was the perfect synopsis.
Later on in the week, we'll recap the season and take a look at the race for the IAAF Athlete of the Year. First, to Brussels!
The Medalists
The top three performances of the week…
Gold: Mutaz Essa Barshim
Have you enjoyed watching Barshim turn himself into a human taco as he bends himself over the bar at astronomical heights this summer? I hope so because history tells us high jumping doesn't get this good. Barshim cleared 2.43 (7-11 ½) on his first attempt, moving him to second all-time and ahead of his main rival this year, Bohdan Bondarenko. Bondarenko missed at 2.43 and then both men went for the world record at 2.46 (8-0 ¾). Barshim got his hips over the bar on his final attempt, but still came up short.
After a long summer of huge clearances and near misses, the two are now just three centimeters from history. I know it is Barshim who cleared 2.43 and not Bondarenko, but they have been so intertwined this year that their accomplishments and breakthroughs seemed linked.
The fierce rivalry has also meant that neither has been able to have the spotlight to themselves. Even in the athlete of the year discussion, it is hard to choose either because you can't make a convincing argument that one is better than the other.
Or you can look at it the other way and ask the perfectly legitimate question: If not for the other, would either have jumped as high this year?
Silver: Justin Gatlin
First there was this.

Then, one hour later there was this.

The 100 was Gatlin's fastest since he returned from a doping ban and equalled his world record from 2006 that was subsequently stripped. His 100/200 combo in Brussels was the quickest one day double in history, though the current crop of sprinters rarely attempt two races in one day unless they are running rounds.
If Usain Bolt or Yohan Blake had Justin Gatlin's 2014 season, there would be no discussion who the IAAF would name the athlete of the year.
Bronze: Allyson Felix
In one race, Felix went from a mediocre season to the clear number one ranked 200 runner in the world. She ran her customary strong curve and held on to win with a world leading time of 22.02.
Despite the injury problems of 2013, Felix is in a good enough position in the 200 where a 200/400 double looks possible for 2015. Much of that will depend on how the schedule for the World Championships in Beijing is laid out, but as of now neither event has someone who is on another level than Felix. Unless Shelly-Ann Fraser-Pryce turns things around in the off-season, or Tori Bowie continues her ascent, Felix will be an overwhelming favorite to win her fourth world championship in the 200.
Surging….
-American mid-distance women
Am I crazy to think that the US has four gold medal threats between the 800 and 1,500? Jenny Simpson, Shannon Rowbury, Ajee Wilson, Brenda Martinez have all shown the capability at one point or another this season to be the best in the world.
Martinez became the latest American women to win a Diamond League race when she surged to the front in the final 200 meters to win the 800 in Brussels. Ten years ago, this would have registered as a huge shock–not this year. Not when Martinez was coming off a bronze medal in the World Championships in 2013 and Ajee Wilson has already won a Diamond League 800.
In the longer distances, Jenny Simpson and Shannon Rowbury were joined at the hip again in Brussels. They didn't repeat their 1-2 performance from Zurich, but in the 3,000 they were separated by .35 seconds and finished fourth and fifth respectively, just behind the winner, Mercy Cherono. Both Simpson and Rowbury set personal bests and both were a factor in a race outside of their preferred distance.
-Mike Kigen
Mo Farah's overseas training partners surged so many times that there was speculation that the race was fixed. I can never, ever, think of a time when one training partner helped another win a major race.
If Kigen really was there just to help Farah, he certainly had a strange way of showing it. He opened up gaps on several occasions, the last of which came with less than a mile remaining. Farah looked spent, and finished the race in 60:00, a personal best and 10 seconds faster that he ran in last year's edition of the race.
-Evan Jager
Jager took two seconds off his American record from 2012, running 8:04.71 and finishing third in Brussels. He now owns the five fastest American times ever in the event. Jarius Birech had no problem with the final hurdle this week and won the race in 7:58.41.
-Mary Keitany
Mary Keitany caught me napping. I didn't even realize she was back to full form after having a child in 2013. At the Great North Run on Sunday, she ran the second fastest half marathon in history, a 1:05:39 clocking to break Paula Radcliffe's course record by one second. Keitany didn't have the help of pacemakers and she won by more than two and a half minutes. I'd say she is ready to run a fast fall marathon. Look out Jeptoos.
-Early Celebrations
Men's 1,500:  noun  /men's 1,500/
1) A race that is 3 ¾ laps of a 400-meter track
2) The race where the guy who wins celebrates with about 80 meters remaining and the guy who comes in second almost catches the guy in first, but then celebrates five meters from the line because he thought he won the race, or because he knew he secured the Diamond League championship or because he was in extreme oxygen debt and didn't know what he was doing.
Slowing….
-Asbel Kiprop
Kiprop was within striking distance of the leaders in the 1,500 before packing it in on the homestretch. He drifted back to 12th place in a time of 3:34.41. Kiprop ends the year without the Diamond League trophy, without the fastest time in the world and yet he still is probably the favorite for gold in Beijing. He's done this too many times before.
-Ezekiel Kemboi
Kemboi lost to three Americans and ran 8:35. In 2012, he could run the entire race in lane eight and still have run faster than that. I'm not sure what is up with him. The steeplechase sure is a bunch more fun when he is in the mix.
-Split 100 meter finals
In a move eerily reminiscent of the 2006 Prefontaine Classic, Asafa Powell and Justin Gatlin ran in different sections of the men's 100 in Rieti on Sunday. Both won their race, like they did in 2006, and neither proved much of anything, like they did in 2006.
-Elite speed
Football season is now in full swing. With so many two-sport athletes, we hear lots of references to football players' times on the track. How do football announcers decide which players are fast enough to earn the descriptor "world-class" or "elite"? They follow this simple chart.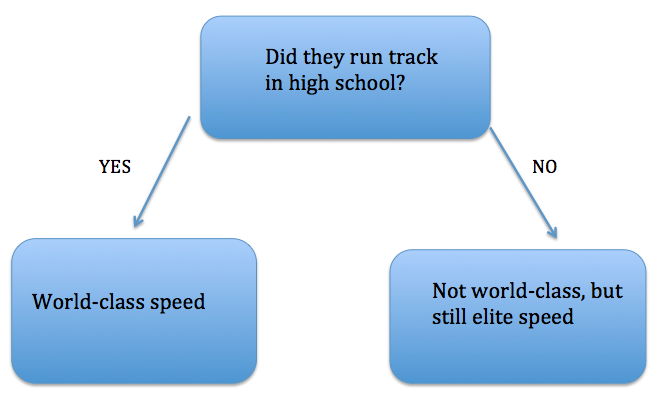 The Week Ahead
If you can't stand the thought of four months without track and field, you can indulge yourself with the Continental Cup this weekend in Morocco. Beware, some fields look very bare and running for continental supremacy doesn't get the competitive juices flowing like they used to.
On the roads, the Fifth Avenue Mile is on Saturday in New York City. Mary Cain will compete in what is her first race since she won the World Junior Championships in Eugene. Jenny Simpson, Brenda Martinez, Treniere Moser and Morgan Uceny are also entered. The men's race is headlined by Matt Centrowitz, Will Leer and Augustine Choge.