No Comments
Saturday's Best Matchups at the World Indoor Championships
Jesse Squire | On 19, Mar 2016
Yesterday was the second day of competition at the IAAF World Indoor Championships in Portland, Oregon, and there were some tremendous competitions. There will be a lot more today.
How and when to watch
Today's competition schedule in a handy visual format…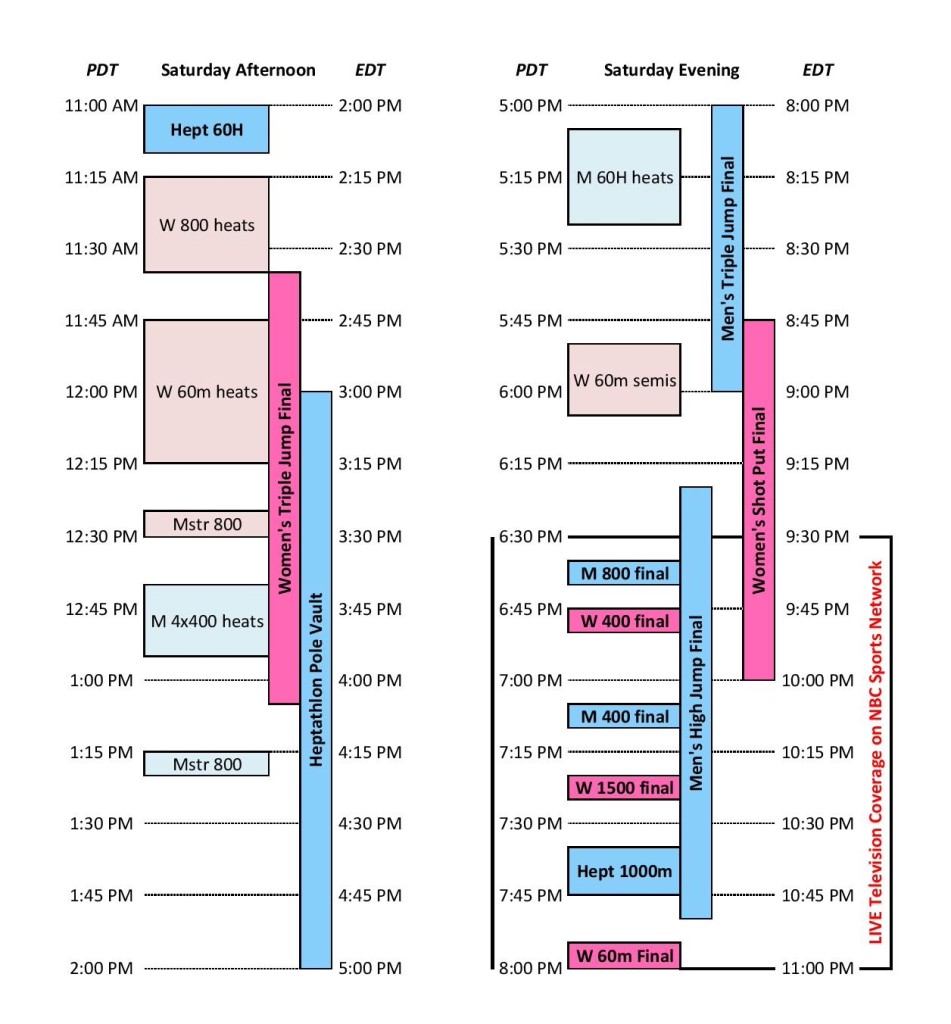 Television coverage is on NBC Sports Network from 9:30 to 11:00pm (ET). CBC will broadcast highlights of previous days from 5:00 to 6:00pm (ET).
Webcasts will begin at 2:00pm (afternoon session) and 8:00pm (evening session). US coverage is available at NBC Sports Live Extra, Canadian coverage is at CBCSports.ca, and an array of pirate feeds are available at WatchAthletics.com.
The IAAF's live results and live blog also offers IAAF Radio, a great resource if you're on the go. The radio coverage is also available through the IAAF app for your smart phone.
On to the matchups!
Americans vs semifinals
Women's 800 meters, 11:15am local time (2:15pm ET)
Three heats totaling 17 runners will be trimmed to just six finalists, the heat winners plus the next three fastest. The two Americans, Ajee Wilson and Laura Roesler, are both the top seeds in their heats but the indoor 800 can be a tricky thing.
Americans vs relevance
Women's triple jump final, 11:37am local time (2:37pm ET)
Field events at these Worlds are finals only, and this one has an unwieldy fifteen entrants. Two of them are Americans, USATF champion Christina Epps and NCAA champion Keturah Orji. Just them being in the meet is a huge accomplishment for American women's triple jumping. Below is the complete list of American finalists in this event in World and Olympic competition since its debut in 1993.
1995 World Indoor: Sheila Hudson 8th, Cynthea Rhodes 12th
1997 World Championships: Cynthea Rhodes 11th
2001 World Indoor: Tiombe Hurd 3rd
That's it. The USA has never had an Olympic finalist and just one at the outdoor Worlds. Orji just turned 20 years old and could be the first American of any importance in this event.
Americans vs Dong
Men's triple jump final, 5:00pm local time (8:00pm ET)
Um, about that headline. . .the two best jumps of the year are by a Chinese man named Bin Dong. They are big personal bests for him, and while he's never done better than eighth at a Worlds or Olympics he is now the favorite for gold. Americans Omar Craddock and Chris Carter are his main competition, despite the fact that they are at best the USA's #2 and #5 triple jumpers – and that wealth of American male talent makes the irrelevance of American women triple jumpers even more puzzling.
Adams vs Carter
Women's shot put final, 5:45pm local time (8:45pm ET)
New Zealand's Val Adams was basically unbeatable in the shot put for years, but then her big, strong body began to break down. She had surgery to her right (throwing) elbow and left shoulder in 2014 and her right knee in 2015. She's returned to action and produced marks that still make her the favorite to win (19.43m/63′ 9″ and 18.85m/61′ 10¼"). American Michelle Carter has thrown just once this year, at last week's USATF Championships, and produced a similar makr (19.49m/63′ 11½"). This looks to be a two-woman battle.
Tamberi vs Barshim
Men's high jump final, 6:22pm local time (9:22pm ET)
If this season's marks are any indication, the competition will come down to Italy's Gianmarco Tamberi and Qatar's Mutaz Essa Barshim. Between them they have produced six of the year's eight best jumps. A new name at the top of the lists is Britain's Chris Baker, who could also figure into things. Previews have generally discounted the chances of American Erik Kynard, but with only two meets under his belt this year he may simply be playing it close to the vest.
Everybody vs everybody
Men's 800 meters, 6:35pm local time (9:35pm ET)
Five of the six finalists have a real chance at gold. Qatar's Musaeb Abdulrahman Balla has been the best of the 2016 season, but Ethiopia's Mo Aman is the two-time defending champion. Americans Erik Sowinski and Boris Berian have the home advantage. Morocco's Mostafa Smaili is on the start line and, well, you just never know.
Hayes vs Spencer vs Adekoya
Women's 400 meter final, 6:47pm local time 9:47pm ET)
While the 800 is never clear, the battle lines in the women's 400 do seem clear. Americans Quanera Hayes and Ashley Spencer and Bahrain's Kemi Adekoya have the year's best times, were the top qualifiers, and have the outside lanes (which are a big advantage indoors).
Texas A&M vs Czech Republic
Men's 400 meter final, 7:05pm local time (10:05pm ET)
No Americans made the men's 400 meter final, but two with American experience did. Deon Lendore (Trinidad & Tobago) and Bralon Taplin (Grenada) both starred at Texas A&M last year. Their main competition comes in the form of Czech Pavel Maslak, the defending world indoor champion.
Martinez vs Ethiopians
Women's 1500 meter final, 7:18pm local time (10:18pm ET)
The lone American hope in the women's 1500 meter final is Brenda Martinez. She's delivered the goods before, an 800 meter bronze medal at the 2013 outdoor Worlds. The favorites are three Ethiopians: Dawit Seyaum, Gudaf Tsegaye, and Axumawit Embaye, plus Sifan Hassan, an Ethiopian expatriate now representing Holland. The first three may find Oregon to their liking, since they went 1-2-7 at the 2014 World Junior Championships in Eugene.
Schippers vs Pierre
Women's 60 meter final, 7:53pm local time (10:53pm ET)
Holland's Dafne Schippers quit the heptathlon two years ago when it became obvious that she was at least as good at the sprints as at the multi-events. She was rewarded with a Worlds silver over 200 meters last August. She dominated the European circuit this winter, going undefeated and recording six times of 7.10 or better. The only woman who came close to beating her was American Barbara Pierre, who tied Schippers' world-leading time of 7.00 last week at the USATF Championships. Anything can happen in a race this short, but these two certainly appear to be the class of the field.