No Comments
Friday's Best Matchups at the World Indoor Championships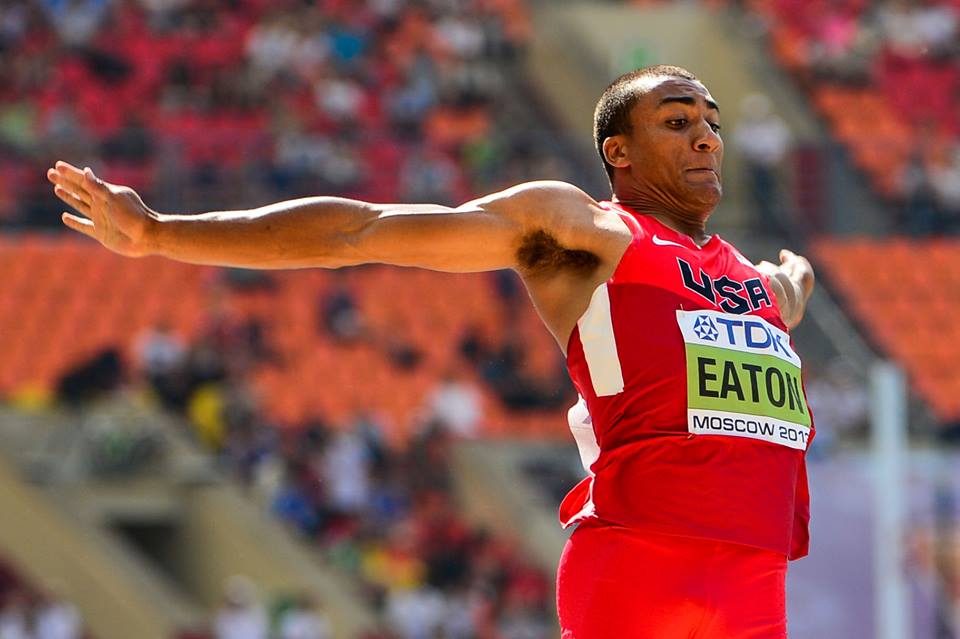 Jesse Squire | On 18, Mar 2016
Can Ashton Eaton break his own heptathlon world record? Today's first four events will be key.
Note: A previous version included an outdated schedule, which has been corrected.
The IAAF World Indoor Championships started last night in Portland, Oregon, with the men's and women's pole vault finals. It was an awesome night, with a near-capacity crowd, fantastic competition, great presentation, and three Americans winning medals.
But that was just a taste of the real thing, which gets started today.
Today's Schedule
A visual schedule of today's action (click to enlarge):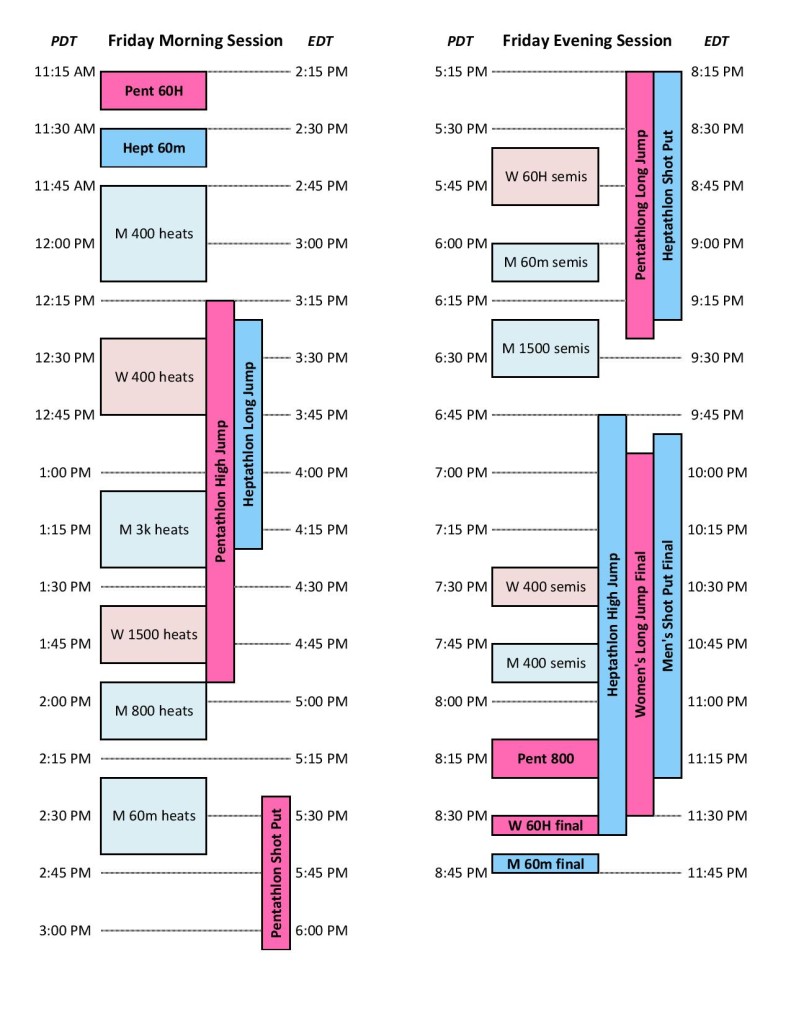 Television coverage: taped-delayed on NBC Sports Network from 12:30am to 2:00am (Eastern time)
Webcast schedule: 1:30 to 5:45pm and 8:00pm to midnight (Eastern time), available at NBC Sports Live Extra, at CBCSports.ca, and WatchAthletics.com.
You can also follow the action with the IAAF's live blog and via IAAF Radio.
On to the matchups!
Eaton vs Scoring Tables
Men's heptathlon day 1, morning and evening sessions
The only way Ashton Eaton could fail to win the heptathlon is by some sort of catastrophic failure, either injury or a no-mark in some event. He has won eight of his ten career heptathlons (his last defeat was shortly after his 20th birthday). He holds the world record in the event and his only real competition he has is the record book.
Eaton's record of 6645 points was set at the 2012 World Indoor Championships, which prefaced his first big international victory at the 2012 Olympics. These are his point totals after each event at the '12 World Indoor.
after 1 event, 958 points
after 2 events, 2060 points
after 3 events, 2823 points
after 4 events, 3654 points
The pole vault often makes it or breaks it for a heptathlete, but that's not until tomorrow. If Eaton is ahead of pace after today's competition, then we can start talking about a record.
Theisen-Eaton vs Mokhnyuk vs Fodorova
Women's pentathlon, morning and evening session
Ashton Eaton's wife, Brianne Theisen-Eaton, is also a gold medal favorite but is not a prohibitive one. Seven women have scored at least 4700 points in the last three years, and three of them are competing in Portland: Theissen-Eaton (Canada), Anastasiya Mokhnyuk (Ukraine), and Alina Fodorova (Belarus). "BTE"'s strengths are in the high jump and long jump and her weakness is the shot put. The first three events are the hurdles, high jump, and shot put, so if she goes into the afternoon break with a lead then the gold is probably all but hers. And if it's still nip-and-tuck going into the last event, the 800, Theissen-Eaton is much faster than these two.
North Americans vs semifinals
Men's 3000 meters, 1:05pm local time (4:05pm ET)
Women's 1500 meters, 1:35pm local time (4:35pm ET)
Men's 800 meters, 1:55pm local time (4:55pm ET)
Men's 1500 meters, 6:20pm local time (9:20pm ET)
Women's 400 meters, 7:25pm local time (10:25pm ET)
Men's 400 meters, 7:45pm local time (10:45pm ET)
A six-lane indoor track means there aren't going to be many finalists, and getting through to the finals is not going to be easy even for the medal favorites.
The men's 3000 has two heats of nine runners, and twelve will make the finals. Two-thirds of the entrants will qualify, but that's still problematic considering how difficult it is just to get into the meet. Ryan Hill (USA) should get through in the first heat, but nothing is even close to certain after that. Kemoy Campbell (Jamaica, formerly Arkansas) and Tom Farrell (UK, formerly Oklahoma State) have a shot in the first heat, while Cam Levins (Canada) has had a crappy season so far and looks very iffy. I think the second heat is the tougher one, and Paul Chelimo (USA) could make it out if he has any gas left after last week's big PR at the USATF Championships. Mo Ahmed (Canada) should have a decent shot at it, while Lee Emanuel (UK, formerly New Mexico) probably won't.
The women's 1500 semis could be brutal, as 21 entrants in two heats will be whittled down to just nine finalists. In the first heat, Brenda Martinez (USA) should qualify, and Nicole Sifuentes (Canada) could do it if she races well. The second heat is tougher and looks like a bit of a crapshoot, and it will take very smart racing for either Cory McGee (USA) or Gabriella Stafford (Canada) to get into the final.
The men's 800 will be even tougher yet. Three heats of five each will be cut down to six finalists, with each heat winner and the next six fastest getting through. Add in the fact that the 800 is an inherently unpredictable distance and these will be the most interesting races of the morning session. Boris Berrian (USA) is in heat 2 and is up against Kenya's Jeremiah Mutai. Erik Sowinski (USA) has drawn el grupo de la muerte in heat 3, facing Musaeb Abdulrahman Balla (Qatar), the dominant runner of the indoor season, and two-time defending champion Mo Aman (Ethiopia).
The men's 1500 qualifies nine finalists from the fifteen total entrants in two semifinals, but most of them are fast and experienced. Matthew Centrowitz (USA) should get one of the three automatic qualifiers in the first semi, as should his rival, Nick Willis (New Zealand, formerly Michigan) in the second. Both Robby Andrews (USA) and Chris O'Hare (UK, formerly Tulsa) are both big kickers and both in the second heat, and either or both will do well to make the final.
In the men's and women's 400 the USA has the horses to get everyone to the finals, but semifinals can still be dicey affairs, especially indoors.
Nedow vs Roberts vs Walsh
Men's shot put, 6:45pm local time (9:45pm ET)
Canada's Tim Nedow won the shot put competition on the inaugural World Indoor Tour, but he still might not be the favorite. The USA's Kurt Roberts has the year's best mark, but New Zealand's Tom Walsh is the most experienced international competitor of these top entrants. He was 4th at last summer's World Championships and won bronze at the last World Indoors in 2014. The brand-new ring at Portland's facility is quite slick and that's going to make things unpredictable. It could favor Roberts, who at least gained some feel for the ring at last week's USATF Championships, or it could favor a thrower like Spain's Borja Vivas, who uses the old-fashioned glide technique.
Stratton vs Proctor vs Reese
Women's long jump, 6:55pm local time (9:55pm ET)
Brooke Stratton broke the Australian long jump record at last week's Perth Track Classic with a mark of 7.05 meters (21′ 1¾"). Of the jumpers entered in the competition only Britain's Shara Proctor has jumped further any time in the last two years, and by just 2 cm (½ inch). That makes Stratton a favorite, but there are two reasons to think she won't win. One is that she's experienced the exhausting effexts of traveling to the opposite side of the earth, and the other is a phenomenon called regression to the mean. For my money, Proctor is the favorite.
America's Brittney "The Beast" Reese was once unstoppable in the long jump. She won every major competition she entered from 2009 to 2013, but her performance has dropped off a cliff over the last two years. She's still capable of big jumps and so should not be counted out, but is now in the strange position of being an underdog.
USA vs The World
Women's 60 hurdles, 8:30pm local time (11:30pm ET)
The three fastest competitors (by 2016 best time) are the three Americans: Brianna Rollins, Kendra Harrison, and Nia Ali. Yes, three, because Ali gained a wild card entry by winning the World Indoor Tour title in the hurdles. Ironically, the leading threat to American hegemony is Britain's Tiffany Porter, who was born and raised in Ypsilanti, Michigan. Alina Talay (Belarus) is another who could break up the American trio.
Old pros vs young guns
Mens' 60 meters, 8:40pm local time (11:40pm ET)
The five favorites can roughly be broken down into these two groups. In the "old pros" category are Kim Collins (St. Kitts and Nevis), Asafa Powell (Jamaica), and Mike Rodgers (USA), and all have run very well this winter. Collins turns 40 in three weeks and is a two-time World Indoor silver medalist. Rodgers is almost 31 and has his own World Indoor silver medal. 34-year-old Powell has the year's best time, but is a notoriously poor championship performer.
The "young guns" are Americans Marvin Bracy (22) and Trayvon Bromell (20). Bracy isn't the most consistent performer out there but does well at 60 meters and won silver at the last World Indoor Championships. Bromell is highly consistent at just about everything except the 60 and won 100 meter bronze at last summer's Worlds. In any case, I think one of these five will win their first major individual gold medal.