No Comments
Sunday's Best Matchups at the World Indoor Championships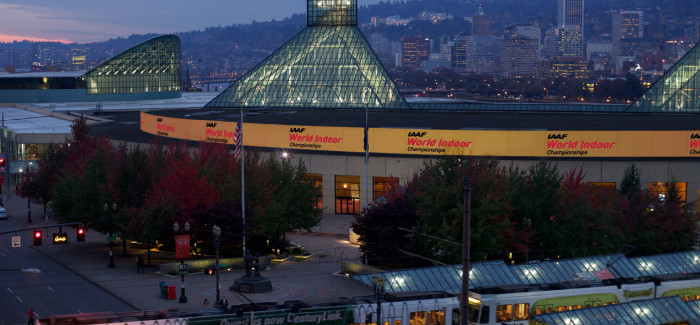 Jesse Squire | On 20, Mar 2016
The World Indoor Championships conclude today at Portland's Oregon Convention Center. It's been a great meet so far, and today's action promises to be the best yet.
How and when to watch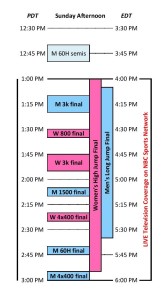 A handy visual schedule is on the left (click to enlarge).
Television coverage is on NBC Sports Network from 4:00 to 7:00pm (Eastern time). CBC has a taped highlight package of previous action from 3:00 to 4:00pm (your local time).
Webcasts will be available from 3:30pm (Eastern time) to the conclusion of the competition. You can watch at NBC Sports Live Extra in the USA and CBCSports.ca in Canada, and there is always the array of pirate feeds from WatchAthletics.com.
The IAAF's live results and live blog also offers IAAF Radio, a great resource if you're on the go. The radio coverage is also available through the IAAF app for your smart phone.
On to the matchups!
High schooler vs the world
Women's high jump final, 1:00pm local time (4:00pm ET)
The best height of the year so far is by an eighteen-year-old Las Vegas high school student named Vashti Cunningham. If you haven't heard a lot about her yet, you will. She tends to jump her best in the biggest meets, so it's not crazy talk to say she has a real chance at gold. Her top competitors are Poland's Kamila Licwinko, the defending champion, and Spain's Ruth Beitia, a three-time World Indoor medalist.
Americans vs Lapierre
Men's long jump final, 1:05pm local time (4:05pm ET)
Carl Lewis recently called out the world's leading long jumpers for low levels of performance. Lewis has a long history of both grating on people's nerves and being right, and this is more of the same. The young talent that might be ready to do something about this is Marquis Dendy, the first-year pro who won college track's Bowerman Award last year. He and fellow American Jeff Henderson are two of the three favorites, along with Australia's Fabrice Lapierre. The Aussie relocated to Arizona two years ago and new coach Dan Pfaff rebuilt his jumping technique, leading to his best performances in five years. If he continues to improve, the Americans could have their hands full.
NCAA alums vs Africans
Men's 3000 meter final, 1:10pm local time (4:10pm ET)
This race has twelve finalists, and all but one either ran in the NCAA system or represents an African country. Leading the charge for the college alumna is the USA's Ryan Hill, formerly of North Carolina State, who is a legitimate contender for a medal and maybe even the win. Along with him there is Mo Ahmed (Canada/Wisconsin), Paul Chelimo (USA/UNC-Greensboro), and Lee Emanuel (UK/New Mexico). Just getting into this final proves they are very good and, given the right circumstances, could get onto the medal podium.
But the competition is very tough. Nearly every African runner who excels at this distance is here. Ethiopia has Yomif Kejelcha and Yenew Alamirew, Kenya has Augustine Choge, Caleb Ndiku, and Isiah Koech, and Morocco has Abdalaati Iguider. In terms of top-to-bottom talent, this is the best race of the day.
Wilson vs Roesler
Women's 800 meter final, 1:30pm local time (4:30pm ET)
Raise your hand if you ever thought the USA would ever have the heavy co-favorites in a major championship middle-distance race. Really? Liar.
Ajee Wilson and Laura Roesler are both running far better than anyone else in the race. Wilson is undefeated, Roesler has only lost to Wilson, and they have the year's two best times. In addition, their extensive indoor experience means they understand how to run a race like this: get to the front early and defend your position like a junkyard dog.
Dibaba vs Defar
Women's 3000 meter final, 1:45pm local time (4:45pm ET)
This one is a pretty clear-cut race between the two Ethiopians. Genzebe Dibaba's best time this year is 8:22.50 while Meseret Defar's is 8:30.83. No one else has a PR under 8:43. The heavy favorite is Dibaba, who holds every indoor distance world record: 1500 meters, mile, 3000 meters, 2 miles, 5000 meters. Defar is a bit long in the tooth – her first international championship competition was seventeen years ago – but that means she's experienced, and might be able to take advantage if Dibaba were to make some sort of unforced error. America's Shannon Rowbury is one of the favorites to win the race for bronze.
Centro vs Willis vs Souleiman
Men's 1500 meter final, 2:05pm local time (5:05pm ET)
This is the race that will bring the house down. The favorite is Matthew Centrowitz, a former Oregon Duck and current Portland resident, and amongst his chief competitors is his main domestic rival Nick Willis (a Kiwi based in Ann Arbor). The other main competitor is Djibouti's Ayanleh Souleiman, the defending champion whose coach raises some level of controversy. So you have the most popular race in any indoor meet combined with a hometown babyface a well-defined heel, and a third to support if you don't like the other two. And how long has it been since an American won this race at an Olympics or World Championships? 108 years. That's a long dry spell.
France vs North Americans
Men's 60 meter hurdles final, 2:40pm local time (5:50pm ET)
The co-favorites for gold are Frances' Dimitri Bascou and Pascal Martinot-Lagarde. They have the year's best times and the best competitive records. Jamaica's Omar McLeod, the NCAA indoor record holder when he was at Arkansas, appears to be their biggest challenger based on his fast time at the Millrose Games. The outside threat comes in the form of US champion Jarret Eaton, and he really is an outsider. He has no sponsor and runs with a group that calls itself the "Basic Track Club".
USA vs medal count
Men's and women's 4×400 relays, 2:20 and 2:50pm local time (5:20 and 5:50pm ET)
Hegemony is the only word that describes the USA in international 4×400 relay competition. With the Russians temporarily out of the picture, only a dropped baton or coaching stupidity could keep the Americans from sweeping gold in these events. Both of those have happened recently, but USATF recently rid itself of the embarrassment and failure that was Dennis Mitchell, which reduces the chance of the usual USATF knucklehead moves.
The record medal hauls at a World Indoor Championships are 19 total medals (USA, 1999) and 10 golds (USA, 2012). The USA is sitting on 15 and 8 respectively and these relays could put the Yanks over the top.