No Comments
Moscow Daily for August 16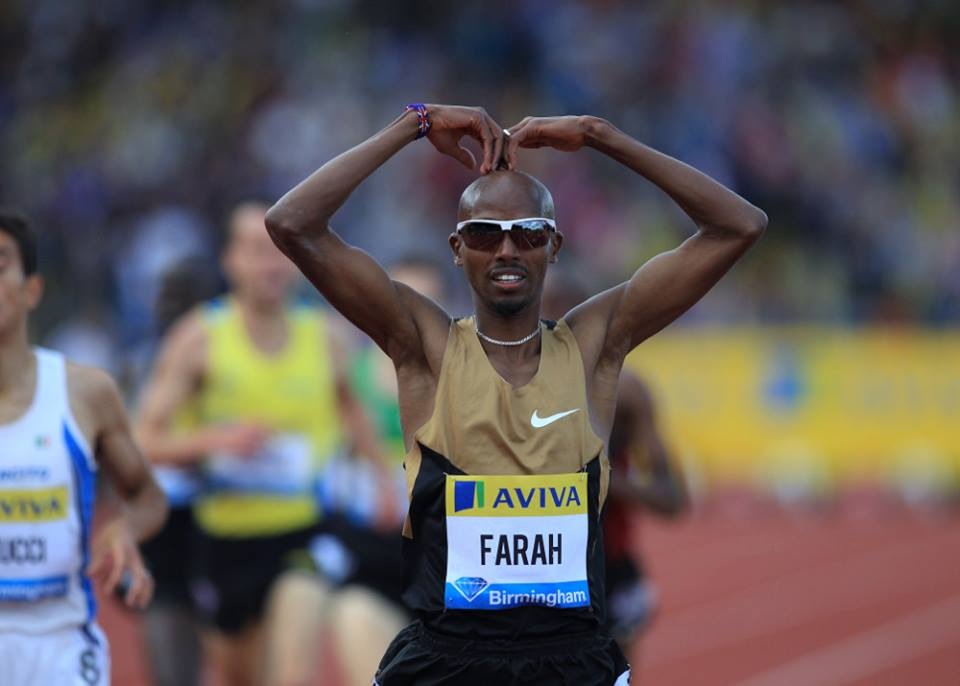 Jesse Squire | On 16, Aug 2013
Mo won yet again, but this may have been his toughest victory yet. (Photo courtesy TrackTownPhoto.)
Our Moscow Daily recaps the day's action at the IAAF World Championships, offers up some analysis, and tells you what (and how) to watch the following day. Come back for all nine days of action from Russia.
Scoreboard
| | | | | |
| --- | --- | --- | --- | --- |
| Nation | Gold | Silver | Bronze | Points* |
| USA | 5 | 9 | 2 | 213 |
| Russia | 5 | 3 | 3 | 140 |
| Kenya | 3 | 3 | 3 | 107 |
| Germany | 3 | 2 | 1 | 83 |
| Ethiopia | 2 | 2 | 2 | 64 |
| Jamaica | 3 | 1 | 1 | 71 |
| Great Britain | 3 | 0 | 0 | 63 |
| Ukraine | 2 | 0 | 1 | 45 |
| Poland | 1 | 2 | 0 | 43 |
| China | 0 | 1 | 3 | 42 |
| Canada | 0 | 1 | 3 | 30 |
*scored in the traditional American 8-place fashion
There were six finals today and all were exciting.
Men's 5000 meters
Mo Farah's opponents were much more creative in their attempts to beat him than they were in the 10k but the result was the same: another win for Farah. Mo went to the front late in the race and stayed there, but it may have been the most difficult of his five World and Olympic victories. Ethiopia's Hagos Gebrhiwet just beat out Kenyan Isiah Koech for silver, the difference coming down to thousandths of a second.
Results | BBC report

Women's 200 meters
Shelly-Ann Fraser-Pryce finished off the sprint double win, taking control from the gun, coming off the turn 3 meters ahead, and holding on for the win. Murielle Ahoure topped off the best year of her career with silver, just barely beating out Blessing Okagbare. Olympic champion Allyson Felix fell on the turn with an apparent hamstring pull.
Results

Men's 4×400 Relay
Team USA is virtually unbeatable in the mile relay when at full strength and won yet another gold medal here. The crowd pulled hard for their Russian team to overtake Jamaica for silver but it was not to be.
Results

Men's Shot Put
Germany's David Storl has a history of pulling off upsets in major championships, winning gold two years ago and silver last year. He did it once again, passing heavily favored Ryan Whiting in the fourth round. Canada's Dylan Armstrong moved into the bronze medal position in the fifth round.
Results
Men's Long Jump
Russia's Aleksandr Menkov was supposed to win this and he did in dominating fashion; any of his three best jumps were enough to win, and his best was the world's longest jump in over four years. Former Ghanian Ignisious Gaisah, now competing for The Netherlands, put up his best jump in seven years for silver. Mexico's Luis Rivera, one of only two men to beat Menkov this year, took bronze by a single centimeter.
Results

Women's Hammer Throw
Any partisan Russian who came to the stadium today got all they could ask for, as Tatyana Lysenko was the home team's second gold medalist of the day and third medalist overall. She took a commanding lead in the first round, only to be passed by Poland's Anita Wlodarczyk in the third round. Lysenko responded with 78.80 meters (258′ 6″), the second-longest throw of all time. Wlodarczyk didn't give up and threw 78.46 (257′ 5″), the fifth-best throw of all time, but couldn't retake the lead. China's Wenxiu Zhang took the bronze.
Results

US Team Performance Analysis
Team USA came into today with 13 finalists and came away with two medals, not the best ratio of all time. Three was probably the best that could reasonably be hoped for, but the day's finals still felt like something was left out on the table.
When asked just minutes before the women's 200 final, I said I had a bad feeling about how Allyson Felix would do, and she came up hurt. Teammates Jeneba Tarmoh and ChaRonda Williams had done well just to get to the final and their fifth and sixth places were as expected. Shot putters Ryan Whiting and Reese Hoffa continued the US trend of dominating the season and then getting pipped at the championship, taking second and fourth after winning virtually everything they entered in 2013. Whiting's result seemed especially disappointing; it was 1 centimeter below his average for the season, and average isn't going to cut it at a World Championship. The men's 4×400 took care of the business of winning, though.
Three Americans were in the men's 5000 meter final and only Bernard Lagat had an impact on the race, but a 6-8-10 finish still makes this the third-best nation on earth after Kenya and Ethiopia. Jeneva McCall and Amanda Bingson had very average efforts in the hammer throw and did not advance to the final eight. Age has finally caught up with Dwight Phillips, as the four-time long jump champion finished eleventh out of twelve finalists.
There was a lot of success in qualifying heats, though. All three US 800 meter women made it to the final, a first in American history at a Worlds or Olympics. While only one American made it to the men's 200 meter final, Curtis Mitchell did it in impressive fashion by winning his heat in a PR of 19.97, and Isiah Young missed the final by just 0.03 seconds. All four US women's hurdlers made it to the semifinals, although with much less dominance than during the summer season. And Olympic triple jump medalists Christian Taylor and Will Claye qualified to their final while looking very ready win more hardware. The one shortcoming was in the men's 1500 semis, where only Matt Centrowitz advanced to the final (and looked like a real medal contender in getting there).
Canadian Team Performance Analysis
Dylan Armstrong's clutch throw for bronze brings the Canadian medal total to four, which ties the best-ever total at a Worlds (and the only larger Olympic totals came in the boycott year of 1984 and pre-WWII games when very few nations took part). A case could be made that this is Canada's best ever national team, or at least close to it.

Nate Brannen made squeaked into the 1500 final. Angela Whyte and Jessica Zelinka both qualified to the hurdle semifinals, with the former winning her heat. Whyte is an ageless wonder–she was on Canada's team for the Edmonton Worlds twelve years ago.
Tomorrow
Here's how to watch tomorrow's action. All times are Eastern.
U.S. Television
NBC, 12:00-12:30pm (live)
Universal Sports, 12:30-2:30pm (men's marathon, tape-delayed)
NBC, 2:30-4:00pm (tape-delayed)
Universal Sports, 9:00-10:30pm (NBC rerun)
Canadian Television
Daily highlight shows will air on Sportsnet. Visit Athletics.ca for broadcast times in your area.
Webcasts
UniversalSports.com will webcast whenever the TV channel is running a live broadcast, but you can only watch it if you're in the minority of Americans whose cable provider carries Universal Sports.
A better bet is WatchAthletics.com which will have a collection of foreign feeds for the morning session and evening session.
Yet another option is IAAF Radio, which is quite good and will offer live play-by-play from 10:00am to 12:30pm.
How to Follow
The main hub of information is the IAAF website. Schedules, results, news, athlete info, whatever you need. You might want their smartphone app, too.
If you're cheering for a particular team–and who isn't?–both USA Track and Field and Athletics Canada have microsites for their Worlds teams. You can follow the exploits of US collegians with the USTFCCA.
What to Watch
7:30am: Men's Marathon
Kenya and Ethiopia bring traditionally strong squads. Japan has cult hero Yuki Kawauchi, who is capable of winning a medal. The USA brings Jeff Eggleston, Daniel Tapia and Carlos Trujillo, while Canada brings Rob Watson.
10:00am: Women's High Jump
This is expected to be an old-fashioned Cold War clash between Russia's Anna Chicherova and America's Brigetta Barrett.
10:20am: Women's 100 Hurdles semis
There are six North Americans here, four from the USA and two from Canada.
10:35am: Men's Javelin
This one seems wide-open, but the Russians are doing very well on home soil and that means Dmitri Tarabin is the one to watch.
10:55am: Women's 5000 meters
Ethiopia's Meseret Defar is the overwhelming favorite. Three Americans run in the final and one of them, Shannon Rowbury, has miler's speed.
11:30am: Women's 4×400 Relay
The USA is the favorite but they're weakened by injury and that opens the door for the Russians. Expect the stadium to be as loud as it will get this week.
11:50am: Women's 100 Hurdles final
The USA's Brianna Rollins has been dominant this year, but Olympic champion Sally Pearson has slowly been rounding into shape after early-season injuries.
12:10pm: Men's 200 meters
Everyone not named Usain Bolt is running for silver.