No Comments
I went to a psychic to find out who's going to win the NCAA Cross Country Championships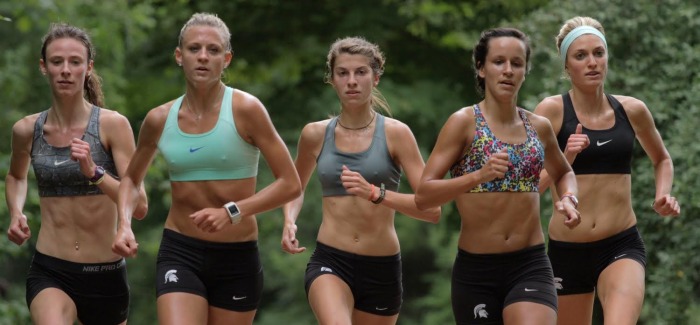 Mitch Kastoff | On 18, Nov 2014
I went to a psychic to find out who is going to win the NCAA Cross Country Championships. I'm someone who is fairly pragmatic and even developed a projection algorithm for cross country, so this visit may come as a surprise. But, like a triple play, I like to cover all my bases. So unlike previous years, I decided to go a different predictive route, and seek the wisdom of a tarot reader.
My reader was Nora Wallace. She's been practicing tarot for the last four years. I scheduled an appointment with her through her website, met her at her apartment in downtown Portland, and paid for a half hour session via Square. The experience was absolutely wonderful and for people who will try anything once, I recommend having a reading done.
Nora decided that she would draw four cards. Each card would represent one of the four NCAA titles. She would describe the background of each card and those qualities would reflect the future champion.
Here's what she said:
The Women's Individual Championship: Crystal Nelson
"It would be a very big change for them. Maybe it'd be someone who hasn't won before. A lot of the times too, this card is about taking things to the next level."
The list of national championship contenders is longer than you'd expect. Unless you thought it'd be about six names long. In which case, congratulations, you were marginally correct. Now for the hard part: which woman will win?
Let's go through the front-runners. The last woman of the bunch to debut this fall, Iona's Kate Avery, is a big favorite. Fast wins at the MAAC Championships and Northeast Regional, plus the fact she's the second-highest returner from last fall, make her a popular choice.
But then there's the top returner, Boise State's Emma Bates. Another big preseason favorite, Bates is now a tough pick to justify after two sixth place finishes at Roy Griak Invitational and Wisconsin adidas Invitational, plus another loss to Arizona State's Shelby Houlihan at the West Regional. Houlihan, like the cream in coffee, has risen to the top, and can be tipped as one of the more probable choices to challenge, or be challenged by, Avery. But Houlihan also took loses at Wisconsin, finishing third behind Iowa State's Crystal Nelson and Michigan State's Rachele Schulist. Then there's Baylor's Rachel Johnson, who won the Pre-National Invitational, lost to Nelson at the Big 12 Championship, and then fell to Arkansas' Dominique Scott at the South Central Regional.
It's a semi-confusing, long list of events. That's why we've turned to the ethereal.
In other readings, the Peace card drawn represents death. But it doesn't always mean a literal death. Think of it like a snake shedding its skin. The winner will be someone who's been through some personal development and the win would result in a very, very big change.
Again, let's go through the front-runners. Since her arrival in the NCAA, Avery has always been a national contender. Bates went through a transformation from perennial bridesmaid to champion last spring in the 10K. Houlihan, who's been close to a national title in previous years, and even fell at a national champion her sophomore year, captured the 1,500-meter crown last spring. So by process of elimination, it's Nelson who fits the description.
"Coming into the cross country season," Nelson told RunBlogRun, "my goal was to just stay healthy and help my team get to Nationals again. I definitely wasn't expecting my name to ever be thrown around for contention to win the National Title."
Nelson has arrived at a certain point, but a national championship will take her to a whole new level.
The Women's Team Championship: Michigan State
"It's about a conclusion. It represents everything coming together and being able to see the bigger picture of how it all fits. It's the final play of how things are going to turn out. It's a big conclusion."
It will take an indisputable act of God for the Michigan State women to lose. It's comforting to know that the divine agrees.
The core of the Spartan's #1 nationally ranked squad comes full circle this weekend. At some point during their collegiate careers, fifth-year seniors Leah O'Connor, Julia Otwell, and Sara Kroll were promised by Head Coach Walt Drenth that they could all graduate together. He kept true to his word and his women have handsomely repaid him.
In the last five years, the three have helped amass four conference cross country titles, two individual Big Ten cross country trophies, an NCAA individual crown, and a sixth place finish last year at nationals.
Even still, when Michigan State left Terre Haute last year, just off the podium, they knew this year could be a culmination of years of work. Yes, they would lose their fifth and sixth finishers, but the Spartans would gain back Otwell and Kroll.
The World card, with the Archangel Michael in the foreground, is about "spiritual growth and insight." There's no team that's matured more than Michigan State.
The Men's Individual Championship: Edward Cheserek
"This person is already pretty successful and experienced. He already believes and knows he's going to win. This card is usually about drive and ambition. I feel like it's going to be someone who's already won."
This certainly ends any rumblings of an upset.
At the West Regional, Stanford's Maksim Korolev had the kick heard 'round the running world, and held off the defending NCAA champion Edward Cheserek. Was it a fluke or a prelude to come? We asked the cards. They answered.
Cheresk will not be denied.
Though, that's not to say that Korolev, or anyone else, doesn't stand a chance. This person will have to be on top of his game. These are the card's words, not mine.
And, come on, with a nickname of "The King," would Cheserek have drawn any other card? No, I didn't think so.
The Men's Team Championship: Colorado Men
"For the men's team, this is a card about partnership. You have to be willing to encourage each other. But, also, it could be a team that's made progress."
What makes the Buffaloes special is their ability to run as a pack. I realize this horse has been beaten to death, but if you've been lucky enough to watch any of the team's races this fall, you can see they're of a different breed. It's something else to see at least five black jerseys with the gold Colorado lettering, symbolizing the mineral riches of the Boulder area, tightly bunched near the front of a race.
There's been plenty of speculation that's been made over the last few months on whether or not this is CU's best team of all-time. If the race plays out according to plan, it very well might be.
But, the card has another interpretation.
[alarm sirens begin blaring]
UPSET ALERT.
The team that could win has been to nationals before, but did not win. Now, they have a better chance. Again, this is the card talking.
Syracuse's last national championship was back in 1951. The highest they've placed since winning the title was a 4th place showing back in 1957. They were 10th last year.
"Make bold and ambitious choices," the card reads. I'm not one to question the spiritual world.
Mitch Kastoff is a freelance writer based in Portland, Oregon. Contrary to popular belief, he did not invent the high five. If you enjoyed these ramblings or have any comments, questions, or concerns, feel free to reach him on Twitter or by email.